When decorating your house for Christmas, there is no reason to break the bank.  I like to add new decorations every year to my display, but I enjoy making them myself.  There are so many decorating ideas you can do at home that will use items you already have, either inside or outside the house. Here are a few personal favourites of mine.
Tomato cage Christmas trees: This is one of my favourites because I have a ton of these cages.  It can be done a few different ways.  Basically, all you have to do is flip the cage upside down and decorate it to look like a tree.  You can use garland, lights, twigs, branches or a variety of all.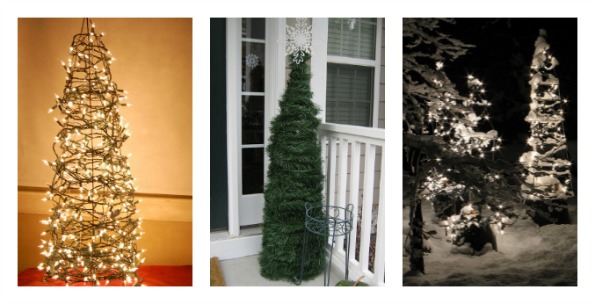 (Image credits to Cathy-Stanely Erickson,  Leafandletter, Abizeleth)
Coloured Ice Balls: Another very easy decoration and favourite of mine are these cool-coloured ice balls.  They are so simple to make.  Just fill any balloon with water and your choice of food colouring, and let them sit outside to freeze.  Once it is frozen, you can cut the balloon off and you have a beautiful ice ball.  I have seen them lining the driveway or front porch, or even to add some interest in front of trees. You can make them any colour you would like and as festive as you would like by adding glitter and all sorts of things.  I love that they look like huge beautiful marbles.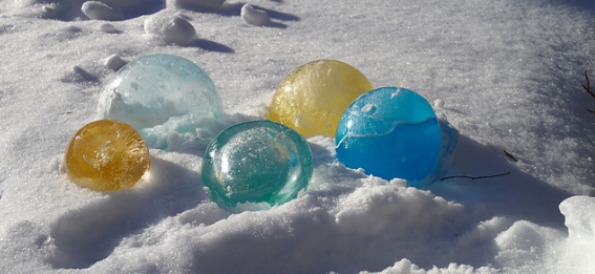 (Image credit to Robbie Sproule)
The Upside Down Snowman: We get a ton of snow in Calgary and since it is free, why not use it to decorate outside?  Instead of making the same old boring snowman, why not make a fun upside down snowman for the front lawn? It is festive and is is fun. I say, the bigger the better. Personalize it with a carrot, clothing or anything you can find around the house.  You will be the talk of the neighbourhood!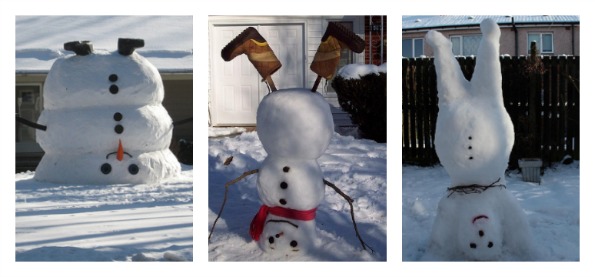 (Image credit to Bill Camarata, Tiptilic, Adele Claire)
Nature's Decorations: Another great idea is using the natural elements around your yard to create beautiful holiday accents.  Use pine cones, berries, branches, pine leaves and whatever else you can find.  You can create wreaths, ornaments for the outside trees, and window box or garage decorations absolutely free.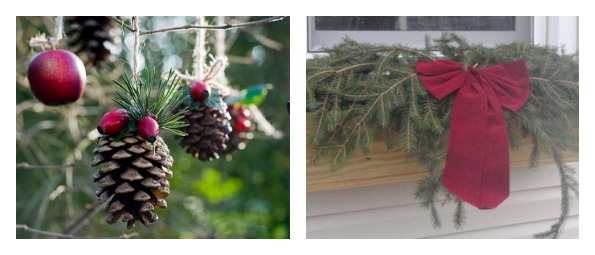 (Image credit to Fiver753, Kendrick tran)
These are just a few ways to save on your holiday decorating.  What frugal decorating tips do you follow when dressing up the outside of your house for the holidays?
(Top image credit to Laura)