It doesn't feel much like spring where I am right now (SNOW!) but that doesn't change the fact that it has arrived. And with spring comes the urge to get things in order around the house and tackle the stuff that's been piling up as we hibernate through the winter months.
We posted a clever little hack on our Facebook page last week (see #1 below) and lots of you responded that you wanted to give it a try. Sent me off in search of more cool hacks, particularly for those cupboards in my house that I'm terrified to open.
Here are eight organizing hacks that will leave you wondering—why didn't I think of that?
1. Storing Sheet Sets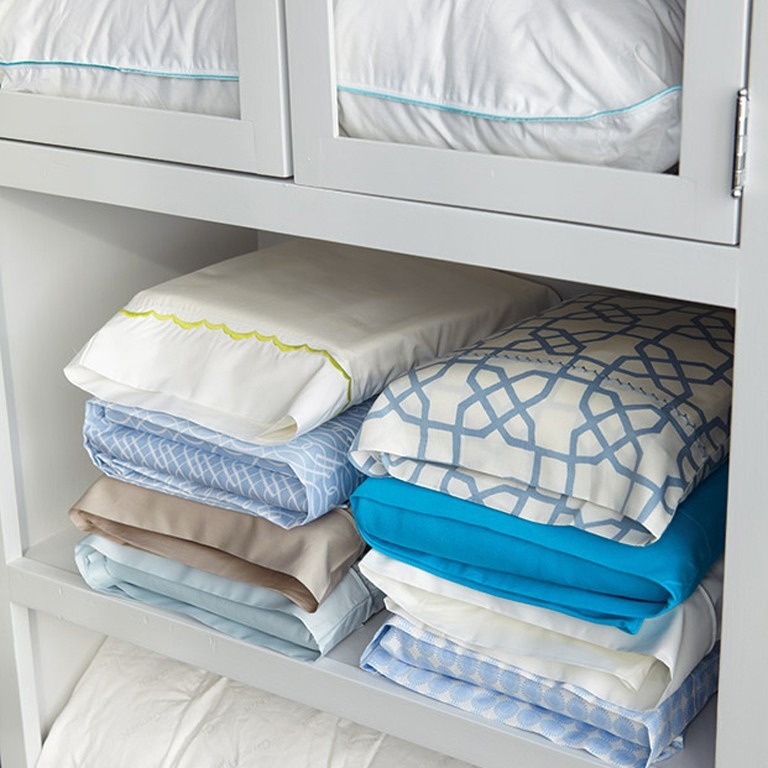 We can thank Martha for this brill storage hack! Fold your sheet sets neatly and tuck them inside one pillow case to keep them all together in one neat package. To keep the outside pillowcase fresh, turn it inside out before tucking the sheet set inside. Need new sheets? Try this very cute set!
2. Under the Sink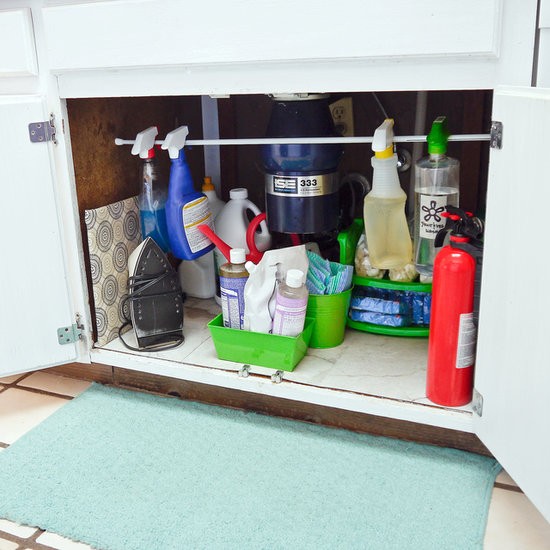 No but seriously, why didn't I think of this? Use a small tension rod under your kitchen sink to hang spray bottles. It's space-saving magic! More ways to organize under the sink for less than $10 on Popsugar.

3. Pegboard Organizer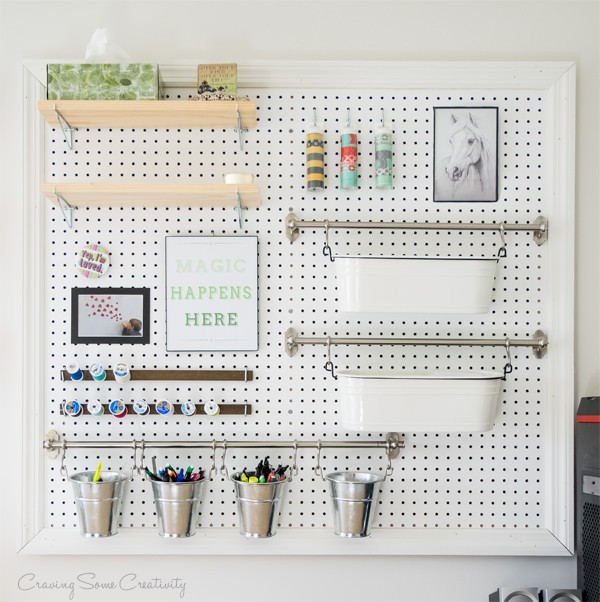 This one is as pretty as it is clever. Use white peg board, frame it with basic moulding and use it to hang small shelves, hooks and containers for craft or office supplies. This lovely arrangement via Craving Some Creativity.
4. Control Your Cords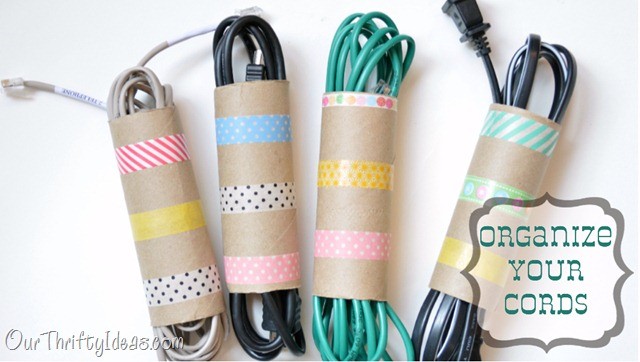 Probably my biggest pet-peeve around the house is cord-mess. Shouldn't it all be wireless by now? Our Thifty Ideas has this affordable hack for managing your cords. All you need are empty toilet paper rolls (we've all got those!) and some pretty Washi tape. Genius!

5. Reduce, Reuse, Recycle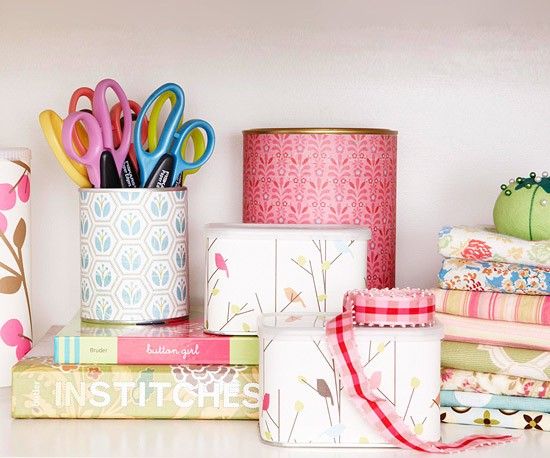 Here's one that I do use for pencils and markers, but never considered how cute it could be with just a little craft paper. Wrap used tins in pretty paper as a pretty way to coral craft supplies. Thanks for Better Homes & Gardens for this lovely tip!
6. Toothbrush Trick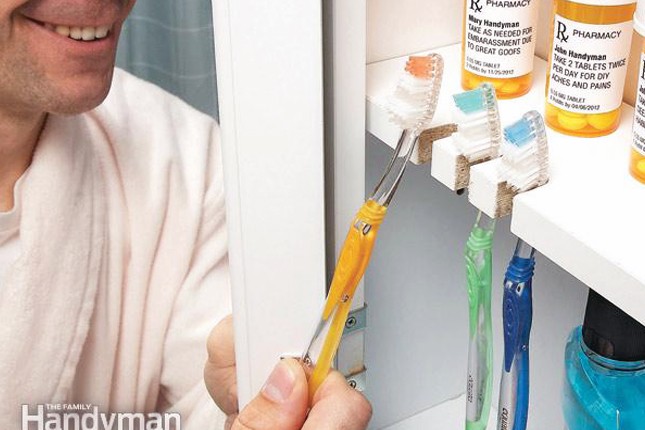 How do we feel about this one? It's a very creative way to keep the brushes in one place and out of view... but would I cut into my cabinet shelf? Jury is out... but I appreciate the ingenuity here from The Family Handyman.

7. Brace Your Boots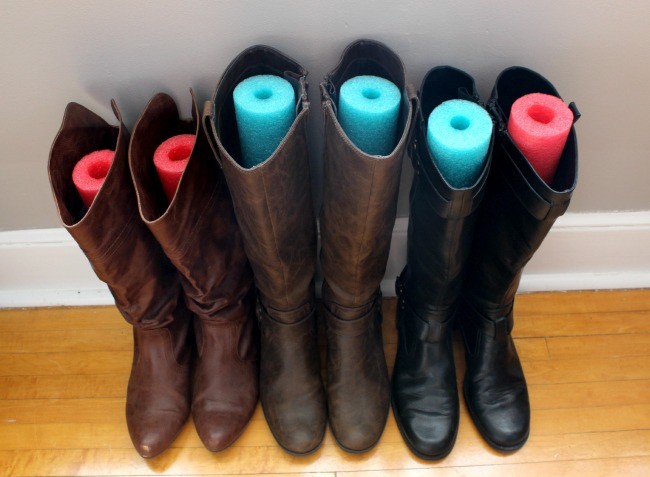 Why have I been living with floppy boots all these years? If I'd known I could spend a few bucks on pool noodles and save myself the utter annoyance of boot-flop you better believe I'd have done it sooner! Thanks for the idea goes to The Neat Nook.

8. Wrangle Wrapping Paper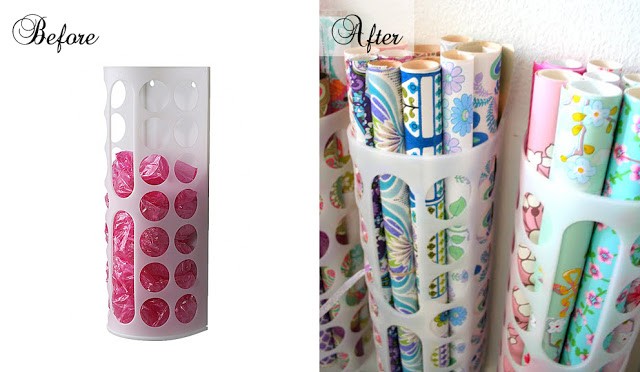 No but really, WHY didn't I think of this? This is my favourite of the lot! Use an IKEA plastic bag dispenser, mount on inside of a closet door, store wrapping paper. OMG. I'm doing this immediately. So smart, We Design Group.

We know you've got some clever hacks up your sleeves... add to our list in the comments below!