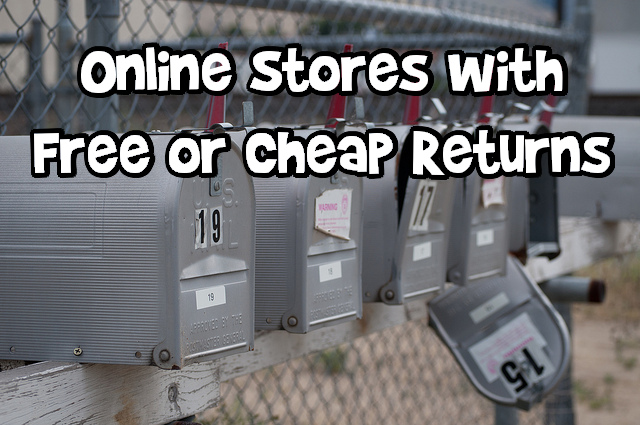 This is a guest post by a Mooser who loves Bargainmoose and checks it every day and does a lot of online shopping because of her location. Thanks Susan from Saskatoon!
As online shopping gains popularity in Canada, companies are becoming more competitive by offering free or low cost shipping. If you're someone who shops online to save time, save money,  geographic limitations,  or just because, at some point you will receive something you wish you could return. You may be more inclined to order from an online store knowing you can easily make a return by mail or courier for a small cost, or even better, free.
The following are some points to consider regarding "free or cheap" online returns to ensure you are an educated purchaser. Keep in mind these points only pertain to online returns and do not consider returning the items in store.
Meet the Free Shipping Minimum: Most online stores offer free shipping, or free shipping with a minimum purchase. If you can return items at no cost or for a small return fee, ordering additional items to reach the minimum free shipping threshold is in your best interest.
Evaluate your "Return Fee Risk": Some stores charge a small return fee or re-stocking fee. Evaluate the benefits of ordering from this company and ensure they outweigh the risks of having to return items and get charged this fee. For example, Club Monaco charges a $5 return fee. Chances are, if you were to shop in store, you'd spend more than $5 on gas and parking so the return fee is justifiable.
Minimize or Eliminate your Return Fee: One way to minimize your return fees is to return multiple orders in one parcel, then contact Customer Service to ask if you can just be charged one return fee. Also, inspect your items carefully when they arrive. For example if you ordered several sweaters and one has a fabric pull, the store will mostly likely accept the return of the damaged item, and anything else you decide to return, at their cost.
Return Policy Timelines: Be aware of the return policy timelines, if you must return your merchandise within 30 days or 60 days for example. Lululemon has the shortest return timeline I'm aware of at 14 days from the delivery date.
Sale items/Clearance/Final sale: Be informed of what you can and cannot return. Some online stores will allow you to return sale-price merchandise, but not clearance-priced. Also note which items are final sale, such as underwear.
Return Method: Note the return method the store utilizes and its convenience. The most commonly used shipping carriers in Canada are Canada Post, Fed-Ex and UPS. Do you live or work near a Canada Post outlet? Will you plan to take your parcel to a Fed-Ex or UPS store, or call to arrange a pick-up? Some stores include a pre-paid shipping label, others you have to request one. If you have to request a shipping label, it will either be mailed or emailed to you.
Now that you're fully educated on merchandise returns, here are some clothing, footwear and accessory stores that offer free or cheap returns. Be sure to read the return policy for additional details prior to placing an order.
Free Returns:
Stores with minimal return fees:
I'd like to see The Bay offer free returns. You could also check out our list of stores that ship for free, as many of them might do free returns as well.
Bargainmoosers, do you have some stores to add to this list? Are there some stores you wish offered free returns?
Photo credit: Mark Engelbrecht