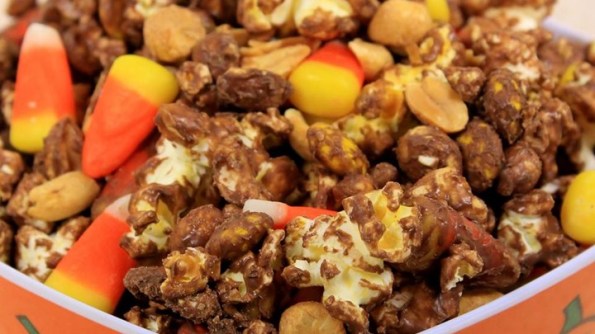 This delicious treat is a hit with everyone for Halloween. I love it so much that I make a batch to give out, and a batch for myself. I then proceed to hide my batch so the kids don't get it. That is how good this stuff is. The Monster Munch Halloween Popcorn Mix is so fun and easy to make that the kids will even enjoy helping you out. It can get a bit messy, so be prepared for that. You can also swap out some of the ingredients for whatever you like, or add your own personal touch of course.
So here's what you're going to need to make your very own Monster Munch Halloween Popcorn Mix:
12 cups of popped popcorn
1 cup of candy corn (or any Halloween candy)
1 cup dry roasted, salted peanuts
1/2 cup Reese's Pieces (they are even Halloween colours)
1 pound of chocolate almond bark (or any chocolate bark) broken into smaller chunks
Ready to go? You can hit up the Bulk Barn for many of these ingredients, and it won't cost you much there. Also keep your eyes peeled for their print coupon which will get you $3 off when you spend $10. I can't imagine that you would spend much more than $10 on these ingredients.
Here are the steps you will need to follow to make the perfect Monster Munch Halloween Popcorn Mix:
Mix your popcorn, candy corn, peanuts and Reese's Piece in a large bowl.
Melt your chocolate bark in a microwave safe glass or ceramic bowl. Nuke it for 15-30 second intervals so you don't burn it. Stir it after each interval of course. Proceed with this step until your chocolate is a smooth and creamy consistency. This usually takes up to 3 minutes.
Pour that delicious melted chocolate over your popcorn mixture. Stir the mixture with the popcorn until everything seems to be pretty well coated. Then you can spread the popcorn out on a flat surface that is lined with wax paper or tinfoil even. Let it dry completely and then break it into clumps. You can even put it in cute little baggies if you are giving it away.
If you have someone with peanut allergies, then make sure you change up the ingredients accordingly. We wouldn't want anyone to have an allergic reaction of any sort. I can't wait to eat the Monster Munch I made! Yummy, get in my belly!! Thanks to AllRecipes.com for this awesome recipe.
Moosers, what ingredients did you change up for your very own Monster Munch?