Pretty sure it'll take some time for the shock of this one to wear off for new mom Manita Singh, 25, who went into premature labour at just 26-weeks along, thinking as we all would, that she was expecting just one baby.
The woman, who had never had an ultrasound, arrived at hospital Saturday morning in Ambikapur, India, where they were unable to stop her premature labour. After only about 30 minutes of pushing and delivery, Singh was the mother of not one, but FIVE daughters!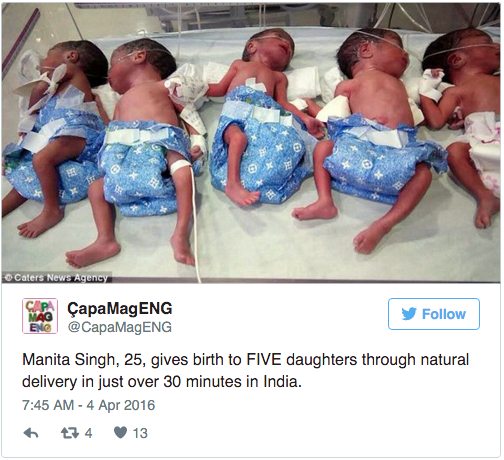 The babies were born weighing just over three pounds each but were otherwise healthy at birth. They are now under close supervision in neo-natal intensive care.
Both mom and dad, Mahesh Singh, though obviously stunned and surprised, are considering this incredible delivery as a blessing. The proud father told the daily mail, "I am extremely grateful to God for blessing us with not one but five children. We were heartbroken when we lost our first child, a son, immediately after birth two years ago. I believe God has compensated the loss. I only hope that they all survive and I can give them a wonderful life."
This is the first ever set of naturally delivered quints in the area. We hope for much health and happiness for this new family of seven!
Do you have multiples, could you even IMAGINE this kind of a surprise delivery?
(Main Photo Credit: Donnie Ray Jones, via Creative Commons)