If you're planning a trip to Toronto or live there and want to plan a few family activities, you might be wondering about the Toronto CityPASS. We were, too, so we decided to break it down and let you know if it's really worth it.
A little while back, we talked about the Toronto CityPASS, and one of our writers gave it two thumbs up ... but it's been a few years since then, so I wanted to see if you still get the same bang for your buck.
But first, what exactly is a CityPASS? Well, they're basically ticket booklets that work as your admission to different major attractions in your city of choice. In this case, the city is Toronto, and the pass gets you in to five different places:
CN Tower
Casa Loma
Royal Ontario Museum
Ripley's Aquarium of Canada
Toronto Zoo or Ontario Science Centre
The CityPASS site says one will save you 36% off admission to those five attractions, so I decided to put that to the test.
There are two CityPASS options to choose from: Adult ($88 CAD plus tax) and Child ($59 CAD plus tax). The Child pass is valid for kids aged four to 12 years old. If you have a little one younger than four, they may get into some places for free.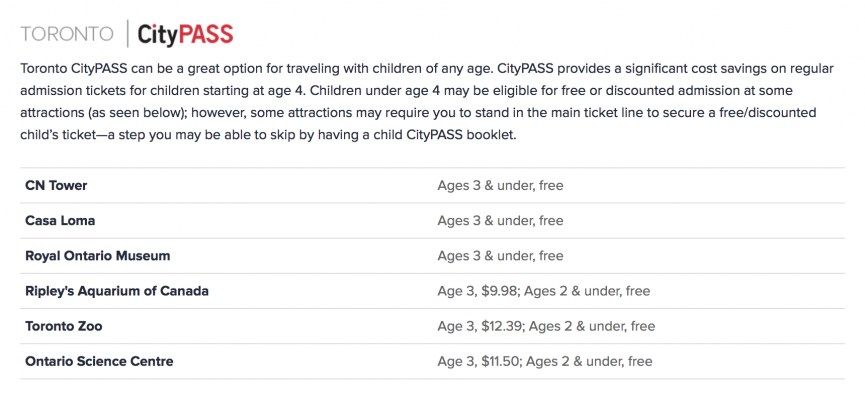 Here's how standard admission fees break down (if you don't buy a CityPASS):
Adult $38
Child (4-12) $28
Adult $30
Youth (14-17) $25
Child (4-13) $20
Adult $20
Youth (15-19) $16.50
Child (4-14) $14
Adult $35
Youth (6-13) $24.25
Child (3-5) $12
Adult $29
Child (3-12) $19
So if you're an adult heading to the first four attractions and the Ontario Science Centre (the cheaper of the two final options), paying at the gate would cost you $145 – and since the CityPASS is only $88 (plus tax), it's a clear winner! Plus, another bonus to the CityPASS is that it lets you skip the lines!
Are there any other options out there? If you're only heading to an attraction or two, it's probably not worth your while. However, there is another awesome package deal – called Sea the Sky – that'll get you in to both the CN Tower and Ripley's Aquarium of Canada! Here's how that deal all breaks down:
Adult (13-64) for $58
Senior (65+) for $45
Child (4-12) for $37
If you do choose to buy a CityPASS, you have nine days to use it (beginning the day of your first attraction visit).

Most of these attractions also offer discounts for seniors and students (while CityPASS doesn't), so keep that in mind if you qualify for those deals! If you're heading to the Toronto Zoo, just note that their prices go up in the summer. I listed the summer prices above.
If you're not from Toronto or planning to visit anytime soon, you can still buy and use a CityPASS for 11 different US cities:
I've only been to a handful of these places so far, but I'm definitely starting to wish I had bought passes the last time I was there!
Have you bought a CityPASS? What's your verdict? Let us know in the comments!