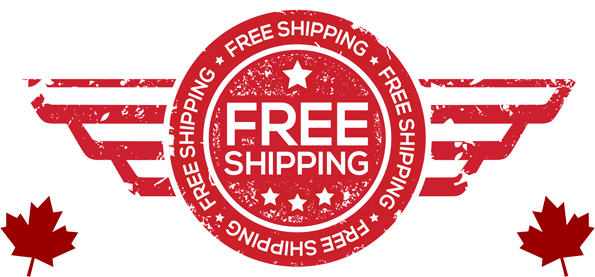 Here on Bargainmoose, one of the most favourite promotional offerings that we like to see is free shipping. Free Canadian shipping on every single order from every single store would be utterly amazing to see, but that's probably not going to happen. So instead, we keep an eye out for stores all over the world which offer free shipping to Canada, all with no minimum spend requirements.
You can happily browse through all of the above stores, safe in the knowledge that if you're placing an order on any of them, you won't have to pay a single penny in shipping fees.
Since we created this page back in October 2014 and mentioned it here, it has been growing and growing as we stumble on more stores, on our internet travels. As of then, we had 60 stores on the page and just now, there are nearly 80 that we know of.
Notes on Customs
You will have to do your own research on the FAQs on the above sites if you want to check out the various ways that they deal with customs and duties. Remember that any regular order of $20 or more being imported to Canada may be subject to additional fees. Some stores deal with these by charging you at checkout, but for some, you may have to pay extra at your doorstep. Check that out before you buy!
Store Examples
Some of the stores that I have recently added to the above page were very interesting and I wanted to highlight a few for you:
Skinkin – This France based site sells a huge range of unique skins and funky cases for phones and tablet, all with free shipping to Canada. The products are designed by hundreds of artists all over the world, and there are some really cute items in there. If you're buying from Skinkin, you will see a popup for a free 15% coupon code for your first order. Make use of that!
Beyond Stores – This is a US based furniture store, which sells some amazing pieces. If ordering, all potential charges will be shown to you at checkout, there are no fees at your door. And everything comes with free shipping. :)
Jeulia – This US based jewellery store sells some unique designs; from engagement rings to couples necklaces. Right now they have an automatic discount on the go; you get $0 off $100, $20 off $200, $30 off $300 – this is automatic in your shopping cart. Or, sign up to their newsletter for a 10% coupon code. There is no sign of customs going through checkout, so it's possible you may have to pay these at a later stage.
More Examples
There are loads more stores on the international free shipping page though, here's another brief selection of stores from the clothing category:
P.S. We check the validity of our free shipping page about once a month. If you see a store which has expired its free shipping promotion, please do comment and let us know. Additionally, if you know of any other international stores with free shipping to Canada, please drop us a line to include it on our free shipping page!