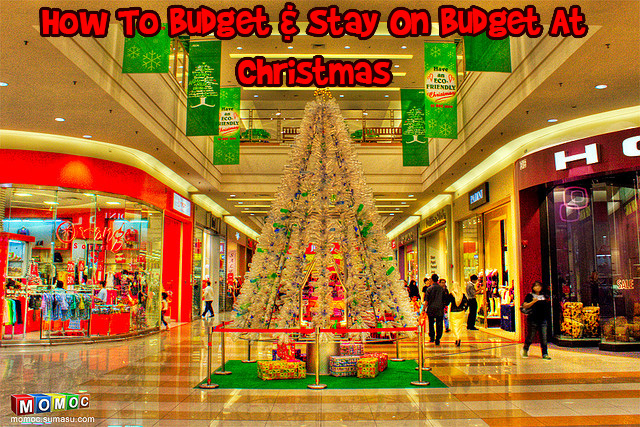 Now that Halloween has been over for a day, we are legally allowed to talk about Christmas. I'm sure it was legal to talk about it before now, but I didn't want to get hit with raw eggs. Christmas is a time notorious for overspending. January credit card bills are not fun to look at, and sometimes it can take the entire next year (or longer) to pay off one Christmas. However, there is a way to stay on track, spend the money you have and still have a fun Christmas.
Create a wish list
Your first step is to create a wish list of everything you want to buy or get for Christmas. I'm not just talking about gifts here. If you are throwing any parties or dinners over the holidays, put that on the wish list. If you are attending any parties and needs cabs and hostess gifts, add these to your list. Think about everything you will be doing over the holidays and add it to your wish list. You should even include charitable events, food bank donations and even holiday clothing you might want. If you're buying it out of your normal budget for the holidays, include it on the wish list.
Create a budget
Next, realistically figure out how much money you will have to spend. Try not to add credit card limits to the amount, because by doing that, you might as well add the interest over the next months on top of it. Once you know how much money you'll have, divide your budget into sections. Use categories like kid's gifts, extended family gifts, stocking stuffers, spouse gifts, thank you gifts (to teachers and other service providers in your life), food, clothing and other expenses. Deciding who to spend the bulk of your money on might take a while, especially in cases where you have limited amounts of money. Gail Vaz-Oxlade (the queen of getting debt-free) has some awesome and free spreadsheets you can use to track spending and create your budget.
Pare down the wish list and have realistic expectations
At this point you'll realize what you have to spend on each category and you will start crossing items off your wish list. Maybe you don't need that new sexy dress for your work Christmas get-together. You could decide to make Christmas Eve dinner at your house a potluck and BYOB celebration. Your kids also only need a few toys each, not the entire toy store. Get realistic with your list. I did this recently and it hurt because I had planned on getting quite a few gifts for my kids and husband that we really couldn't afford. I had to decide which few gifts on the list were the most important to our family and stick with that.
Try to make some extra money over the holidays
At this time of year, retail stores and anything related to retail are extremely busy, and there is always the potential to get extra work. Malls often look for seasonal sales people, gift wrappers, and people to dress up as Santa or elves. People spend money at Christmas and there are jobs to go along with this money, if you are willing to work the extra time to get the money to top up your list. Bargainmoose is always very busy over the holidays and with Black Friday in November, so I have the potential to make some extra money and add a few items to my list and still stay within budget.
Wait for sales
The most obvious way to save money over the holidays is to wait for sales on the items on your list. Don't just run out and buy everything on your list as soon as you've decided on it, just to get your to-dos complete. Be patient, watch Bargainmoose for your item to go on sale and then snatch it. If you are too antsy for this, at least take advantage of free shipping deals or use a promo code to get yourself a percentage off at a certain store.
Re-gift
Re-gifting has made a bad name for itself, but if you truly will never use an item that you were gifted and your gifter won't know about it and get hurt feelings, I believe it is okay to re-gift. I especially believe it if this is a gift that you know the other person will love. For example, my mom gave me a bunch of jewellery that she bought at a sale, but I never wore it. Some of it still had tags on it. I knew it was something I would never wear, but one of the pieces reminded me of one of my son's teachers. I gave it to her; she was very thankful and I've seen her wearing it. I saved myself a few dollars and did the eco-friendly thing, too.
Use free services
Many stores and malls offer free gift wrap. Gift wrap can get very expensive, even when you buy it from the dollar store. It is also hard on the back. I love doing my own gift wrapping, but I know some people couldn't be bothered. As much as I hate it when I go into Mastermind and have to wait for the cashier to wrap someone's gift before I can pay, this is a good service that can save you money.
Go to free events
Plan your holidays accordingly and watch for free events for the family. It may be very tempting to head into the $10 a head Christmas tree village, but your kids might have just as good a time seeing the lights at the park, watching the Santa Claus Parade or even just going to a flower nursery. Lots of communities host free events around town, so be aware of them, write them on the calendar and don't forget to attend.
Plan free & cheap family activities
You could make your own bucket list of fun ideas over the holidays, which will stop you from doing spur of the moment expensive things out of boredom or guilt. This list at Nate and Rachel is a start, but you can personalize it as you'd like to accommodate your family's interests and schedule. Go to the dollar store and stock up on little crafts and craft supplies so that you can do a spur of the moment inexpensive craft. Have some movies ready to watch for a family movie night so that you don't spend upwards of $100 going to the theatre. Don't forget to include these expenses in your budget!
Make your own decorations
Sure, those Martha Stewart-type houses look amazing and coordinated and perfect; But, is that really you? And do you have the money to decorate your house for one short month of the year? I love it when my kids make crafts and decorations for my tree and house. I think the personal touch is way more appealing than a glittery silver ball that cost $6. Pinterest has a load of craft ideas for the holidays. Check out and follow the Bargainmoose Christmas craft board on Pinterest.
Make your own gifts
Again, Pinterest is amazing for finding ideas for gifts to make for your friends, family and everyone you appreciate at Christmas. Cookies aren't the only gift you can give. If you are skilled at something creative, take advantage of this. Bargainmoose has some great DIY boards on Pinterest, which you could check out for ideas. My favourite gift to give, which I did last year, although I had to make it a few times because I drank it, was homemade Irish cream. Foodiecrush has a really simple and delicious recipe to share.
Take advantage of free returns
Many stores offer free returns or return to store. This means that shopping online doesn't have to make you stuck with a gift that doesn't fit or that someone doesn't like. You can return it for free, or take it back to the store and get a credit, exchange or your money back. Be sure to see which stores have this feature before you shop if this might be an option you'll need. Shop.ca, Little Burgundy, and Eluxe all offer free returns. Beyond this, always take back an item that isn't going to work for its intended purpose. This includes if you don't like it or can't use something you are given - either be honest with the giver and get a receipt, and exchange it or re-gift it to a friend or even a charity. Don't let it go to waste.
Volunteer instead of giving money to charity
If you are short on money, but have time to spare, consider doing some volunteering over the holidays instead of donating money. There are many needy people at this time of the year that really accentuate this, but you can do more and probably learn a few life lessons for you and your family by giving your time to a food bank, meal kitchen or any other charitable organization. Ask around or search on Google. I'm sure it won't be hard to find something.
Well Bargainmoosers, I hope you all stay on track this year and start January off fresh, not under a pile of bills. If you have any tips or secrets on how not to lose your shirt over the holidays, let me know in the comments below.
(banner image credit: Momoc HDR)