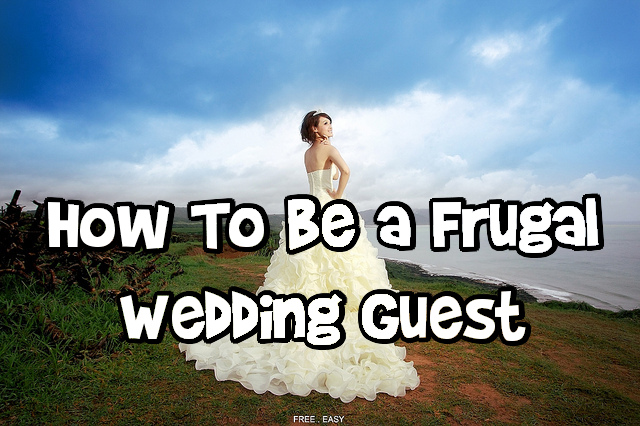 With Spring and Summer comes nuptials. May is actually the month that most people get married in, what with all the beautiful flowers and colours and baby animals. You might be invited to a wedding this season and are stressing about it because it just might not be in your budget. I have a wedding this Summer that I'm looking forward to because I absolutely adore weddings, but I'm more stressing about childcare since one half of our family will be at the wedding. Childcare could also be another budget woe for you when it comes to wedding. So, how can you attend a wedding and not break the bank? I'll tell you how.
Gift
As soon as you are invited to a wedding, the first thing on your mind might be a gift. Weddings are expensive for everyone, and while I don't think anyone ever should expect a gift (and certainly not these bridezillas), it is good etiquette to give the new couple a gift, even if you don't believe the marriage will ever last. Many people like to give money, especially if the couple is young and is just starting their life and would like to buy a house or have a nice honeymoon. If you aren't sure what to give, check out this handy dandy calculator.
Moneysense suggests that if you know you have a wedding in your future, begin budgeting ahead of time. If you don't have or want to give money, there are gifts you can give that are inexpensive, but thoughtful. Is there a service you can provide for the bride and groom that would go farther than any expensive gift? For example, as a writer I could write something beautiful for the wedding. A person with a lovely voice could sing at the reception. A floral arranger could do the bouquets. These services don't have to be for the wedding either. A person who is a fantastic cook could offer to cook the bride and groom one special meal a month for the first year. If the couple has kids, offers of babysitting go a long way.
Alternatively, guests could make something special like pottery, artwork or more. Check out this Pinterest page with lots of great ideas for DIY wedding gifts.
Attire
Going to a wedding usually (but not always) means dressing formally. I don't know how many women I've heard complain that they don't have anything to wear to an upcoming wedding. I know I don't have anything for the wedding we have coming up, so I need to figure out what to do. First, check your closet and figure out if you really don't have anything. Just because a dress is ten years old doesn't mean it won't do perfectly. Some classics never go out of style (as long as they still fit). If you've worn a dress one too many times, try dressing it up a little more with showpiece jewellery or a scarf or a great pair of shoes. If you really feel like there is nothing in your closet, ask a friend. Even if your friend is not your size, I bet they could have some gems in there saved from a bigger or smaller time in their life. This is exactly what I did two years ago for a friend's wedding. If all these are a no-go, consider wearing some classic dress pants and a top and doing your hair in a beautiful up-do that will be the star of the show, not your clothing. Pinterest also has some great ideas for up-dos.
Lodging
If your wedding is out of town or far enough away that you don't want to drive home, you'll need lodging, which could be expensive. I've found that hotels on sites like Hotels.com or Orbitzpaired with coupon codes are really the best deal. Many times as well, the bride and groom will reserve a block of rooms somewhere at a discounted rate. Talk to them or someone else involved in the wedding if this is an option.
Showers & Other Parties
A wedding doesn't just stop at the day of the wedding, there are usually a number of parties beforehand and some after that guests will be invited to attend. The shower, the stag, the buck and doe are all huge money-dwindlers that will leave you crying. Although all of these could be fun, opt to attend only one instead of all to save money. You could use the tips above for shower gifts, which shouldn't be a huge cost anyway. If you really want to attend the bachelor or bachelorette parties (and why not, they are my favourite part!), opt to eat or drink before you go so you don't spend a lot of money out on the town. Instead of spending a bunch of money at the buck and doe, sell as many tickets as you can for the event, knowing you contributed that way instead.
If you get a wedding invite and you really can't afford to go, don't go. Send a gift when you have the money at some point in the future. If the bride and groom are truly your friends, they will understand.
Bargainmoosers, what are your tips for not spending a lot this wedding season?
Photo credit: 阿乃