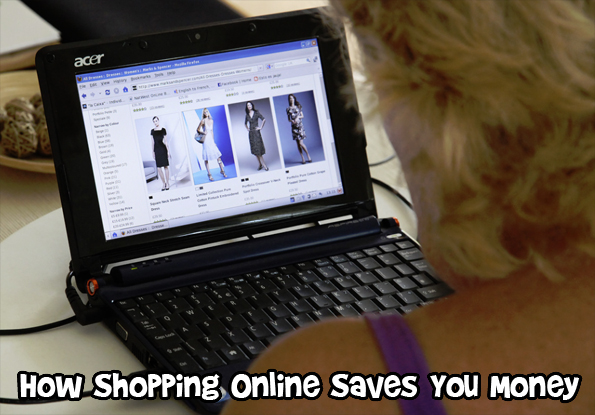 Black Friday has progressed from a one-day event with people rushing the stores for all the bargains, to Black Friday week and to the addition of Cyber Monday and even Cyber week. Cyber Monday consists mostly of online sales, although some stores do continue their sales in store. Many people still have the perception that shopping online can be more expensive, what with shipping fees, and they believe they might miss out on some hot clearance deal. Well, I'm here to tell you the exact opposite is true. Shopping online can save you more money than shopping in-store. On top of that, it saves you time too!
There are more deals online
You read that right. When my babies were little, I spent a lot of time at the mall for lack of anything to do and wanting to get out there instead of sitting on a couch with babies. I rarely saw deals that were very good. Since I've started working for Bargainmoose, I understand the bargain cycles a little better, and many times I'll see online only deals and one-day only deals. If you go to the mall once a week, you have the potential of missing out on that one-day only deal, which could have been yesterday. So, you buy what you came for and go, not knowing had you shopped online yesterday, you would have gotten that item for half the price. You can sign up for your favourite company's newsletter and like their Facebook page to find out about deals, but even if you do, if they announce a one-day deal you'll have to run out to get your item and maybe change your plans in the process. Most people aren't willing to do that and would rather pay more money to shop at a more convenient time. That is where shopping online wins this battle because you only need five minutes out of your day to get your item at the discounted price.
Online shopping keeps you focused
When you go into a store you see mannequins, salespeople and other shoppers doing their business. The atmosphere in a store makes you want to spend money and makes you think that you want items you may not have come for. Shopping online does not do that. You may see the photos of the models and think you want a particular item, but no salesperson is telling you that "it's your colour" or "you'd look fabulous in that". You can go online, go to the section of the item you are looking for and put it in your cart. If you have buyer's remorse at checkout when you see the total, you don't have to be embarrassed when you decide not to get something, you just take it out of your cart. There are also no surprises at checkout because your total is usually easily visible throughout the shopping process.
Coupons
Couponing has become a huge business lately, although I find the majority of the printable coupons out there are for grocery-type items. I find couponing overwhelming and only do it if I see a coupon right there and use it. If I know I am going to a certain store, I will look for printable coupons in the Bargainmoose forum, but honestly, printable store coupons are rare. What is not rare are coupon codes. Our forum is filled with stores offering online coupon codes, and often these can be added on top of existing sales.
But what about shipping fees?
I think shipping fees are a big reason people might not shop online. Nowadays many stores offering free shipping all the time, or have free shipping days or weeks or months, or have promo codes for free shipping. You can see what stores offer free shipping with no minimum on our free shipping page. Besides these, most stores will offer free shipping at a certain minimum threshold and most times I find it is usually an amount you'll probably be spending anyway. If it is a high threshold amount, wait and see if they will offer a free shipping no minimum (or a lesser threshold) and then scoop up your item.
How can I try on an item?
It is true, you can't try on an item online, but many stores have size guides, so if you have your measurements, you can basically see how something will fit you (smaller, larger or true to size). If not, many stores also offer free returns or free return to store. It might not be the most fun having to go into the store to return something you ordered online, but I'm going to say most of the time you won't have to if you've read the sizing charts correctly.
Online reviews
Shopping online lets you do your research on any item you want to buy, from underwear to a mitre saw. You can look up reviews and ratings of the item either on the site you are purchasing from or on other sites. Online reviews stop you from making impulse purchases on deals you think are awesome, without really knowing anything about the product. When you shop in-store, most times salespeople are going to be biased towards you shopping there and spending your money. You also don't have a huge group of people who have already experienced the product who are willing to supply their opinions. You have this all online.
Price comparisons
You could stop into a store and see a sign on an item you want that says $50 off. Sure, that sounds great, but did you know their competitors have the same item for $75 off? How much work is it for you to go from store to store to find out who has the item the cheapest? Online, this takes very little effort. You might think flyers will tell you, and they will, but what if it is an item that isn't on sale, so not in the flyer? Shopping online you can easily look up your item and find out its price at several stores. You can also see if your store has one of those above-mentioned coupon codes to make the price even sweeter.
Transit costs
This one may sound simple, but it really is true. You are saving gas or bus money by shopping online. You also save time by not going to the store, which you can use to do something more productive.
Buying gifts
If you are buying gifts for someone who doesn't live near you and you will need to ship the item to them, shopping online is perfect for this because it reduces the middleman. Especially from stores that offer free shipping, simply enter the shipping address as your gift recipient's address instead of your own, and you just saved on the shipping costs had you bought in store and shipped it yourself, not to mention the time it would have taken to go into the post office and do this yourself. Boxes for shipping are actually kind of expensive, so you are saving on packaging too. Many stores will even offer gift wrapping before they ship it, so take advantage of this as well.
Higher chance of stock being available
Shopping online, you have access to the store's main warehouses, rather than your local store's stock inventory. You have a better chance at getting the item you want. If you are wondering how this saves you money, it is because you will get what you want, at the price you want it, rather than having to buy a similar item, potentially at not as great of a savings. I recently purchased two tablets for my sons online. I knew the ones I wanted and I researched every single store that would have these tablets and found which one had the best price. Chapters had the items on sale, but the one I wanted was sold out, but they did have a slightly more expensive model of the same brand. Best Buy had the model I wanted in-stock online. I went with Best Buy. The next day I went to Best Buy and wouldn't you know, the item was not in-stock at the store. Had I either gone to Best Buy or Chapters instead of shopping online, I probably would have ended up with the more expensive model, rather than the model I wanted at the best price. Here is the kicker to add to this: Chapters had $5 off coupons for Black Friday on purchases over $100. Had my item been in stock, I would have gotten it for $5 cheaper at Chapters, online only.
Bargainmoosers, why do you think online shopping is better than in-store shopping? Let me know in the comments below!
(Image credit: Keith Williamson)