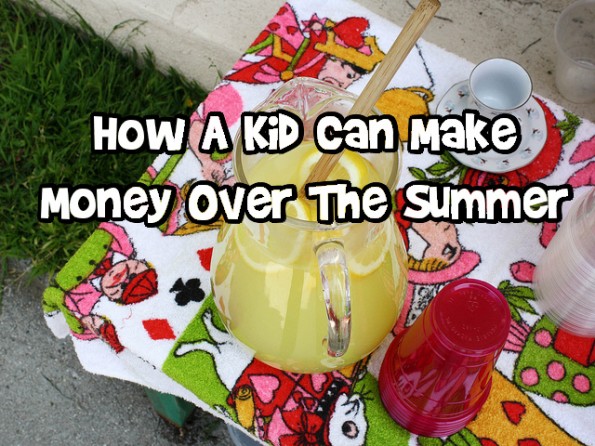 If you've got a kid on your hands who wants the latest gadgets, attraction passes or just wants some money over the summer, there are ways he/she can make some money without getting a "real job". Kids need to be a minimum of 14 years old to work in Ontario and up to 16 for certain jobs. This doesn't mean as a child you can't find a way to make money. I've compiled a list of ideas on how to make money over the summer, so when you want to head to the store for a pop, you don't have to ask Mom!
Babysitting
While this seems like an obvious job, you don't have to wait for babysitting gigs to come to you. Get yourself out there and introduce yourself to any moms you see. I have a stockpile list of babysitters because with all of the sports and social events kids do these days, I don't want to be left babysitter-less on busy nights. I'd love it if a kid made an effort to make an impression on me, because that is the kid I'll call first to babysit. Besides nights out, you could also babysit kids while Mom and Dad are at work over the summer. I have a friend whose daughter ran a "summer camp" in her backyard, while her mom who worked from home oversaw it with her. The kids had a really great time and the whole thing was super successful. Parenting.com has some great ideas on how to start your own summer camp.
Gardening & Errands
If you took a walk through your neighbourhood, I bet you could find lots of homes that need things done, that are easy to do, but that the homeowner just doesn't have the time to do. Make a list as you walk through and set a price for this task. Knock on the people's doors (under supervision from your parents) and see if they'd want to pay you $10 to pull all their weeds all summer. Maybe they'll find other things for you to do if you do a good job.
Pet sitting
I have a dog, two cats and two frogs and when we go on vacation I find it harder to find someone to take care of my animals than my kids. Set up a pet care service with cute flyers with animals on it and post it in your neighbourhood. Offer to feed small animals, walk dogs, brush cats for a small fee. If you are home all summer, I bet your services would invaluable to those around you who don't want to pay $25 or more a day to a pet-sitting service. Often I'll want to do an impromptu day trip then forget my dog can't stay alone all day. If I had the number of a kid who could come by and let my dog out a few times that day, that would be awesome.
Sell some stuff
You probably have a number of toys you no longer play with and are taking up valuable space in your room. Get your parent's permission and see what they'll let you sell yourself. Kijiji is great for selling items, but you could also take them to consignment or sell them on parent groups. As always, don't deal with any strangers without your parent's knowledge. Similarly, ask your parents and grandparents if they have some stuff they want sold and offer to do it for them, collecting a small fee in return, or maybe earning the entire sale proceeds.
Entrepreneurial work
Remember the success of your lemonade stand you had in third grade? Well with your knowledge now you could do a souped-up lemonade stand with your own home-baked goods. Don't forget to advertise or set up in a spot you know people will have money and want to buy your goods. At the local park or splash pad would totally work.
Ask Your Family
I bet your parents have a ton of jobs around the house that they'd love done like sorting paperwork, painting a room, labelling wires and so much more. You could offer to do these jobs for a fee. This will keep you busy, keep your parents free to drive you places and you'll make some money.
Bargainmoosers, do you have any great ideas for how kids could make money over the summer? Let us know!
(Photo credit:Jessica Wilson)