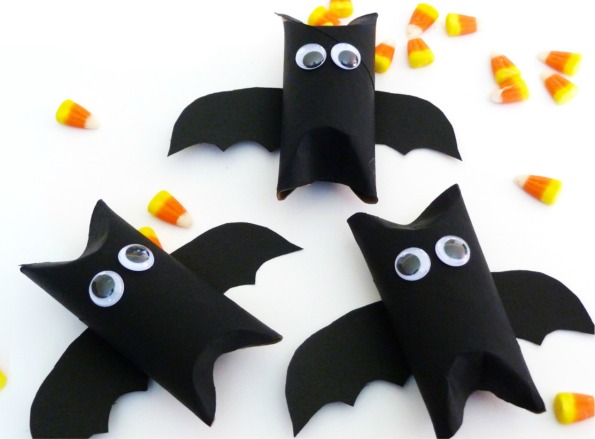 Toilet paper rolls... did you ever think you could turn them into something as adorable as this? Save a few of your toilet paper rolls and you can make some of these adorably spooky pinatas for your kiddos this Halloween. These toilet paper roll bats can be stuffed with your kid's favourite treats to make some mini pinatas or goodie bags.
Each bat is going to require one toilet paper roll, black construction paper, google eyes, white glue, a metallic pen to draw on the mouth, tissue paper to stuff the bottom and sweets of course. The instructions are pretty simple but if your kids are making their own, you will need to help them out a little. The results will be super adorable, and you can even get creative and customize your bats so the kids can tell them apart. Maybe use pink construction paper and make a bow on some of the girl bats?
So here are the instructions to make these little Bat Pinatas:
Step 1: Take your toilet paper roll and fold down the top to make the bat ears. It is probably easiest to glue your black construction paper on before folding the toilet paper roll. Make it fit exact to the toilet paper roll.
Step 2: After you have attached your black construction paper and folded your toilet paper roll's top to make bat ears, you can cut out some bat wings out of the black construction paper. You can get creative with this part for sure, but if you want to keep it simple then cut a circle out of the black construction paper first. Then cut the circle in half. Then cut the straight edge to look like waves and voila, you have yourself some pretty simple bat wings. To attach your wings to your bat, just use some school glue.
Step 3: Now you can get into the final details. Glue the google eyes onto your mini bats and use a metallic silver or even a chalk white marker to draw on a mouth. Be sure to make each bat have a custom smile, and maybe some fangs?
Step 4: Stuff the bat with all sorts of goodies and candy. You can venture through Bulk Barn and get lots of different Halloween theme candy for sure. They have pumpkins, fingers, eye balls and gummy worms of course. For sanitary reasons you may want to put the candy in a sandwich bag before stuffing them into the toilet paper roll. Then you can stuff the bottom of the bat with tissue paper. Make sure to fold the bottom of the bat the same as you folded the top, to hold the treats in.
The rest is really up to you. You can use them as handouts at your Halloween party, pinatas, or just little treats to give to the kids. What would you use them for?
Moosers, have you made mini pinatas like this before?