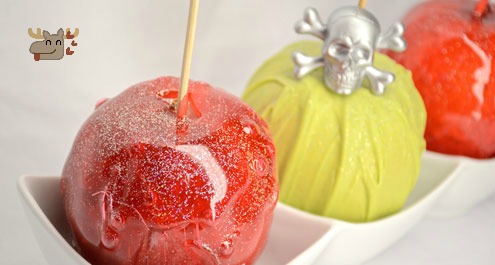 These treats look awesome! How about some Halloween Candy Apples for the entire family this year? You could probably even change it up and make them for other holidays such as Christmas. For Halloween you can label them as Poisoned Candy Apples for your party or for the kids to enjoy. The candy apples call for Jolly Ranchers, but it is a little more complex than that. If you melt the Jolly Ranchers and then dip the apple in, the candy will become too hard to eat once it dries. So let's find a better alternative, shall we? After all - we don't really want to ruin our teeth due to candy.
Here's what you're going to need:
Apples
Jolly Ranchers
Corn Syrup
Candy Apple Sticks
Edible Glitter
Decorations
So go ahead and preheat your oven to 300 degrees. Then get your Jolly Rancher candies and sort them according to colour or flavour. You will want about 20 of each colour. Place the 20 unwrapped candies in an oven safe pan and add about 1/3 cup of corn syrup. Then place that pan in your oven to start melting the candy. Within 3 minutes you will want to stir your melting candy and then leave it melting for another 2 minutes or until they are totally melted.
Once your candies have melted, immediately add some of that edible glitter. You can buy that fantastic stuff from Michael's and they often have coupons for 50% off one regular priced item, so keep a close eye out for that. Stir it in and immediately insert a 6 inch lollipop stick into each apple and dip them into the melted Jolly Rancher mixture. You can use a spoon to help you make sure that the entire apple is covered in candy. Then place the covered apples on some wax paper to cool.
So basically the corn syrup will make sure that your Jolly Ranchers don't completely turn back to a hard candy. It will now be closer to a gummy bear consistency so you and the kiddos can actually enjoy the Halloween Candy Apples. Get some tiny toy spiders or pumpkins from the dollar store and decorate each apple with some spooky character.
(Expiry: Never, muahahaha!)