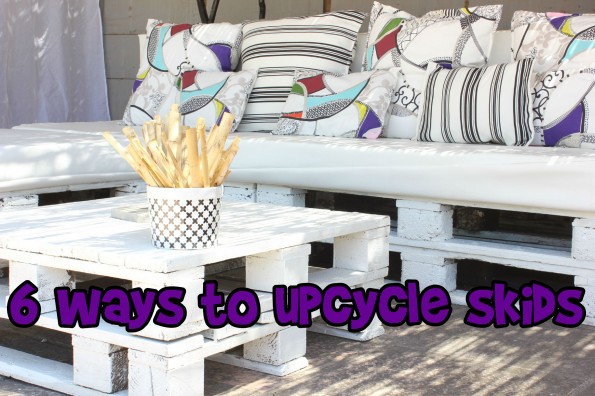 Wooden skids. We have all seen them laying around in odd places, but have we ever considered what we could make them into? Rather than letting them sit and waste away, why not turn them into a beautiful creation that everyone will admire. I set out to find 6 ways to upcycle those old wooden pallets so we can all make some great little do it yourself projects. Not only are these projects pretty frugal, but they also save a few trees because you won't be buying brand new wood to build shelves and other little things for around the house. So here are 6 ways to upcycle skids.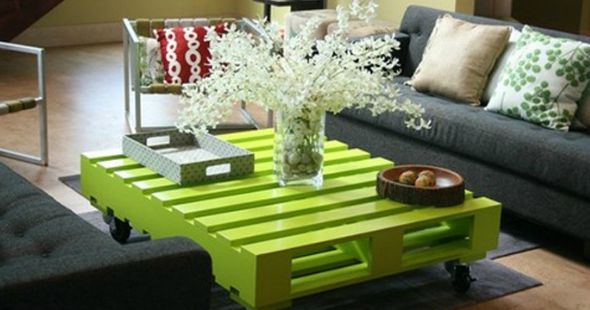 Coffee Table
If you are artsy, then this little project will be super simple for you. Grab an old wooden pallet and get it sanded down nice and smooth. Then you can prime it and paint any colour you want. You can even use a wood stain if you want, that might look more natural. Personally I am a sucker for bright colours like the lime green as pictures. Once you have the skid sanded, primed and painted then you can add some castor wheels to each corner which will give it some height and make it easy to move. You can even add a piece of glass to the top of your new table, to prevent things from falling down the slots.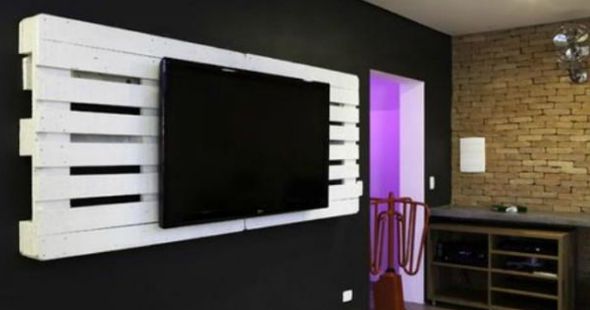 Wall Mount
If you have dark walls or want to accent your wall-hanging TV, then I have just the thing. Take a couple of good condition skids or wood pallets and get them nice and sanded. Then you can seal them or paint them whatever colour you desire, and hang them on the wall. Then you can mount your TV to the skids. This also helps to evenly distribute the weight of the TV so it doesn't pull down a chunk of your wall. Doesn't it give a nice rustic look?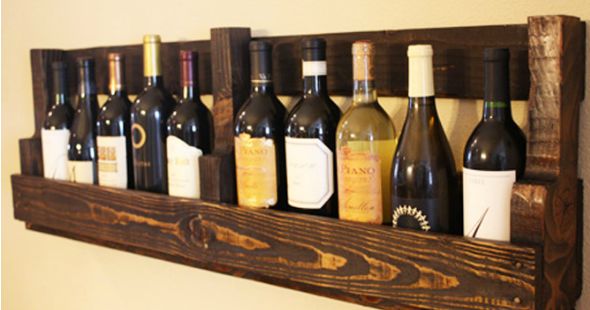 Wine Rack
Wine lovers usually like a rustic look in their home as well. If you want an adorable wine rack without spending a fortune, then check out this frugal DIY idea. Take a wood skid and cut it at the second section away from the edge. Then you're going to want to take one of the 2 x 4's and attach it to the bottom to  hold your wine bottles. I love the stain chosen for the shelf pictured above. You could even have 3 of them and stagger them along your wall to hold different thinks like books perhaps, if you remove the front section. What do you think?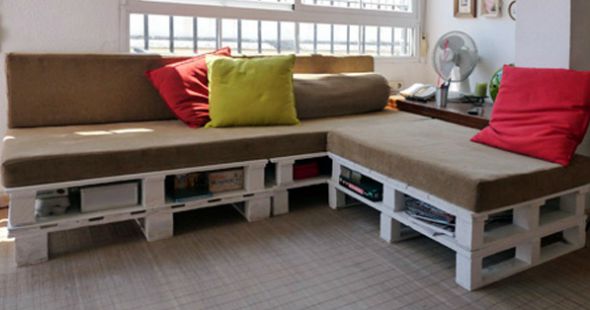 Patio or Outdoor Sofa
Looking for a comfortable accent for your outdoor space, but don't want to spend hundreds of dollars? How about these wood skids turned into an upcycled patio sofa? You can play around with this idea to make it your own, just make sure you securely attach each skid to the next so that you have a sturdy seat. You can put pillows fastened to the top skids for comfort, but you may need to be handy with a sewing machine to make the cushions an exact fit. I kind of like the idea of the cushions hanging over the edge a bit anyway. The throw pillows are a great accent as well, and you can find lots of unique ones at IKEA for as low as $10.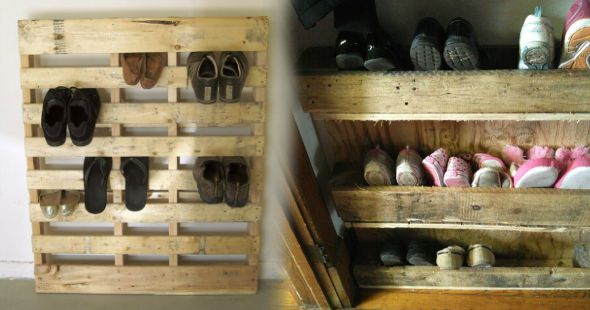 Shoe Rack
This is probably the easiest and most frugal DIY idea with wood skids. Just take a good condition skid and set it against the wall. Voila, you have a shoe rack to store your shoes - and lots of them too! You can sand it and paint or seal it if you really want to, but as you can see it looks good just like this. It also doesn't take up much floor space which might be important in a small apartment or a dorm room. If you have a college student, then this might be an excellent Christmas gift or house-warming gift. Don't you think?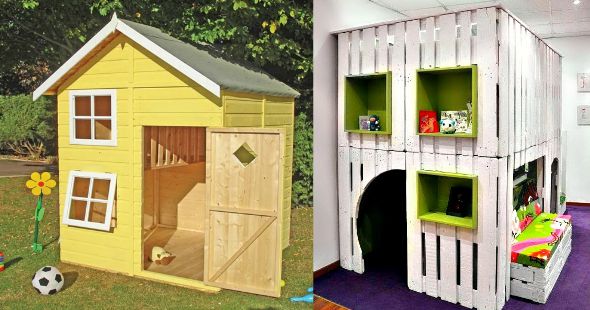 Kids' Fort
Every child wants a fort of their own. Skids can be used to make so many different types of kids' forts. You can use your own imagination or head out to Google and find a perfect one for your family. I have a pet goat and I am considering building a little winter shelter out of wooden pallets. It won't cost much other than nails and time since we have lots of skids laying around at the farm. But kids would adore having one of these forts in the back yard too! Tree forts can be a little dangerous, and these cute little structures will definitely entertain the kids when they play "house",
So Moosers, what are you going to do with the wooden pallets?