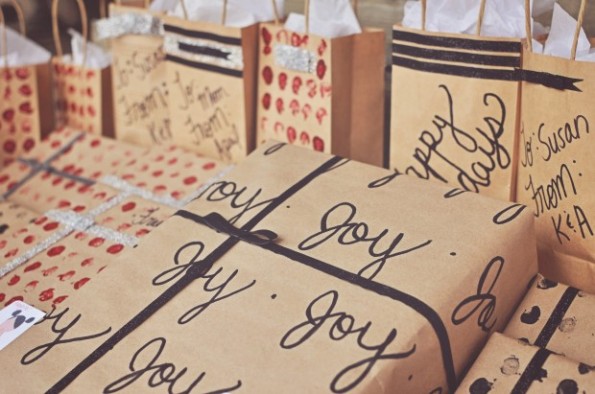 One of my favourite parts of the Holiday season is gift wrapping. I love making all the gifts look fun and unique. I pull out all my supplies, grab a bottle of wine and sit down with a Christmas movie on. Sorry if the gifts get a little sloppy as I go on, a bottle of wine does me good. As the years go by, I find I discover a new wrapping trick every year to make my life easier or more fun. So I have compiled a quick list of gift wrapping hacks that you'll want to  know, and I would love for you to share your tips and tricks in the comments below. I bought my son a electric-power jeep that he can drive this year, and the box is huge. I wonder how I am going to wrap that!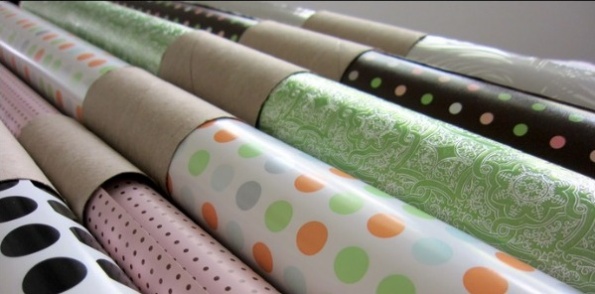 1) Toilet Paper Rolls
You can use toilet paper rolls to keep your gift wrap from unraveling when not in use. Simply use your scissors to cut down one side of the toilet paper roll and then you can wrap the toilet paper roll around your wrapping paper roll to stop it from unrolling. If you want your keeper to look pretty, just wrap it in tinfoil to make it durable and shiny.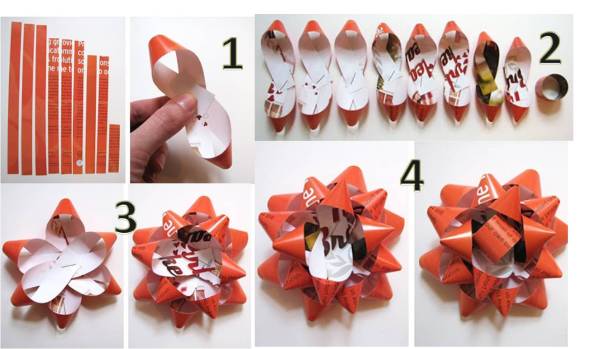 2) Magazine Bows
Grab some leftover magazines and follow the directions above to make some bows of your very own! These actually turn out a lot cuter than I thought they would. Do your best to find festive coloured pages, but it looks good either way. Double sided tape is going to be your best friend to keep these bows looking tidy - or possible even a small dab of glue for each step.
3) Bread tab
I never thought I would find a use for these annoying little plastic bread tabs - but now I am proven wrong. To find your spot at the end of your tape roll, just stick your plastic bread tab to the end! You'll be able to easily pull the bread tab to use your tape each and every time.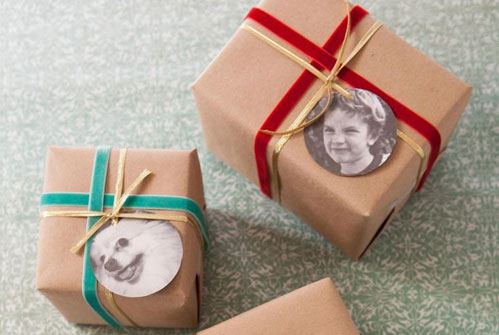 4) Photograph Gift Tags
Here's a unique (and fun) new idea to try this Christmas. Print out pictures of your family members, and cut them into cute little circles to show off their face. Once you print out the pictures of your family members, attach their picture to their gift and voila. I am definitely going to do this idea this Christmas since my kiddo is too young to read yet. This will really help him out.
5) Double Sided Tape
Double sided tape can be used when wrapping your Christmas gifts. It will give them a cleaner look. It is funny that we put so much care into how the gift looks when we just rip them open Christmas morning anyway. If you want your gifts to look perfect, try out the double sided tape. Trust me.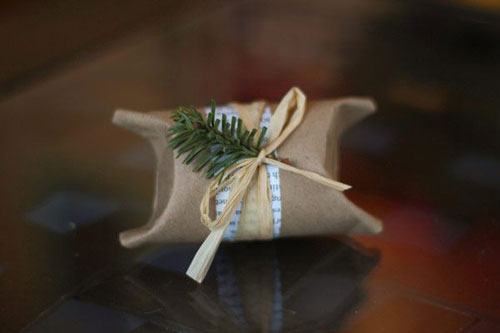 6) Toilet Paper Roll Gift Boxes
If you are looking to wrap some smaller items this year, then make use of your leftover toilet paper rolls again. You can leave the roll plain and tie it with a ribbon, or you can even wrap the roll in wrapping paper first. Fold both edges in like pictured above once the gift is inside. Apply tape as necessary. The little Christmas tree pieces and that type of ribbon can be found at Michael's.
7) Colour Me
Here's a great way to stop the kids from opening their gifts before you wake up. Tape some crayons to a plain white wrapped gift. They can enjoy colouring the gift while they wait for the adults to wake up. I'm not sure about you guys, but I wouldn't mind one of my gifts being wrapped like this too. Plus you can just use plain white paper that you probably have laying around already, especially if you have kids.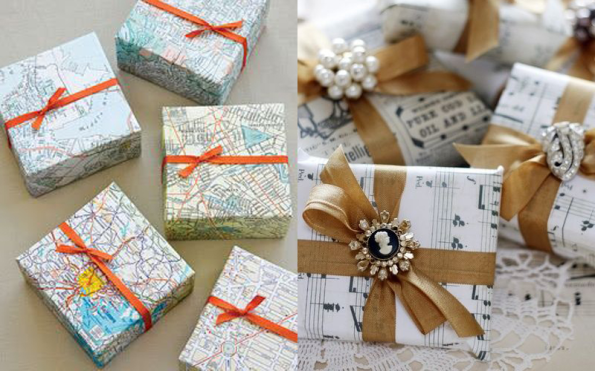 8) Recycled Wrapping Paper
You can use old maps, newspaper, magazine pages or even sheet music to wrap small enough gifts. This not only saves you money, but add a cute ribbon or bow and the gifts will almost look vintage.
Moosers, which gift wrapping tips and tricks do you use every Christmas?