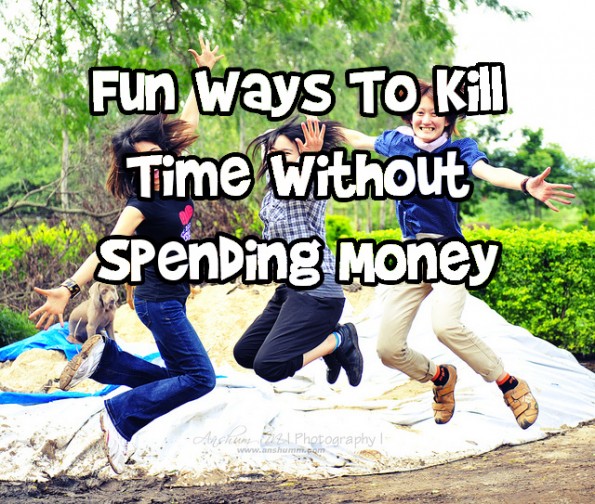 I hope you're all having a great day so far, my fellow deal hunters! I'd like to take this opportunity to reflect on some productive and entertaining ways that you can spend your day without putting the hurt on your bank account. Since I've been freelancing for the past 5 years, it's important to find some ways to keep myself entertained without going out for drinks or meals constantly. I know it can be tough when you're fresh out of school, but it's all about moderation.
When you can find some fun ways to kill time without spending money, you're actually finding a proactive way to save up your funds for your (sometimes legendary) nights out with your friends, family, or your significant other. After all, do you really need to go out and spend $45 at a restaurant for dinner with your friends on a Wednesday night? Or did you truly lust for that pizza breakfast after your night out on the town the night before that cost you 34 bucks? If your answer is "yes" to both of those scenarios, take solace in knowing that it used to be my answer to those situations as well (until I had to start budgeting my money).
However, there's nothing like a fun random night out with friends, family, or your significant other - those end up being the most memorable times, am I right? Even though I'm going to be discussing some of the ways that you can keep yourself entertained without spending your hard-earned cash, it doesn't mean that it should be the end of your random fun-filled excursions that may happen on weekdays (especially if you work on the weekend).
When I set a goal and began to be more frugal with my spending habits once I figuratively dived into the freelancing world, that didn't mean that it was the end of my fun nights out with friends - it just helped me pull the reigns in a bit and be a bit more careful with my spending (which is very important when you've got bills to pay). Instead of getting trays of drinks at the bar, I would pre-drink with my friends before we went out. Rather than eating a dinner at home then ordering another one when I went out with my friends, I would either avoid eating at home, or I would order a small affordable appetizer or a beer (or even iced tea.) Don't worry, I still tipped the waiters and waitresses!
At this time, I'm going to discuss some of the ways that I was able to kill time without spending money. I've listed these tips below:
Kick it old-school and hang out at your friend's place. Once I hit my mid-twenties, I found that my friends and I started to have more fun staying in (instead of when we were younger, when we'd be quickly flocking to any place but our homes). After all, you can do many fun things, including watching TV, playing cards and classic board games (Monopoly is one of my favourites), or even have a small party. Of course, you can also crack open a nice bottle of wine and have a cheap home-cooked meal with some of the ingredients that you or your friend(s) have lying around. This can also apply to those that are in a relationship (I personally love my nights in with my girlfriend, since we get to catch up on movies and TV shows).
Have some time to yourself and watch some television. There may be a TV series or some movies that you've wanted to see for a while but just haven't had the time to watch. Remember that this is a cheap alternative to going to the movies, particularly if you already own the movies or if you want to just watch them on YouTube (there are many great movies and shows on there). Plus, it's always nice to have a little time to yourself!
If you're an avid reader, check out your bookshelf, find a comfortable spot, and take some time to read. I still love having some precious time to read a book, magazine, or articles on the internet, especially when I have a nice meal prepared (I reading and eating - I try to stay away from snack foods when I do this though, or I might go through an entire bag of salty snacks!).
Go for a nice walk outdoors. You can even go window-shopping at a mall, and just look around and check out the newest products that are available. It doesn't have to cost you money if you can be strict with your spending! It's also a lot of fun - I love walking around thrift shops and flea markets, it's usually pretty entertaining, especially when you're with some good people!
Play some video games with your friends. If you're looking for a great way to kill some time, I've got three words for you: Street Fighter 2.
What are some of the ways that you have fun without spending money? Feel free to leave some comments below!
Photo credit: Anshum Mandore