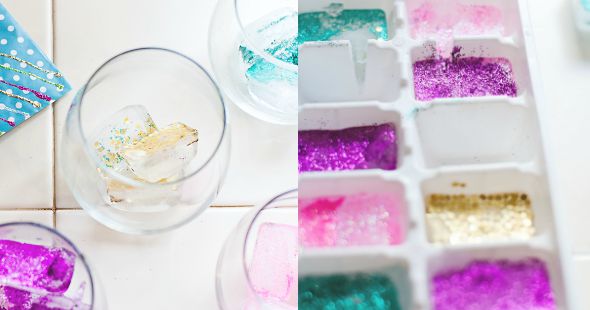 If you have a party coming up, then you're probably looking for a fun and frugal way to spruce up the beverages. Why not try these glitter ice cubes which are completely edible? You can turn plain old ice cubes into the life of the party. Serve your edible glitter ice cubes with sparkling water or champagne if you're ready to add some sparkles to your sip. This little do it yourself tutorial will add some pizzazz to birthday parties, holidays and more. For Halloween you can do orange & black glitter, for Christmas you can do red & green glitter. This sounds like so much fun, doesn't it?
So let's get started with making the glitter ice cubes. Here is what you're going to need:
ice cube tray
edible food glitter
water
You can find edible food glitter or edible cake glitter at Michael's Arts & Crafts in their cake decorating section. Wilton makes edible glitter for under $10 a pack and they have several different colour options available. The rest is simple. Get your ice cube tray and fill it with water. Place it in the freezer, and once you have solid ice cubes you can add some glitter to each cube. Do not mix the glitter in with the unfrozen ice cubes or you will just change the colour of the water. The actual glitter will dissolve.
Once you add the ice cubes to your drink you will have a shimmery new beverage. This is a great way to spruce up any drink I think. I can't wait to try it out myself. My mom is having a Scentsy party at my house next weekend and I think the guests will adore these glitter surprise drinks.
There are ways to make the edible glitter yourself, but it might take a bit of effort. You can get coloured sugar to do the trick. Preheat your oven to 350 degrees Fahrenheit and then line a baking sheet with a high quality parchment paper. Spread the coloured sugar out and bake for between 8 and 10 minutes. You will need to breakup the chunks that form half way through the baking process. Then you can pour the glitter into jars or bowls to use once it has cooled down.
If you can't find coloured sugar at any nearby stores, then you can make edible glitter using 1/4 cup of sugar and 1/2 teaspoon of food colouring and use the same baking process as mentioned above. That is probably an easier and less expensive route, but may not have as good ending results.
Moosers, have you tried these edible glitter ice cubes yet?