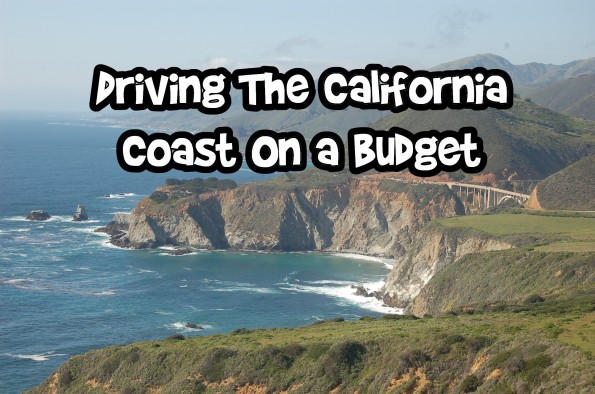 My dream travel trip was always to drive the California coast, and I finally did it last month. It is a trip I highly recommend to anyone as it is an unforgettable experience. If you read my San Francisco on a Budget article, you'll know this is the ideal place to start your trip.
Drive the Central Coast
There are different areas all along the coast to drive, from north of San Francisco, the central coast and the south coast. I've only been to the central coast and the southern coast and while both have their features, the central coast was my favourite. I also think it is cheaper to stay along the central coast than it is in the south. The weather is warmer in the south, but if that is not important to you and money is, I'd suggest staying on the central coast. That said, not everywhere is cheaper.
Stay in Less Popular Areas
For example, while researching my trip, my original plan was to drive right from San Francisco to Los Angeles. However, when I was looking for a hotel in Santa Barbara, Santa Monica and those areas, they were quite a bit more expensive than the ones further up the coast. If you want to stay in Big Sur, expect to pay a big premium. I really wanted to stay at the Treebones Resort, which is basically glamping (luxurious camping) in yurts, but they were over $200 a night. Consider that this is cheap for Big Sur, as a stay in the Post Ranch Inn is well over $600 a night.
What we did was stay north of Monterey in Marina, which was cheaper than Monterey and Carmel, but close enough to enjoy it, and then stay in Pismo Beach, which is just on the other end of the coastal drive before you get into the more expensive areas. Both gave us access to go back up or down the coast as we wished without paying the premium prices for staying in the mountainous parts of the coast. Both hotels also had oceanfront access.
Drive Back to San Francisco
I priced out many options for driving all the way to L.A. and flying out from there, but they were all more expensive than driving back up. While car rental companies allowed you to drive just in one direction, there was a surcharge for this, which for us totaled a few hundred dollars more. Also, flying from a different airport home also seemed to be more expensive than flying from the one you landed at. San Francisco also seemed to be the cheaper airport to fly to.
Keep Your Parking Pass
When you visit the state parks and beaches along the coast, you have to pay a fee for parking, which was $10. Many people would park along the road and walk in, but I thought this was a dangerous option. The fee is also honourable, checked later by park ranger after you pay it. The great thing is that your parking pass will get you in to all the other parks and reserves for free for that day, which we weren't aware of. So, your best plan to get the most of your money is to visit all the parks and reserves along the coast you can in one day.
Free Activities
You don't really need to spend a ton of money to do things here. The scenery is so beautiful, all I wanted to do was see it. Spend your time exploring many of the trails you see along the way, savour the view at the many pull-outs along your drive, and definitely pull up a seat at the beach for one of the most gorgeous sunsets you'll ever see. One attraction that I loved, which was absolutely free, was seeing all of the elephant seals relaxing on the beach, shedding their skins. There are docents who walk around and give you information about the elephant seals, which is very informative and as ours explained to us, the elephants seals were here to "relax and live off their blubber". Nice life I say.
Eating
Eating is always one of my main concerns and definitely was during this trip. Since you'll be driving a lot and there really aren't any drive-thrus along the coast, you want to be prepared with snacks and even meals in your car. Stop at a local bakery and pick up some food for your drive as many of the restaurants (and there aren't many) can be very expensive. We ate at Nepenthe, which was amazing, but spent over $100 on dinner, as lunch had just ended. If you do really want to eat there, their famous ambrosia burger is only $15.25 at lunch or dinner, so this is a great choice.
Souvenirs
Since I didn't take my kids with me, I wanted to get them something at every stop. What I noticed with some of the souvenirs is that these items were available back home as well, so don't be fooled into buying something so you could say it was from a shop along the Big Sur coast, when you can pay $20 less for it back home. Also, some of the souvenir stores will haggle a little, as we did for hoodies for the kids in Pismo Beach. I also bought my kids $1 pencils from a gift shop under the Nepenthe restaurant, while my first inclination was to spend much more. They appreciated the pencils as much as they would have anything I would have spent more on.
Gas and Car Rental
Since you'll be driving this coast, gas and car rental charges are probably a big part of the budget. We tricked ourselves into believing we need a gorgeous car for the gorgeous drive, but in the end, we sat inside the car, so it didn't really matter. I suggest getting a fuel-efficient vehicle that is on the smaller side. Our car had a large front end, so large, I was not comfortable driving it along those cliffs and my husband drove the whole trip. I also suggest getting your gas at the beginning and ending points of your trip as gas is said to be much more expensive along the coast. Gas in California is more expensive than the rest of the country, so be prepared for this.
Bargainmoosers, have you ever driven the California Coast and what was your favourite part? Any tips on a frugal trip?