Every October begins the same way in my house. I purchase a giant box of Halloween candy. Hubs and I nosh on it until all that is left is a pile of wrappers. I buy a second box of candy and ask the husband to hide it. He inevitably forgets where he hid it and we find it sometime before Easter. My head bowed in shame, I purchase a third box of treats for all the ghosts and goblins that will ring my doorbell.
All this candy buying gets expensive. To help, I have put together some tips on how to make buying Halloween candy less scary.
1. Do the math.
The easiest way to figure out if you are getting a good deal on Halloween candy is to calculate the cost per item or per gram.
If you want to save money per trick-or-treater, you will want to know the cost per item. I personally like to try to keep the cost less than $.14 per candy. To calculate this, divide the cost of the package by the number of candies it contains. For example, a 120-count box of Nestle Favorites containing Kit Kats, Smarties, Coffee Crisp and Aero bars costs $19.99 at Costco which is just under $.17 per item.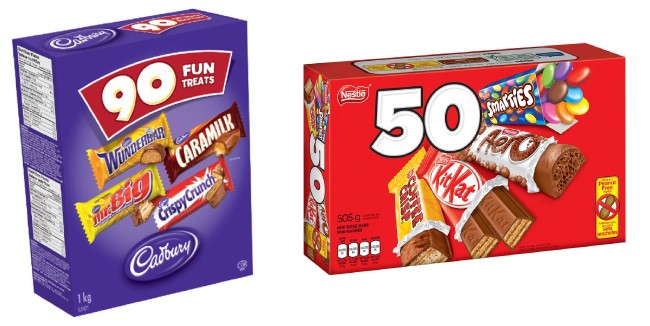 To make things more complicated, manufacturers make candies in different sizes. If you are eating the candies yourself, you may care more about the cost per gram than per item. In this case, divide the cost of the package by the number of grams it contains. For example, a box of Skittles and Starburst candy costs $12 at Walmart and contains 1.01 kg of sugar goodness. This amounts to a cost per gram of $.0118. In contrast, a similar weighted bag of assorted Cadbury treats retails for $13.97 which costs $.0139 per gram.
Whew! We deserve a treat after all this math!
2. Don't buy chocolate.
As long as they are on their way to a sugar-coma, most kids don't care how they get there. Non-chocolate candy such as gummies, licorice and lollipops are generally cheaper than chocolate bars. For example, a 75-count package of lifesavers candies costs $8 at Walmart. At $.11 per candy, this is cheaper than I have seen any chocolate sell for this season. Similarly, the ever-popular Rockets ring in at $5.24 for 90. At $.05 per roll, chocolate can't touch this price.
But, beware. Some packages include a mixture of chocolate and other candies. Often dubbed "super bags" or "super mix", these products are usually priced similarly to mini-chocolate bars so you aren't always getting a great deal. If you want to hand out both chocolate and other candies, you may be better off buying separate packages of each.
3. Don't limit yourself to "Halloween" candy.
Think outside the box this Halloween and shop in the regular snack aisles. Candy marketed for Halloween is often priced higher than the same treats with regular wrappers. Otherwise, you'll end of paying a lot for spooky labelling and really, it all tastes the same. For example, a 500 gram bag of Great Value orange and black "Halloween" lollipops costs $3.98 or $.00796 per gram at Walmart. However, a 700 gram bag of assorted Great Value brand lollipops costs $4.27 or $.0061 per gram. Trust me! Kids won't care if their lollipops are orange or black!
4. Hand out the candy yourself.
By all means, don't hand the bowl to the kids! I learned the hard way my first year as a homeowner when I had to take in my pumpkin and turn off my lights at 8 pm. Now that I run an experienced Halloween house, I like to hand out two mini-chocolate bars and one or two non-chocolate or candy items per ghoul or goblin at my door. I might get especially generous depending on how much is left in the bowl at the end of the night, but handing out the candy myself allows me to ration (and save the Twix bars for me).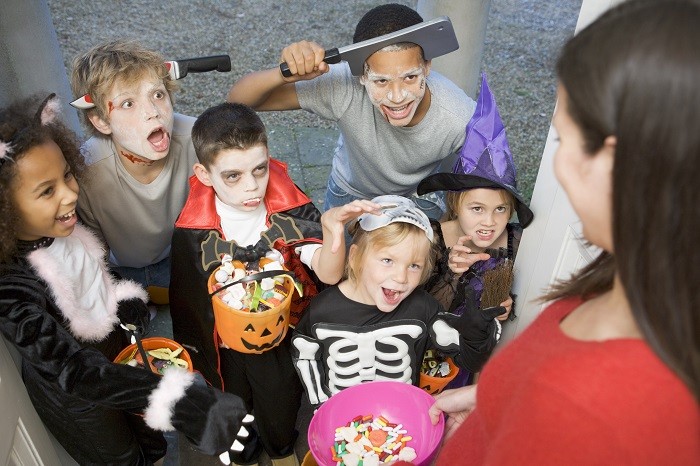 5. Consider non-candy options.
Stand out from the crowd and offer small toys or other trinkets on Halloween night. A 100-pack of Paw Patrol favours including balls, whistles, flying discs and other toys costs $19.99 at Party City. At just under $.20 per item, this costs slightly more than one mini-chocolate bar, but it will certainly be more memorable to any little Marshalls at your door.
6. Shop on the day after Halloween.
If you are looking to gorge yourself while you watch the Walking Dead, your best bet is to stock up on the day after Halloween when candy is most heavily discounted. I often pick up a few bags at this time to save as rewards ... for the kids of course.
7. Don't be that house.
You all know which house I mean. There is one in every neighbourhood. No matter how much money you want to save, just don't hand out these items ...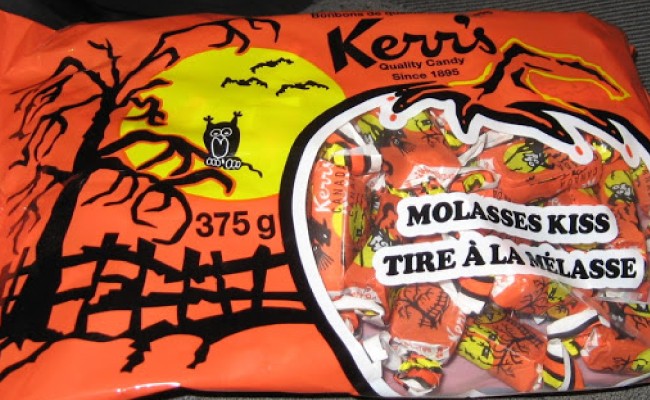 These Molasses "Kiss" candies
Tasting like a mixture of dead bats, molasses and children's tears, nobody knows what these candy are called. I know. I know. It is like a rite of passage. I collected them when I was a child and so should my kids. Let's put a stop to this torturous practice and just.say.no to the molasses candies.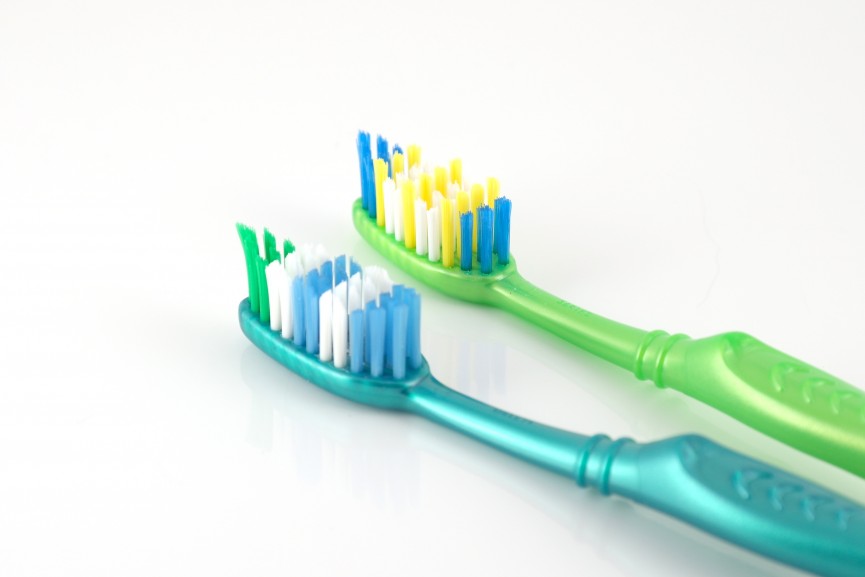 Toothbrushes

And, unless you are my dentist, skip the gift of dental hygiene on Halloween. There is nothing worse than watching a hopeful little Elsa's face turn to dismay as a toothbrush lands in her bag of loot. It is like handing out earplugs at an Adele concert.
I hope that these tips help make the costs of Halloween a little less scary. Now, I am off to try to find that hidden box of treats.