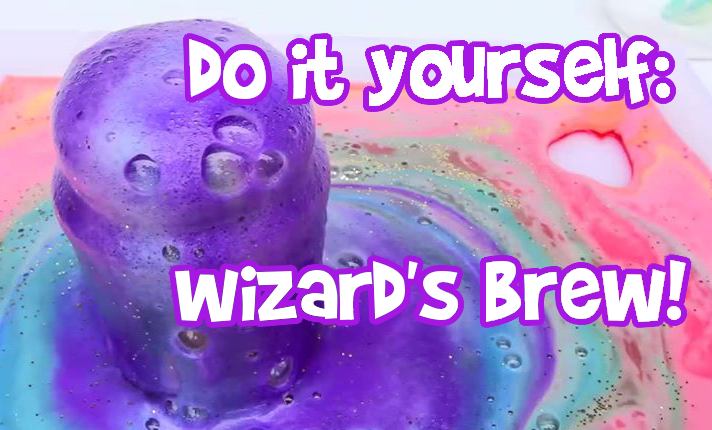 Time to make a fizzling, bubbling Wizard's Brew potion! This neat little do it yourself task is fun & frugal, but not edible. The kids will love using science and household products to create their own magical potion. What I love about this recipe is that it uses items that you should already have around the house.
This project will take about 10 to 15 minutes of your time, but cleaning up the mess afterwards may take longer. I would suggest doing this project outdoors or somewhere easy to clean up. It does get rather messy, but that is all art of the fun isn't it? So here are the ingredients you will need:
dish soap
vinegar
baking soda
glitter
cylinder, glass jar or a big cup even
food colouring
something to catch the bubbling brew (cookie sheet, lasagna dish etc)
Okay, so now to start. First you're going to want to place your cylinder or glass jar inside of the cookie sheet or tray. Then you can take your vinegar and fill the jar half way with it. Add a quick spurt of dish soap too. Get a little creative and add your food colouring and glitter. You could really add anything you like here, I thought about adding those glitter stars for fun.
Once you have mixed the first step all together, then you can add a teaspoon of baking soda. Say hocus pocus, or cast another spell and watch as your magical Wizard's Brew bubbles up and over the edge of the jar. At this point you can always add more food colouring of other colours to see the change in colours. On Halloween, you could probably place your Wizard's Brew inside of a Jack-O-Lantern or something for a cool effect.
Take a look at the video on how to make this potion on our Facebook page. Share it with friends who have kids that would love to make this potion! If you were looking for an edible brew, then you may want to try mixing Apple Cider or something with some dry ice! Just be sure to wait until the dry ice is completely gone before you serve the drinks to anyone. It will even leave the cider or juice you choose carbonated afterwards. Cool, huh?
Moosers, are you going to try this Wizard's Brew with your kids?