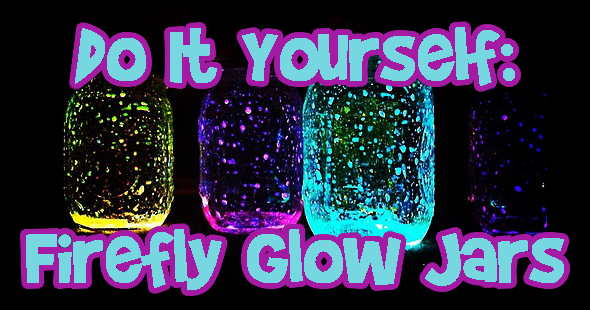 Looking for some cute decorations for the patio table this summer? You and the kids will love putting together and displaying these Glow Jars! You can make it look like you have jars full of fireflies displayed around your yard, and this project is fairly inexpensive as well. There are a few different ways to make this project, but I will show you the simplest way and also link to some other neat ways to put this together.
Here is what you will need:
glow in the dark paint, preferably at least 3 colours
jars (mason, Coca-Cola bottles or whatever)
paintbrush
a plate or paint palette to pour the paint onto
**If you don't have any glow-in-the-dark paint laying around the house, Michaels Canada has a coupon right now that will save you 25% on your entire purchase of both regular priced and sales items.
Alright, let's get started. Follow these steps to make your perfect and simple glow in the dark firefly jar:
Step 1: Prep Work
You're going to want to clean out your selected jar and prepare your paint for the project. So clean the jar, shake up your colours and put a little but of each colour onto your palette or plate. I would probably pour about a quarter sized blot of paint, you won't need very much paint to get this job done.
Step 2: Get 'Er Done
One colour at a time, use your paint brush to put little dots on the inside walls of your selected jar. I put dots on the bottom too for added glow. You can use whatever shape paint brush you like, but I tried to keep it to a realistic size of a firefly when I made my dots. You can make your jar brighter but adding more dots, just be careful you don't use too much paint or you don't put the dots too close together. You don't want the dots to grow together.
Step 3: Fill In The Blanks
After you have covered the entire inside of your jar in glow-in-the-dark paint, you will want to take a step back and see if there are any gaps that could use a dot or two. Fill them in now. You can decide if you want to have the lid on or off of your completed project, but if you choose to put the lid back on I would wait until the paint dries.
Step 4: Fuel The Lights and Fire!
Your jar will need to soak up lots of sun or light so that the dots will glow in the dark. Leave your jars sitting in a brightly lit area inside or outside for the day, and then watch the fireflies come to life at night.
I have even seen people string smaller plastic bottles after doing this project to them. They take the strand of glow bottles and hang them on a tree or their fence. It looks pretty cool, and in the dark nobody can tell they were once just an empty bottle.
I got this Do It Yourself project from Instructables.com, but there are many other sources for different ways to do this project as well. If you want to cover a little net in paint and put it inside the jar for a more 3D look, then follow these instructions at TheGoldJellyBean.com. If you prefer to use glow-sticks over paint, then follow this do it yourself project here at ArchitectureNDesign.net. I prefer the paint though!
Moosers, are you going to try out this adorable little project?