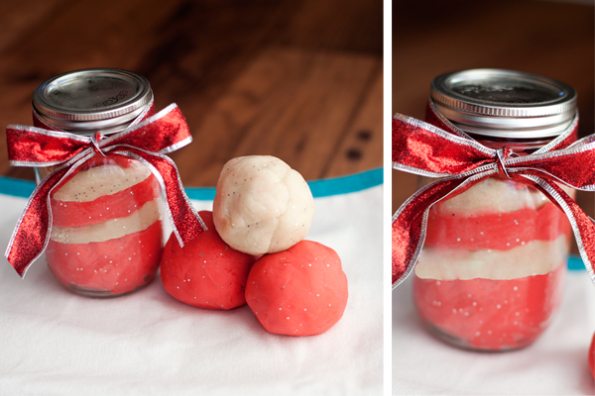 It's not too late! You can still make an adorable DIY gift for the kids. Check out this recipe for Candy Cane Play Dough. You can make this stuff for your own kids, or even as Christmas gifts to give out to other kids. Who says buying kids' gifts has to be expensive anyway? Kids love Play-Doh so skip the name brand stuff and make your own for just a fraction of the cost. Plus, this recipe will even make your creation look festive. Not that the kids will care either way. This recipe is easy and fun to make. The kids will love helping you make it and package it as gifts Plus, it is very inexpensive to make and will encourage creative minds for the kids that receive this Candy Cane Play Dough as a gift.
Here's what you're going to need to get started:
5 cups water
5 cups flour
2 1/2 cups salt
3 tbsp cream of tartar
10 tbsp vegetable oil
red food colouring
glitter
peppermint essential oil
Step 1:
Mix your water, cream of tartar, salt and food colouring in a bowl. You will need to then cook this mixture on a medium to low heat while stirring it regularly until the mixture is hot to the touch.
Step 2:
Then add your vegetable oil while continuing to stir the mixture.
Step 3:
Slowly stir in the flour, just one cup at a time. Stir really well between each addition. That part is very important!
Step 4:
Keep mixing this mixture until the play dough pulls away from your pan and is no longer sticky. To test this, you can pinch some between your finger.
Step 5:
Once the mixture is ready, dump the dough on your counter and let it cool for a little bit. Don't let it get too cold though. Then knead the mixture until it has a nice consistency.
Step 6:
This is your final, and most fun step. To make it the official Candy Cane Play Dough, you will need this step. If you are making enough dough to give as gifts then I suggest you make two batches from above. Make one batch with your red food colouring and glitter. Also add about 10 drops of peppermint essential oil to give it the scent of  candy cane. It is important to leave one batch plain and one batch as red. Though both batches can have glitter and scent if you wish.
Packaging:
To make your Candy Cane Play Dough appealing to the eye, you are going to want canning jars or something of the sort. You can reuse ones you have laying around, or you can buy your own new ones at Michaels. While you are there, grab some holiday themed fabric, some yarn or ribbon and some sticker labels or something to label your jars.
So take your dough and make each colour into smaller portions Then roll them into snakes, and twirl them around eachother to look like candy canes. Then place the twisted play dough into a jar, put a small square of fabric to seal air from getting into the jar and then twist the lid on. Stick your holiday label sticker on the jar and you can either write a child's name or simply write "Candy Cane Play Dough" on the label.
A big thanks to ArtfulParent.com for this awesomely festive recipe.
(Expiry: Never!)