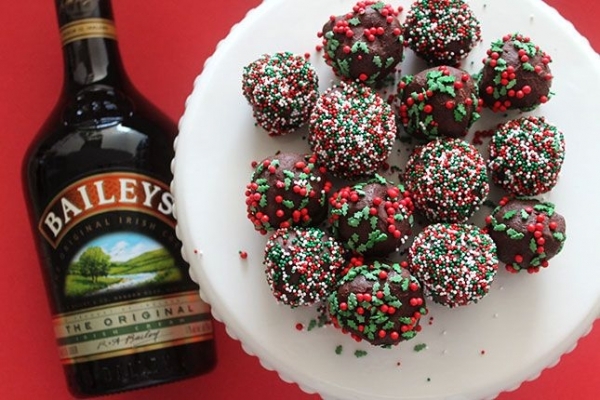 This quick and easy recipe combines quite a number of things which I find delicious: Baileys, truffles, chocolate and cream!! Plus, there is ZERO baking required – aren't these Baileys Christmas Truffles ideal for Christmas?
There are a few recipes round the web for these delicious truffles, so you can google for variations if you wish. Here's a quick breakdown of what you need to do.
Ingredients:
3 tablespoons of Baileys
10oz dark choc chips
2 tablespoons of butter
150ml whipping cream
What to do:
Melt the butter and cream in a pan until gently boiling.
Put the chocolate chips in a bowl.
Pour the butter/cream over the choc chips & leave for a few minutes.
Stir the mixture gently.
Add the Baileys & stir it up.
Pop the mixture in the fridge for 3 hours.
Shape it into individual balls.
Decorate with colourful sprinkles!
In step 4, if the latent heat from the melted butter didn't melt your choc chips thoroughly, then just pop it in the microwave for 20 seconds to finish it off.
What do you think? Will you give these Baileys Christmas Truffles a try?
Now excuse me, I'm running out to buy a bottle of Baileys.
Psstt... don't miss out on our Cracking Christmas Contest running now till December 29th. Find out how to win here.
(Expires: never!)