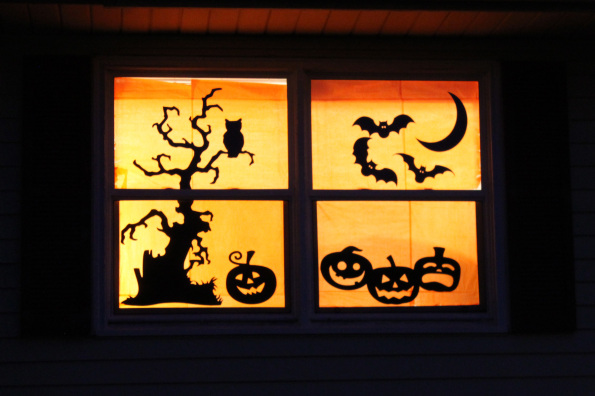 Here at Bargainmoose we are always trying to find affordable ways to keep up with the times. Decorating your home for Halloween can get expensive, but not if you pay close attention. Have you ever considered cutting spooky shapes out of black card stock or card board and making them look like shadows in your windows? I personally thought these things has to be purchased, but if you have a bit of creativity you can do it all on your own.
You're going to need black paper or board of some sort - something on the larger side and something that can hold itself straight pretty well. You also want to make sure light can't go through it. I am going to get some black cardboard or card stock, since it is fairly inexpensive. This project shouldn't cost you more than $6 total. You will also need scissors or an exacto knife that is strong enough to cut into whatever material you have selected to create your silhouettes with.
The tricky part is being able to draw the silhouette of spooky things like witches, pumpkins, bats and such. There isn't really a way to print a stencil big enough, but I am sure there is something Halloween style that you can draw yourself. The kids will love participating in this activity as well. It is best to draw on your black card stock with white chalk, and then cut along the chalk line. You can always wipe the chalk off later if it is messing with your Halloween Window Silhouette.
Here is a quick list of some ideas for your silhouettes:
ghosts
zombies
witches
pumpkins
skeletons
bats
the moon
scaredy halloween cats
jack-o-lantern face
spooky trees
spider webs and spiders
tomb stones
and more
The opportunities are quite literally endless. You just need to grab a bit of creativity, black card stock and some scissors and you're all set to go. If you have young kids, try not to make anything too scary. You would hate to cause any night mares. You can apply your spooky shapes to your windows with double sided tape. It won't take much to hold them up. If you find it leaves a residue when you clean up  your Halloween decor, you can use vinegar and water to remove the residue or spend a few bucks and get "Goo Gone".
Fore an even more spooky effect like pictured above, you might want to cover your silhouette and window with orange tissue paper. Not only is orange the most famous Halloween colour, it will also make the silhouettes stand out a little more and keep the neighbours from staring at you through the window wondering why you're going to bed with a witch.
If you are not all that creative and would just prefer to print some templates, then I have discovered an adorable little site with some free Halloween window templates. Now keep in mind that these will turn out quite small of course, but at least you won't have to learn to draw a skeleton anytime soon. The free templates include crows, bats, rats, spooky hands and so much more.