This year's awards season might be over, but the movie world is still making headlines. This time, though, they're about the latest changes coming to Cineplex SCENE points.
If you're already a SCENE member, you may have already received an email explaining the new changes. But if you marked it as "read" without actually paying attention or have all your rewards cards linked to a separate email account you never check, we can help.
Details about the full SCENE points update are available online, so we took a closer look and decided to break down some of the key points.
In general, you'll earn more points when you buy movie tickets and snacks at the concession stand – but it balances out. As of this spring, you'll need to redeem more points to score free movie tickets.
How the SCENE points program is changing
In a nutshell, Cineplex is changing how you earn and redeem points. The SCENE app and your SCENE card will stay the same, but the number of points you'll receive for purchases (and the number of points it'll take to get any rewards) is going up as of April 17, 2019.
On April 17, you'll start earning more SCENE points when you buy a movie ticket and five points for every $1 you spend on food and drink at Cineplex theatres. To break down the reward I know all of us probably care about the most: you'll now earn 125 points for every movie you see (instead of 100), and it will take 1,250 points to score a free movie (which is up from 1,000).
Here's the good part though: you'll still earn a free movie for every 10 that you see! Still a little bit confused? This is how Cineplex breaks down the major points changes on their website: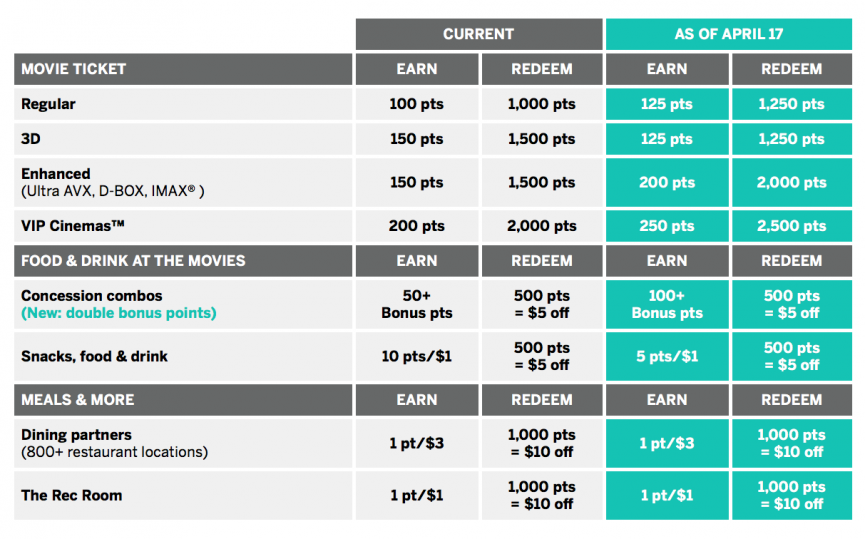 One thing I'm really excited about is that (in a sense) 3D movies just got a little bit cheaper. You used to have to redeem 1,500 points to watch one for free. Now, it's only 1,250 points – the same price as a regular film. Plus, you can now earn double the points on concessions!
Another change worth noting is that Cineplex will no longer give you 20 bonus points when you buy your movie tickets online. But, hey, at least you can earn more on snacks to make up for it.
As for those special theatres and seats, here's how the new program breaks down:
Prime Seats: earn 125 points on a ticket (and redeem 1,250 points to get one)
ScreenX: earn 200 points (and redeem 2,000 for a ticket)
4Dx: earn 250 points (and redeem 2,500 for a ticket)
I know this all seems a little complicated (and it's a lot of numbers to keep in your head), but not much is actually changing. You should still be able to get rewards just as quickly as before – and there's still time to redeem your SCENE points before these changes come into effect, if you want.