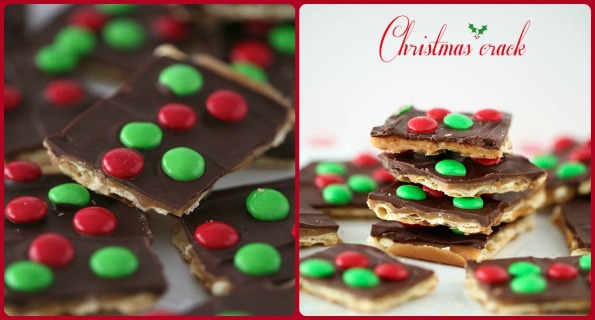 Everyone loves this stuff at Christmas parties - you know it as Christmas Crack, and it is probably just as addictive. Christmas Crack Toffee is easy and quick to make, but it is one of the most delicious holiday recipes that I know. It is a perfect mix of sweet and salty, and even the kids will love it. In total it will take you approximately 15 minutes to make, which is a small portion of your day. You could even give this away in a cute little baggy for Christmas if you like.
For toppings you can use things like crushed saltines, sea salt, toasted coconut, slivered almonds, pecans, m&m's or many other items. Here are the ingredients you will need for sure:
approximately 50 saltine crackers
2 sticks (1 cup) butter, cubed
1 cup soft light brown sugar, packed
2 cups chocolate chips
1/2 to 1 cup M&M's, sliced almonds or any other preferred topping
To prep, you're going to want to line a large pan with aluminum foil. You can then spray the foil with a non-stick cooking spray (or even coconut oil like I prefer to use) and then line the pan with your favourite brand of saltine crackers. At this point you might as well pre-heat the oven to about 325 degrees Fahrenheit. You might want to adjust that temperature if your oven runs hotter or cooler than normal.
Then you can take your butter and sugar and place it in a medium sized pot. Heat it at a low or medium-low heat and continuously stir the mix until the butter is melted. Then bring the mixture to a boil for two or three minutes. Be sure to keep stirring, that is a very important aspect of the recipe.
Once the mix is nice and bubble, you can remove it from the heat and pour it evenly over your saltine crackers. You can use a butter knife or icing spreader to spread the mix evenly over the crackers. It doesn't have to be perfect though, that's the fun part. This mix will harden quickly though so try to be as fast as possible. FYI, the butter and sugar mixture is now called Toffee. Yum!
Then you can place your delicious masterpiece in the oven (once it is at the proper temperature). Leave it in for 6-8 minutes, and check on it of course. Then take the pan out of the oven and sprinkle your chocolate chips on top while the delicious treat is still hot. The chocolate chips will melt and spread over the toffee a bit, but you can encourage it to spread evenly with a spatula. Then get your toppings (I use M&M's) and sprinkle them on top. Place your Christmas Crack in the freezer for 30 minutes and voila - you can now crack your Christmas Crack into pieces and place it in a container. Your treat will stay fresh for one or two weeks.
A big thank you to IHeartNapTime.net for this recipe and the photos.
Moosers, have you had this Christmas Crack Toffee before?