We're in the middle of the Stanley Cup Playoffs, and that means it's time to break out your favourite jersey – or get a new one! To help, we put together a list of some of the best places you can buy cheap NHL jerseys in Canada.
Whether your team is still in the running or you're just getting ready for next year, you'll want to make sure you're buying a quality jersey that's still affordable – which is where this list comes in. You can expect to pay a couple hundred dollars for a jersey, but we'll post the latest deals here. So if you're looking for something to wear to the Winnipeg Whiteout or a new Vegas Golden Knights jersey, check this first!
---
1. The NHL Shop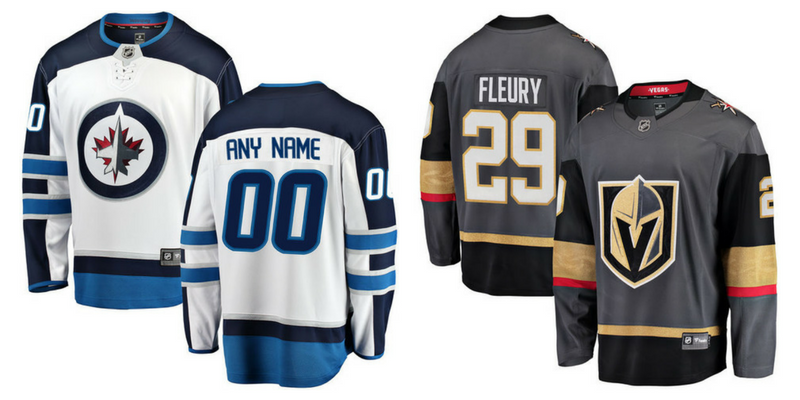 We're starting right at the source. NHLShop.ca is the first place I always check for jerseys, and I'd recommend at least giving their site a peek before heading anywhere else, too. Since they're the league store, they have the widest selection that's available anywhere in Canada – which means they're your best bet for hard-to-find jerseys (or ones that sell out pretty frequently, like Auston Matthews jerseys).
You can shop by team and know (1) what's out there and (2) what the standard jersey prices are. So if you find what you're looking for on their site, it should give you a chance to scout out prices and know whether or not you're actually getting a good deal if you see a sale anywhere else.
Plus, for a limited time, you can get 20% off orders over $50 when you use the code NHLGOAL20 at checkout!
Pros: Official fan shop, biggest selection, hassle-free returns
Cons: Few jersey sales, shipping fees start at $10.99
2. Sport Chek Fan Shop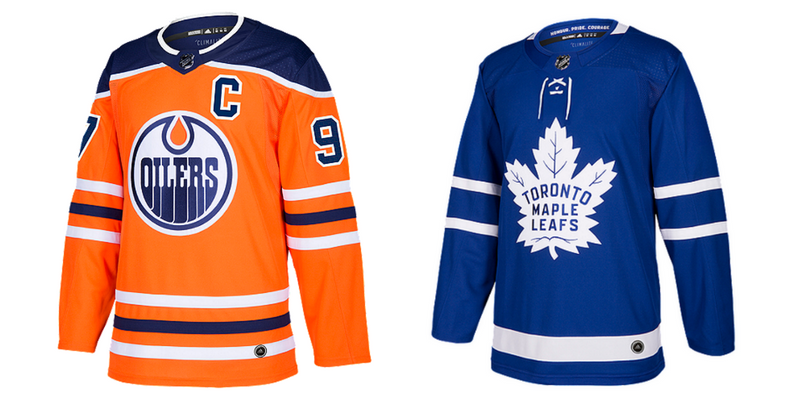 By far, my favourite place to find NHL jerseys on sale is Sport Chek. While they don't have anywhere near the selection you'll see at the NHL Shop, they're a really great place to grab markdowns on Canadian team merchandise.
In fact, they have a few different jerseys on sale right now – like this Reebok Pittsburgh Penguins Premier Home Hockey Jersey that's marked down to $59.99!
Pros:

Frequent sales, great place to find Canadian team jerseys

Cons: Limited selection, some items only available in-store
3. Adidas Canada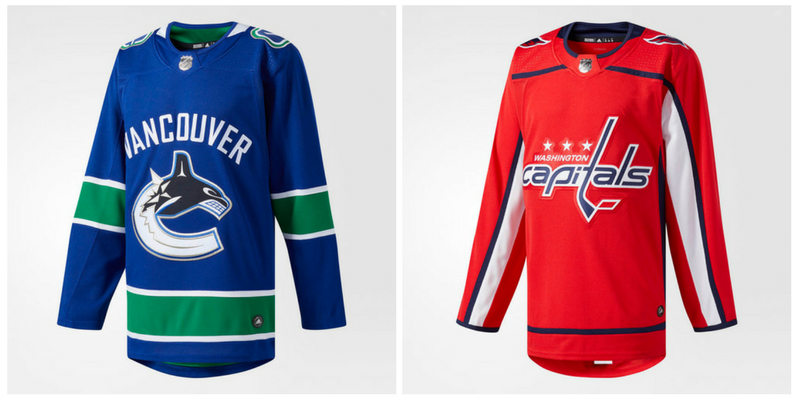 If you're looking for guaranteed authentic jerseys, it doesn't hurt to check Adidas Canada. They carry Authentic Pro home and away sweaters for almost every team in the league, including ones for some of the biggest names in hockey, like Connor McDavid and Patrik Laine. You won't often find kids' sizes, but Adidas does have a few on sale – like this Youth Bruins Classic Hockey Crew for $39.95 from $75!
Pros: Carry home and away options for almost all teams
Cons: Pretty limited selection, typically don't carry kids' jerseys
4. Pro Hockey Life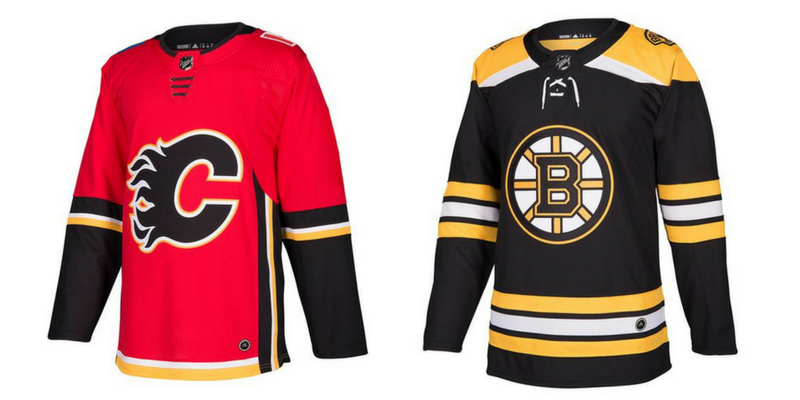 They might not be the most well-known store, but Pro Hockey Life is a great place to find hockey jerseys, especially if you're hoping to score a deal. They occasionally run sitewide sales that apply to absolutely everything – including Adidas jerseys! So stay tuned to this post if you want to hear about their next promo code!
Pros: Sitewide promo codes apply to authentic jerseys
Cons: Website is a little tough to navigate
5. Lids Canada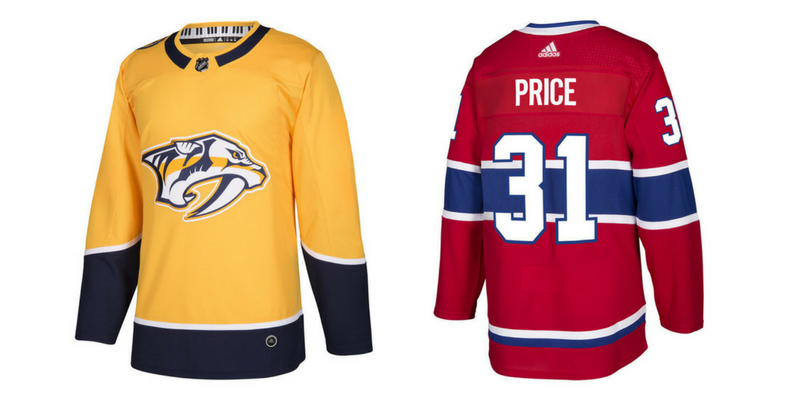 Nope, they don't just sell hats! Lids Canada is another place worth checking out, especially if you're a Montreal Canadiens or Edmonton Oilers fan. While Lids sells at least one jersey for each team in the league, you can find dozens of Habs and Oilers ones in stock. Just be sure to check the reviews, since not all the jerseys available on their site are correctly labelled.
Pros: Great if you want affordable Montreal and Edmonton jerseys
Cons: Limited selection, some jerseys are mislabelled
6. Hudson's Bay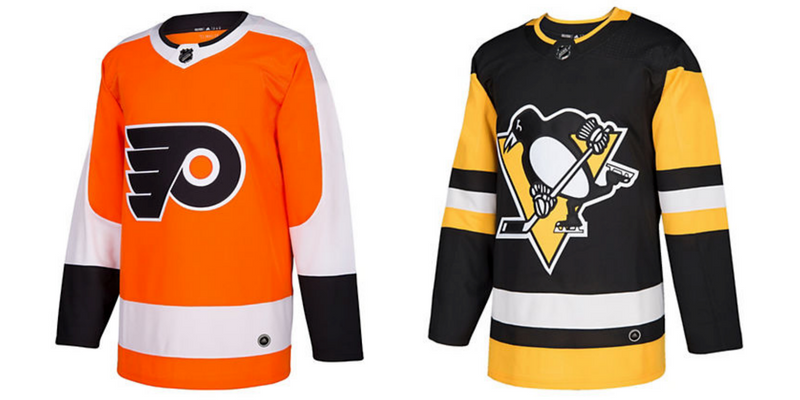 They're a Canadian icon, so of course they sell hockey sweaters, too! The Bay might not have the same selection as a specialty jersey shop, but they're still worth checking out. They usually carry jerseys for most (if not all) teams in the league, and you might be able to occasionally score one on sale!
Pros: Great selection for somewhere that isn't a sports store
Cons: Few regular sales, some outdated player jerseys

7. Canadian Tire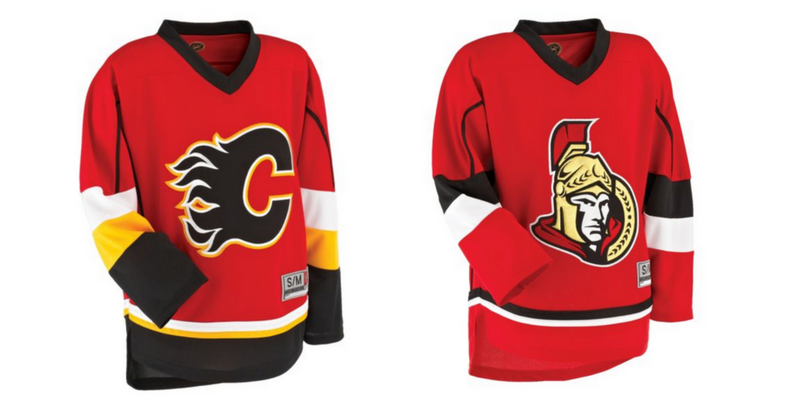 If you're looking to go the replica jersey route, why not check Canadian Tire? They typically have a few different jerseys in stock for kids (and they're almost always the Canadian teams). You might occasionally see an adult jersey, but I wouldn't count on it. And since Canadian Tire doesn't offer home delivery, you'll need to either buy in-store or order online and pick up your purchase at a location near you.
Pros: Great place to find affordable kids' replica jerseys
Cons: Very limited selection and almost no authentic jerseys
---
Tips for finding deals on NHL jerseys
Opt for a kids' size. This isn't possible for everyone, but if you can fit a child's jersey, why not go for it? Sure, it might not be quite as figure-flattering as the ones made for women (or men, for that matter), but it's usually an easy way to save money, since kids' jerseys are sometimes more than $100 cheaper than adult ones!
Buy online – not at the arena. While it can be tempting to pick something up right before a game or during intermission, you'll probably save a little if you opt to buy a jersey online instead. That way, you can wait for sales to pop up and avoid the hassle of trying to find your size in a crowded shop.
Don't forget about shipping charges. With all online shopping, something may seem like a great deal – until you factor in the delivery fees. Jerseys aren't any different. While NHLShop.ca has by far the best selection, they also have fairly high flat rate shipping charges. So, unless one of their free shipping promos happens to be on, you might be better off shopping somewhere like Sport Chek or Lids.
---
How to spot a fake NHL jersey
Buying hockey jerseys online can help you save a little money and make sure you get exactly the player and team you want – but beware of imitators. With so many fakes out there, how do you know you're buying the real thing? Keep an eye out for:
A really low price. While real jerseys absolutely go on sale, some deals really are too good to be true. Unless a player has been traded or cut recently, you likely won't see massive discounts, so watch out for what might look like an incredible steal.

Misspellings. These are a dead giveaway. If the name on the back of the jersey, brand on the tag or elements of the team logo are misspelled, it's a fake.

Poor stitching or burst seams. If the jersey is falling apart, fraying or just looks like it was poorly made, it probably is. If you can, check out the quality before you buy, or at least zoom in on product images for a closer look.
Missing official tags or logos. Official jerseys come with all kinds of clues to prove their authenticity. These can include the NHL label woven into the inside neck of Reebok jerseys and a few other key indicators.
Low-resolution photos. If the site you're buying from has low-quality photos and/or doesn't have the option for you to magnify images, watch out. Even if you're buying secondhand jerseys, it's always a good idea to try and request product images, just so you can have a little extra security.
---
What about you? Let us know in the comments where you score deals on jerseys and any tips you have for spotting a fake!