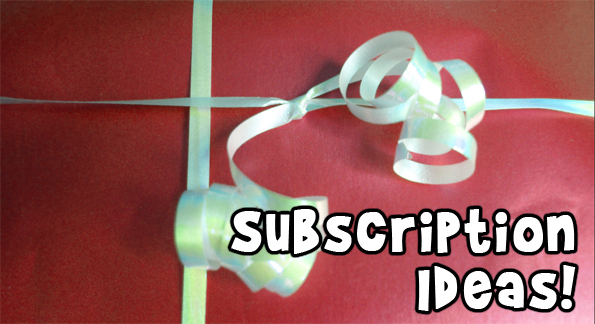 It's my mom's birthday soon and I have been trying to think of a gift idea. She's coming 69 and she doesn't really "need" anything and it can be very difficult to think of a gift for her that she doesn't already have. I was thinking about it just now and I came up with the idea of a subscription box for a couple of months. There are quite a few services in Canada which offer gift boxes… some not necessarily great for my mom, but these could be a good idea if you're buying a gift for a friend or relative.
Here are some of the services that you can choose from and a quick word about each, as well as any special offers you might want to take advantage of:
Cosmetics Subscriptions
This seems to be a very popular niche for subscription boxes. Here are a few beauty and cosmetics subscription boxes to note:
Luxe Box – This is a Canadian subscription box in which you get 7 or 8 trial sized beauty products, curated to match your beauty profile. The price of the Luxe Box is $26 for one box and that comes with free shipping. Prices drop if you subscribe for longer. I believe the Luxe Box operates quarterly rather than monthly. There's a gift option at checkout if you want to send a box as a pressie. I don't know of any active coupon codes for these at the moment.
Topbox – This Canadian beauty box subscription will give you four hand-picked samples each month, for only $12 with free shipping – a very low price point. There is a waiting list for subscriptions though, it could take a few months before you get your first box, so it might not be ideal as a present unless you are planning this one well ahead in time.

Pet Subscriptions
There are a few that I know of in this field:
Bowzerbox.ca – these are a relatively new Canadian service, offering monthly dog goodies in a box. For any sized dog, it's $29 for one month but the monthly costs fall if you subscribe for longer. There is also a shipping fee of $4.50 a month. They have a "gift" option at checkout so it makes it easy to gift a Bowzerbox. You can use Bowzer Box coupon codeLP10 to get $10 off your first box.
Barkbox.com – while these are US based, they're still good to ship to Canada. Prices of these pet subscription boxes start at $29 for the first month, plus $5 shipping to Canada. You can use the coupon code fbruv10 to get $10 off. There's also a gift option available, so good to use for that purpose.

Food & Drink Subscriptions
Food boxes are yummy!! There is quite a wide variety of foods you can get in this type of subscription – here are a few interesting options.
Treatsbox – This is a Canadian service which ships you a monthly box of candies and snacks, from popular brands such as Hershey's, Cadbury, Wonka and more. It's only $30 with free shipping, and they've got the gift option at the checkout. The Treats Boxes look delicious and would make a super gift.
Munch Better – This is a Canadian snack subscription box which costs $19 per month, plus shipping fees. This service focusses on healthy snacks with high quality ingredients. Sadly, there are no coupons for these just now!
Parachute Coffee – This type of box makes a great gift for the coffee aficionado. Parachute offers a monthly box of hand-picked coffee from the best local coffee roasters for only $25 with free shipping. My partner would love to try this one.
Tea Sparrow – We've had coffee, what about tea? Tea Lovers may like to try out Tea Sparrow which offers a subscription box filled with 4 different loose leaf teas. It's only $20 with free shipping and for that, you'll get about 35 cups of tea. I watched the video on their site and it looks delicious! Follow the instructions on this post and you can get your first box for only $8.
Well Moosers, these are just a few different ideas of subscription gifts you could give as a gift. Have you any more thoughts? Have you gifted a subscription box, and if so, which one? Let us know in the comments below!
(Image credits: Henry Burrows, Nikita Kashner, brightonmike, Anne Marle)