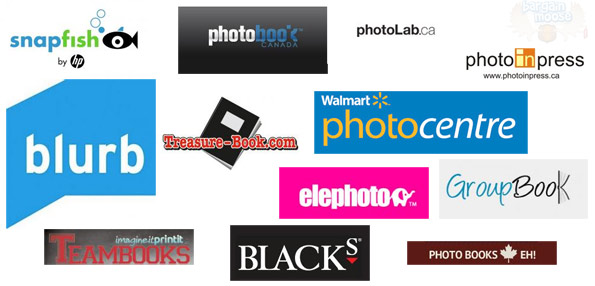 Now that the Christmas holidays are over, many people have taken a ton of digital photos... but they're all sitting stored on a memory card on their digital camera, or saved in a file on their PC. That's no good! We want to see the lovely photos!! It's a nice time to think about making a photobook, maybe compiling a lot of your favourite family photos from the last year.
A friend Skyped me the other day asking me the best Canadian companies to buy photo books from, as she really didn't know. This led me to the idea of writing a big blog post about online photobook companies, showing you some of the top Canadian photobook websites, and possibly showing you the various photobook coupons and extra discounts that you can avail of.
In my opinion, there are 4 major photobook sites in Canada. They are:
I'm not going to go through the various offers and shipping costs from the above, as they change on a regular basis (so anything I write now would go out of date very fast). I'd recommended that you click through, check out the sizing and shipping costs, and remember to take the Bargainmoose coupon forum into consideration to save a lot more money on your photobook purchase.
There are, of course, a lot more online Canadian photo book companies... here is a simple list of some of the others:
There might not always be a valid coupon code for each of the above stores, but we'll be trying our hardest to make sure we've always got all the valid Canadian Photobook coupons on there!
In addition to the Canadian sites, there are a couple of US photobook sites which are worth a mention, as they often have excellent coupon codes and deals on photo books in Canada. Keep these on your radar too:
In addition to basic Canadian photobooks, many of the above sites also offer photo gifts, like photo canvasses, photo mugs, and more keepsakes. There are a couple of specialist sites for Photo Canvasses too, here are a number that are both Canadian and US based:
I hope this post has given you some ideas of the best places and the best deals for your Photobook purchases! The next time you want to buy a Canadian photo book online, check back here for ideas.