So you need new glasses. Once you have your prescription, what's next? If you've shopped for frames (and lenses, too, honestly) before, you know one thing: they can be expensive – especially if you shop in stores. That's why many shoppers are turning to online retailers for their glasses, and we're here to help.
Trust me, I know the idea of buying something that you'll wear every single day – and not even trying it on first – can be daunting. And doing all that without a specialist nearby can just add on the stress, which is why we put together this guide. Here, you'll find everything you need to know about buying glasses online in Canada, including tips for reading your prescription and our master list of places to buy glasses online.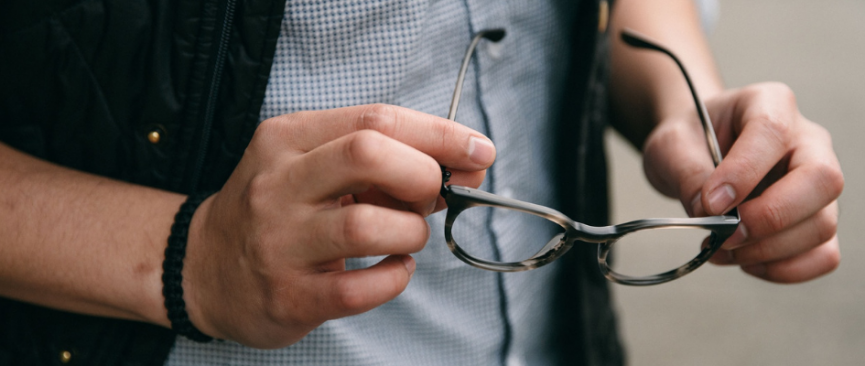 What to know before you buy glasses online
If you've never shopped for glasses online before, this is for you! There are a couple things you'll need to have handy before you should even start browsing different frames, including your current and valid prescription. And if you're due for a checkup, make sure you see your eye doctor before you shell out for a new pair.
Already wear glasses? If they comfortably fit your face, check your current glasses measurements. You should find all that information on the inside of the arm. Keep those numbers handy, because many websites will let you filter your search results by them. That way, you can avoid any frames that won't fit.
When you have all those numbers written down somewhere, you can get shopping! As you look through different frames, keep a few things in mind. Certain styles are better suited for specific face shapes. There are guides out there that can help you figure out your face shape – but in general, people with rounder features should avoid rounder frames (and the same goes for more angular faces). Also, take a look at what's currently in your wardrobe and consider when you'll wear these glasses. That can help you determine if you want something multifunctional to wear every single day or a funky pair you can break out for special occasions.
And finally, once you have your frames, you can't forget to add on the lenses! Many frames are sold with "basic" or "standard" lenses (which are often a very minimal prescription or none at all). ALWAYS make sure the lenses you have in your shopping cart actually match what's on your prescription.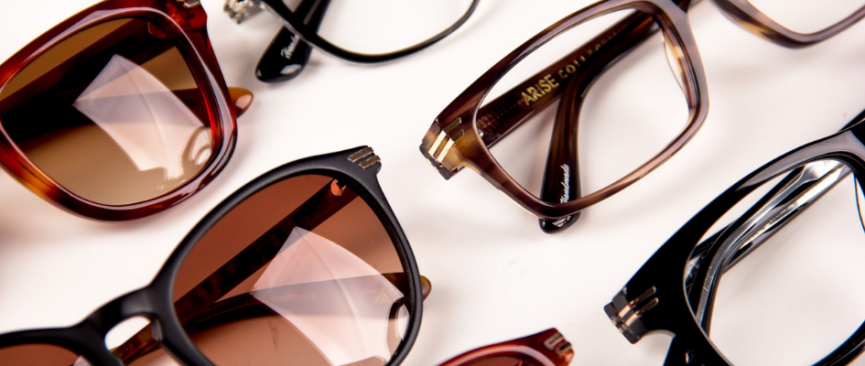 How to read your glasses prescription
After an eye appointment, you should receive your eyeglass prescription. If you also receive a contact lens prescription, don't lose it! However, you'll only need the glasses one for, well, buying glasses.
Your prescription contains information about your eyesight and any correction needs. Honestly, it will contain a LOT of numbers and letters, and it can all seem pretty overwhelming if you don't know exactly what to look for. Many websites that sell glasses have blogs and popups that can help guide you through this whole process, but here are some of the basics when it comes to reading your glasses prescription:
Your left and right eyes will be assigned different values (since you vision can be different in each eye). Your left eye's parameters will be indicated with OS, while OD refers to your right eye. The SPH value essentially indicates how "strong" your lens has to be, based on how farsighted (+) or nearsighted (-) you are. There are also values that can indicate whether you need bifocals or special lenses to correct astigmatism.
Clearly actually put together a pretty complete guide (complete with a couple of diagrams!) to help you out. So no matter where you ultimately buy your glasses from, I'd check that out as you shop.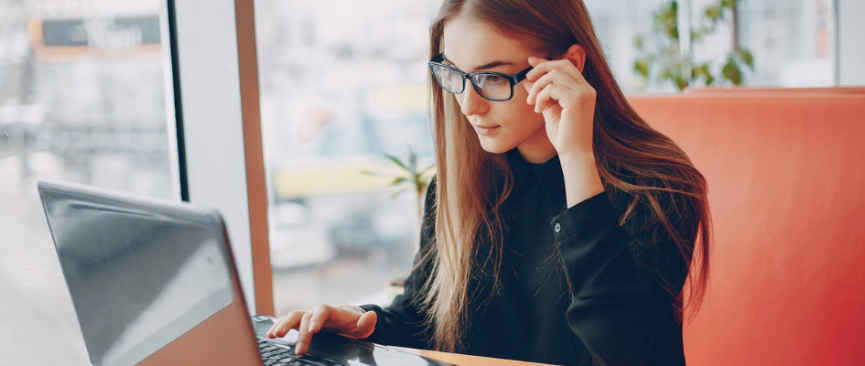 Where is the best place to buy glasses online?
In the end, the "best" place to buy glasses online really depends on what you're looking for. If you're somebody who favours a quick turnaround time, Optically might be your best bet. But if you want frames that are a little more original and designed in Canada, give Bon Look a try. Whatever you're after, here's our list of the eight best places to buy glasses online. If you love any others, let us know in the comments!
1. Warby Parker

Warby Parker is one of the best-known online glasses stores out there. They design all the frames they sell, and they're all about saving you as much money as possible – without cutting corners on quality. Their site has two main departments (one for women's glasses and the other for men), and both are packed with options. If you'd rather try frames on in person, they have two brick-and-mortar stores in Toronto.

Their super-stylish eyeglasses and sunglasses are designed in-house, which means that you can buy new glasses at really low prices. Plus, they donate eyewear to people in need through the Buy a Pair, Give a Pair program. They have so many glasses that narrowing down your searches to browse for what you want can take some work and navigation skills. If you can weed through it all, though, it's well worth it!

2. EyeBuy Direct

True to their name, EyeBuyDirect designs their glasses in-house and ships them directly from the factory to you – which means they save money on the whole process and can offer some of the lowest prices on this list. Plus, they have frames for kids (as well as for adults) and digital screen protection glasses.

They almost always have some promotion happening, and you can usually find at least a few frames for up to 50% off in their sale section. EyeBuyDirect also has a coupon page right on their site, where you can find all the latest deals. But ... while they have some of the lowest prices on this list, their selection is limited. They don't have too many children's frames, and you won't be able to find designer eyeglasses on their site.

3. Zenni Optical

Zenni Optical sells pretty much every kind of glasses you could want – including goggles, active frames and wraparounds. They're a San Francisco-based company that's all about helping you look good in glasses that you can actually afford. So if you're on the sporty side, this is probably the website for you.

Zenni makes it really easy to search for exactly what you want. If you head to their Frame Finder, you can filter their selection by shape, pattern, colour and more. Just keep in mind that their prices are listed in USD (so you might want to have a conversion calculator handy), and standard shipping to Canada takes anywhere from 14 to 21 days, which is a little longer than the other sites on this list.

4. Clearly Contacts

Don't let their name fool you. Clearly Contacts is about much more than just lenses. They have an entire part of their site devoted to eyewear, and you can almost always find something on sale when you visit. They tend to have TONS of promotions happening at the same time, and their complimentary standard lenses are 22% thinner than most of the base lenses you'd find elsewhere. No more Coke bottles!

Since Clearly sells both prescription glasses and contact lenses, you can find everything you need in one place. And when it comes to eyewear, you can score frames for up to 70% off in their clearance section. They also have a blog with step-by-step guides for how to buy glasses online.

While you can flip back and forth between their contact lens and eyewear pages, some information is all jumbled together. Be careful with things like warrantees and coupon codes, because there often isn't much separation between what applies to contacts and what's for glasses. Just read ALL the details for those.

5. SmartBuyGlasses

If you're looking for designer labels like Ray-Ban, Tom Ford, Prada and Versace, SmartBuyGlasses is for you. They carry gorgeous frames from some of the biggest eyewear brands in the world, they offer virtual try-on, and SmartBuyGlasses even has a best-price guarantee that will allow for price adjustments within 14 days.

SmartBuyGlasses pretty much covers all the bases. They offer free delivery with a minimum spend, refunds and free lenses – and they have a huge selection from close to 200 brands. What's not to love? And because they sell designer frames, expect prices to be a little higher than many of the sites listed here. It's also worth noting that shipping can take up to three weeks for special orders, which is a long (but worthwhile) wait.

6. Bon Look

Bon Look might be my favourite retailer on this list. They're based in Montreal and dedicated to crafting unique glasses that are fashionable and affordable. Everything they sell is designed in-house and handmade using high-quality materials. You can also choose to test frames via their Virtual Try On or book an appointment at one of their locations, which is perfect if online shopping makes you just a teeny bit nervous.

They're a Canadian company that crafts beautiful, high-quality glasses, and they have a blog full of quick tips and trend updates. Plus, you can choose whether you want to shop online or in-store. As you shop, just remember that they don't offer exchanges, and not all glasses may be accepted for returns. If you have the chance, it's probably best to try shopping in a store to know exactly what you're getting before you buy – especially since these are fairly expensive frames.

7. Optically

Optically Canada is home to both designer glasses and budget frames. They usually have some kind of promotion going on where you can save up to 30% off almost anything sitewide, and they'll even offer 24-hour dispatch on some orders – so if you're in a pinch, you can't beat a turnaround like that!

Optically can get you new glasses FAST, thanks to their 24-Hour Dispatch frames. Just look for specially-marked glasses, and you can order and receive them almost immediately. In general, though, their FAQ section is limited, and it can be tough to find the information you need. I had to dig around for a while to figure out their full shipping and return policies, so you might be best off if you contact Optically directly whenever you have any pressing questions about an order or a certain pair of glasses.

8. iLookGlasses.ca

While they don't exactly have the most up-to-date-looking website, iLookGlasses.ca more than makes up for it with pretty incredible shipping and return policies. They offer free delivery on orders over $60 and free returns on all orders, so you don't need to worry about being stuck with frames you don't like or can't wear. iLook will even pay the return shipping if you need to send anything back!

They have a loyalty program called the iLook Rewards Program that lets you collect one point for every dollar you spend or 10 points for a successful referral. You can then redeem those points for discounts – so your next frames will be even cheaper. As a whole, though, their website is a little tough to navigate. While they do offer most of the same services as bigger online glasses stores (including a virtual try-on feature), you might need to do a little extra digging to find what you need.
Sign up for our newsletter
Never miss a deal from Bargainmoose with our daily newsletter