As you might remember, Build-A-Bear Workshop launched a new promotion for the first time ever last summer: the Pay Your Age Day sale. You could bring your child to a Build-A-Bear location, get them any furry friend in the store, and it would only cost their age. A one-year old could claim a $1 bear, and so on.
Naturally, the event was HUGE, and BABW stores across North America ended up closing early when they couldn't keep up with the demand. However, they replaced it with an even better sale, called Count Your Candles.
Instead of a one-day event, they started an ongoing birthday promotion. In a nutshell, you can bring your child to Build-A-Bear at any time during their birthday month and take home a bear that only costs the age your kiddo is turning.
It applies to Build-A-Bear Bonus Club members is Canada, the US and the UK, so before you head out for their birthday, make sure you join the club!
How to sign up for the Bonus Club
The Build-A-Bear Bonus Club is absolutely free to join, but you must be an adult to sign up. So when you create an account, enter your information (not your child's).
To sign up online, you'll need to fill out a quick form with your name, birthday, gender and email address (choose one you'll check often, because they'll send you deals!). After that, you'll just need to create and confirm a password.
Make sure you check the box at the bottom of the signup page to be added to their email list. That way, you won't miss out on any Bonus Club-exclusive deals.
What is Count Your Candles?
Once you're signed up, you're eligible for the Build-A-Bear Count Your Candles birthday deal. All you need to do is bring your child in to any Build-A-Bear Workshop store in Canada during their birthday month, and they'll get to take part in a really special birthday cele-BEAR-ation.
Once you're there, your child will get to "count their candles" until they reach the age they're turning – and that's what you'll pay for a Birthday Treat Bear! No proof of age or identification is needed, but a registered Build-A-Bear Canada Bonus Club member (you) must be there.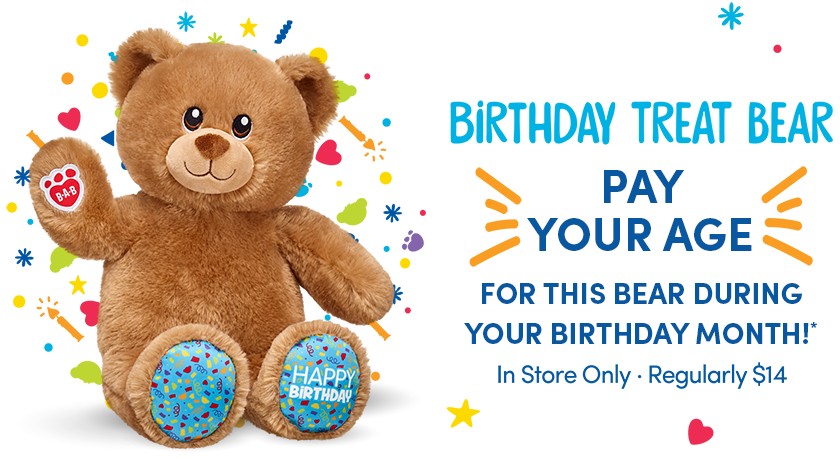 A Birthday Treat Bear usually costs $14, and they're only available in stores while quantities last. The minimum price is $1 (for birthday kids turning one), and it's open to children under 14 years of age.
That's not the only perk, though. When you bring your child in to celebrate their birthday, they'll also get all this (at no extra cost):
Special Birthday Heart Ceremony (with a Birthday Heart for their bear)
Birthday cake photo prop, sticker and party hat
Turn ringing the Birthday Bell
"Happy Birthday" song
Basically, you can treat the birthday kiddo to an entire afternoon of activities, and it won't actually cost all that much. Just note that accessories and clothes are extra. You'll need to confirm your Bonus Club account details at checkout in-store, and it might help to bring your ID for this.