If you're travelling with little ones soon, this is for you! There are so many kinds of travel high chairs and portable booster seats out there, that it can be a little tricky trying to figure out where to start. So if you're looking for tips or recommendations, here's our list of the best portable high chairs in Canada for 2018 and a few on sale!

To determine our top picks, we looked at some of the bestselling high chairs in Canada and narrowed them down by availability, ratings and, of course, price.
Availability: You can actually find everything on our list in Canada (so no cross-border shipping here), and they're all available on Amazon Canada. Many of these high chairs are also sold at places like Walmart.ca and Best Buy Canada – so you should be able to find one, no matter where in the country you live!
Ratings: You won't find bad reviews here! We only included high chairs that receive at least 4/5 star ratings on Amazon.ca. That way, you know you're not just taking our word for it – you're also looking at products that parents across Canada have used, liked and rated pretty highly.

Price: Last (but absolutely not least), we looked at price. Since you'll probably end up buying a portable high chair in addition to the regular one you use at home, these chairs need to be affordable and worth every penny. That's why we only included high chairs that currently sell for less than $100 CAD, as well as some that are on sale.
---
Best Deals on Portable High Chairs
Hoping to score a portable high chair on sale? Here's our latest roundup of all the best deals on right now in Canada! And don't forget to take a look through our top picks, because some of those are marked down, too!
Our Top Picks on Sale

Other Portable High Chairs on Sale
---
The Best Portable High Chairs in Canada
Here you have it: our portable high chair and booster seat recommendations for 2018! To determine the winner in each category, we looked at price, availability and reviews, and we also checked out durability, size and how portable they are.
Best for Travelling: Summer Infant Pop 'N Sit Portable Booster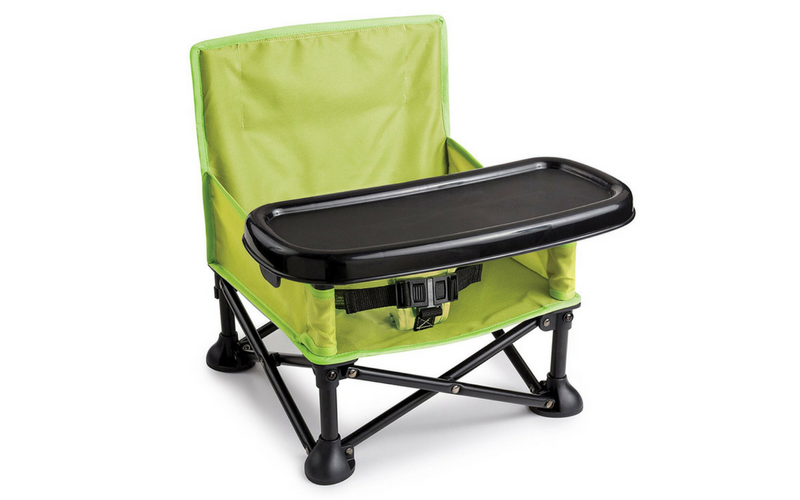 For ages 6 months to 16.8 kg | Empty booster weighs 2.04 kg | Tray detaches
We've talked about this booster seat before, and it's still one of our absolute favourites! It's collapsible and sets up in seconds (so it's perfect for families who love to travel), and it includes a three-point safety harness, as well as chair safety straps to connect it to an adult chair. The only real negative is that the leg holes run a little small, so it's probably most suitable for younger children.
---
Best Budget Buy: Summer Infant Sit 'N Style Booster Seat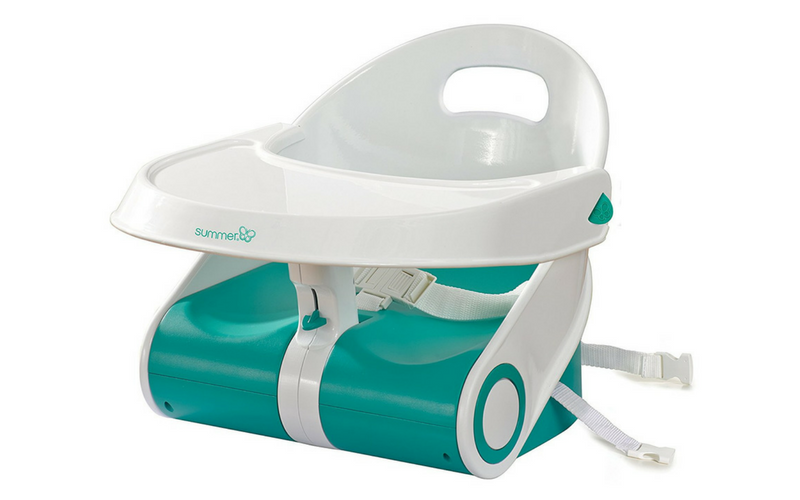 For ages 9 months to 16.8 kg | Empty seat weighs 1.41 kg | Compact and affordable
It shouldn't really be any surprise that this booster wins out for budget almost every time. This seat is available at most major stores in Canada, and it's usually priced around $30! It uses a three-point harness system and has a removable, dishwasher-safe tray, but it is a little on the smaller side, and older kiddos might not fit.
---
Best Table Chair: Inglesina Fast Table Chair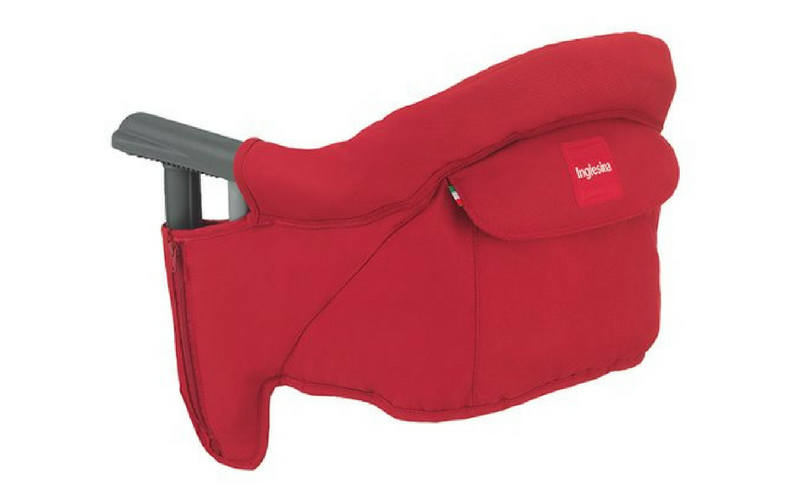 For ages 6 months to 16.8 kg | Empty chair weighs 1.9 kg | Removable seat back
Parents swear by this chair, because it's padded, it clips directly onto the table, and it collapses into a carrying bag when you're done! There's a pocket in the back, and you can remove and wash the seat cover, too! One drawback is that, like the Summer Infant booster, it's a smaller option and might not fit your child up to the maximum weight capacity.
---
Best for Camping: Baby Delight Go With Me Chair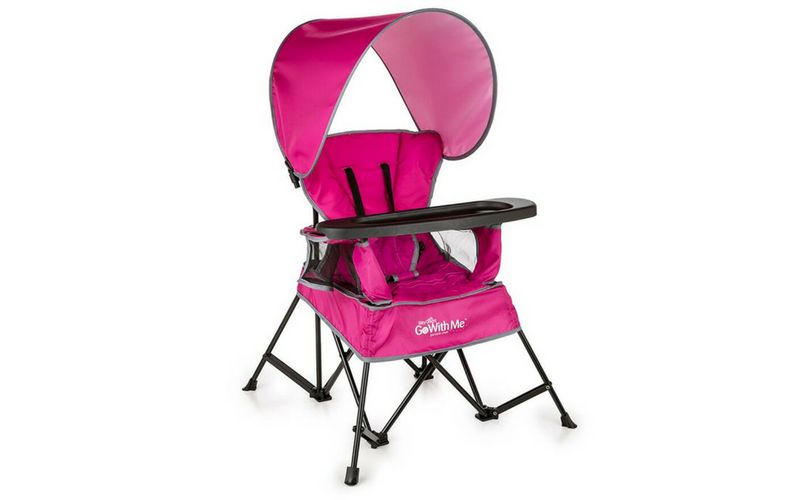 For ages 3 months to 34 kg | Empty chair weighs 2.81 kg | Removable sun canopy
Okay, how often do you see a high chair with a sun canopy? This one lets your child eat in the shade, even when you're at the park, the beach or on a camping trip! And yes, you can take the canopy off if you want to use the chair indoors. Just keep in mind that the tray sits a little high and can be pretty tough to remove.
---
Best Lightweight Chair: The First Years On-the-Go Booster Seat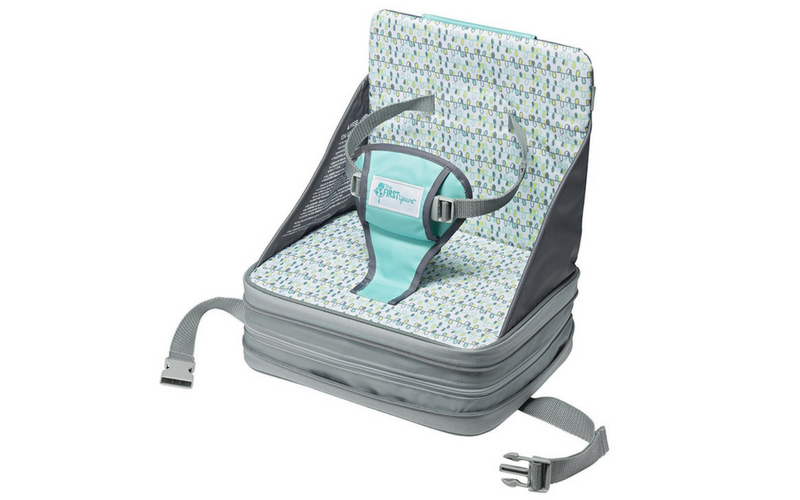 Holds up to 22.7 kg | Un-inflated, empty seat weighs 0.5 kg | Self-inflating seat
This might be the lightest booster seat on the market, and it's a real space-saver, too. To get it ready for mealtime, all you need to do is pull out the valve, and it'll self-inflate into a sturdy booster you can attach to an adult chair. Just press out the air and fold it up when you're done. The seat is a little thin, so it may not fit perfectly on all dining chairs, so it might not be ideal for all restaurants or family dinners.
---
Best Rotating Chair: Chicco 360-Degree Table Seat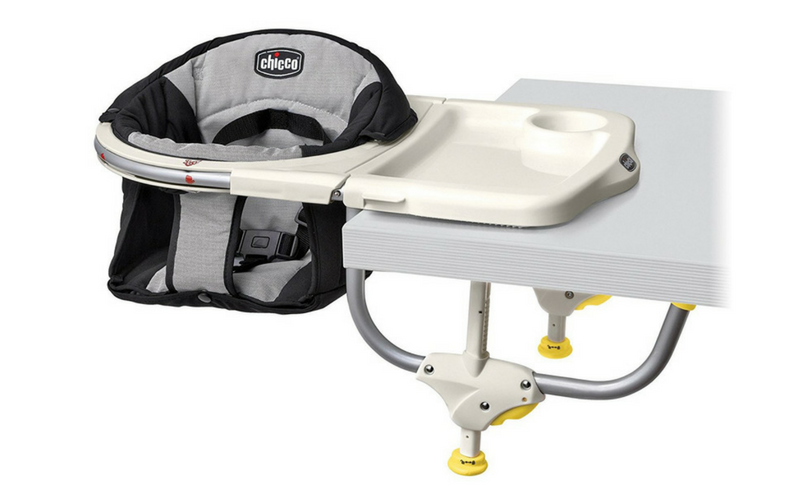 For ages 6 months to 16.8 kg | Empty seat weighs 4.64 kg | Rotates six ways
Alright, this is pretty cool! Once it's clipped to a table, the Chicco 360 chair rotates into SIX different positions – and it even comes with a snap-on tray. The obvious downside is that this is by far the most expensive high chair on this list. But if this is a feature that would really help you out, it could be worth the investment.
---
Best for Toddlers: Kaboost Under-the-Chair Portable Booster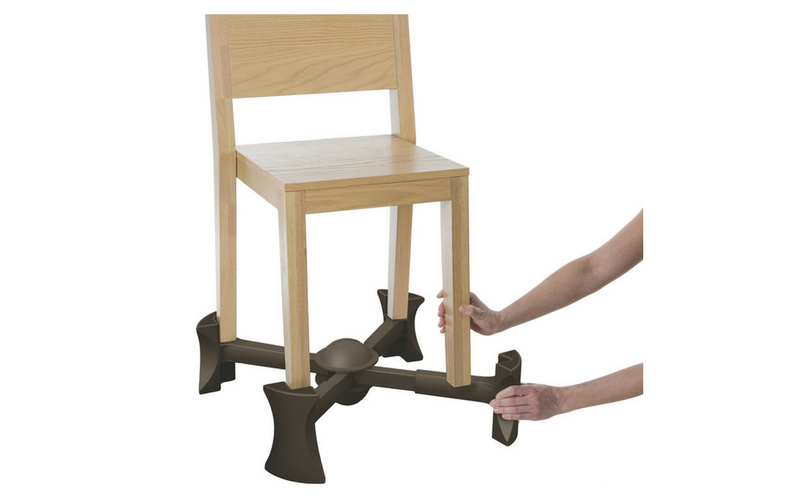 Holds up to 136 kg| Unattached booster weighs 1.59 kg | Clips onto adult chairs
Kaboost says this handy little device is "perfect for little kids who want to sit like older kids," and I couldn't agree more! Instead of lugging around an entire booster seat, you just snap this gadget onto an adult chair, and voila – your kiddo can eat at the table like everybody else! One downside is that it can make it hard to move the chair, so your child might need a little help getting in and out of their seat.
---
Tips for Buying High Chairs
High chairs (even portable ones) can be an investment, so you want to make sure you're getting the best product at the best price you can. Here are our suggestions for picking the right high chair, as well as some advice from Health Canada.
Know the different kinds of high chairs – and which one you want
High chairs come in all shapes, sizes and styles. To help narrow down your search, try to figure out which type might best suit your child, lifestyle and budget. Here's a quick rundown of some of the most popular kinds of portable high chairs:

Booster seats – stand on their own or attach to an adult chair
Clamp-on high chairs – attach directly to a tabletop
Wraps and harnesses – soft seats that wrap about the backs of chairs
Fold-up high chairs – collapsible, baby-size camp chairs
Wait for deals to pop up!
If you have your eye on a certain high chair (and time allows), wait a little while and see if it goes on sale. Most baby events and promotions include at least a few high chairs, and we'll note the latest deals at the top of this post!
Be careful when buying second-hand high chairs

High chairs can take a beating. After all, they get carted around, spilled on and bumped into. If you're looking for buy a chair second-hand, you want to make sure it's still sturdy and safe for your little one to use. Health Canada offers these tips for anyone trying to buy a high chair or booster seat second-hand:
Look for a label with this information: name and address of manufacturer, model name or number, date of manufacture
Make sure the chair is stable and has a wide base (so it won't tip)
Check that the restraint system is in good condition
Ensure that all latches and locks work
Check all wooden and plastic parts and avoid anything with cracks or splits
Look the chair over for loose parts (which could be choking hazards)
It's also a good idea to make sure the model hasn't been recalled. You can see the latest Health Canada recalls, as well as their archives, here.
---
Agree with our picks? Have a recommendation of your own? Let us know what your favourite portable high chair is and why in the comments!