Whether you spell it jewelry or jewellery, you want to know you're getting quality pieces at the best prices possible, which is why we decided to put together a list of all the best online jewelry stores in Canada.
To help you on your quest for a new necklace or that perfect engagement ring, we decided to look at places that sell jewelry exclusively online, as well as companies with brick-and-mortar stores in Canada. So whether you're looking to try things on in-person or shop from your phone, there's something for you.
All our favourite jewelry stores are listed below, and the items they sell range in price from a few dollars to thousands. You'll find places that sell wedding bands, custom jewelry, charms and more listed here, as well as a few of our tips for making sure you get the best deals you possibly can.
One thing they all have in common is that every store on this list sells online in CAD and offers delivery throughout Canada. Most of them run sales pretty regularly, too, so it's always worth checking them out!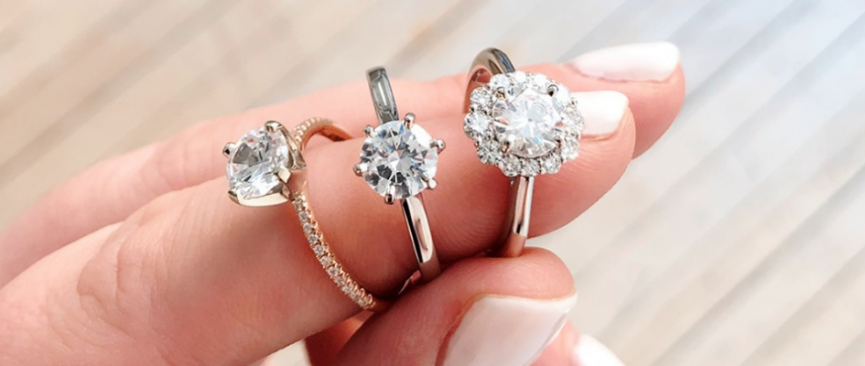 Where to buy jewelry online in Canada
Drumroll, please ... this is pretty much the master list when it comes to shopping for jewelry online in Canada. If you want to compare prices between different brands and companies (especially for things like wedding rings or important gifts), I'd suggest checking out every store here. You never know what you might find, and there's easily something for everyone, whether you're after that Tiffany Blue or earrings fit for a duchess.
1. Blue Nile
Blue Nile truly is one of the biggest online jewelry stores. They specialize in diamonds and engagement rings, but they also sell earrings, birthstone jewelry and more. When you shop at Blue Nile, you can expect to walk away with a really great deal (and an incredible diamond). In addition to their low prices, they also have a few policies worth checking out: (1) free shipping on all orders, (2) free returns on most orders within 30 days, and (3) a diamond price-match guarantee. They don't have any Canadian showrooms, so you can only shop online.
2. Michael Hill
My husband and I bought our wedding bands at Michael Hill, so they'll always have a special place in my heart. They're known around the continent for their engagement rings, as well as the Michael Hill Sale, but they're also pretty famous for selling exclusive collections. They have different lines of beautiful, intricate pieces that you really do have to see for yourself. Michael Hill occasionally runs online-only sales, which you obviously won't see in stores ... but when they pop up, you can save as much as 60% off some items!
3. Peoples Jewellers
We talk about the Peoples Jewellers Enchanted Disney Fine Jewellery Collection all the time on Bargainmoose, but People Jewellers has a lot more to offer. They're known as "Canada's #1 Diamond Store" for a reason, and they're a really popular destination for couples choosing wedding bands. Peoples is also known to collaborate with designers like Vera Wang and even athletes like Shaquille O'Neal, so you can really find a huge variety on their site. Plus, they almost always have some kind of sale going on that's too good to miss!
4. Charm Diamond Centre
Charm Diamond Centre (also known as Charm Diamond Centres) advertises itself as "Canada's largest diamond and jewellery retailer," and you can't really doubt that claim after you see their selection. Unlike most of the stores on this list, they sell children's jewellery in addition to styles for adults. They carry brands we all know and love, like Alex and Ani, Levian, and, yes, even an Enchanted Disney collection.
5. Paris Jewellers
I honestly didn't know much about Paris Jewellers until a few years ago, but they really do have some gorgeous pieces on their site, especially if you like colour. While they do sell engagement rings, I was drawn right away to the "Top Trends" section of their site, where you can find their take on some of the latest styles. One thing that I love about their site is The Paris Blog, where they share jewellery shopping tips, their brand story and gift ideas. It's updated more frequently than other stores' blogs, so you'll always see current trends on there.
6. Maison Birks
Does it really get more Canadian than Maison Birks? They've outfitted everyone from Catherine O'Hara and Isla Fisher to Meghan Markle herself with pieces that can make all of us feel like royalty. Birks sells their own fine jewelry and engagement rings, as well as Rolex watches and other brands like Cartier and Tudor. I personally love how simple and intricate their stud earrings can be, and their pairs will be on my Christmas lists forever. They also stock some of the sweetest gifts for babies, newlyweds and, well, just about anyone.
7. Pandora
Whether you collect their charms or stackable rings, Pandora Canada is by far one of the best places to find cute, trendy and affordable jewellery online. I love shopping online at Pandora when I'm buying charms, since there's no need to go to the store to try them on – so this site comes in pretty handy when you need to buy gifts. While they do run most of their promotions in-store as well as online, Pandora will occasionally throw a web exclusive in the mix, and that's when it really pays to check out their site. And if you're willing to do a little digging, you can usually find a few steals that aren't available in most Pandora stores.
8. Swarovski
We've all heard of Swarovski crystals, but they really do make incredible jewellery when you get down to it. They're, of course, known for their crystal decorations, but you need to see their rings, necklaces and earrings. Just trust me on this one. They hold sales sparingly, but you don't want to miss the Semi-Annual Sale when it shows up. It's a HUGE deal, and it only comes around a couple times every year!
9. Tiffany & Co.
Last is Tiffany & Co. Even if you don't know them from Breakfast at Tiffany's, you can't miss those trademark Tiffany Blue Boxes. They're the most high-end retailer on this list, but what might surprise you is that some of their collections are really affordable. Many of their classic lines, from Tiffany 1837 to their Tiffany Keys, qualify for Canadian delivery. Not everything is available online (so you may want to book an in-store appointment), but you still can browse the iconic Tiffany Setting engagement rings on their site.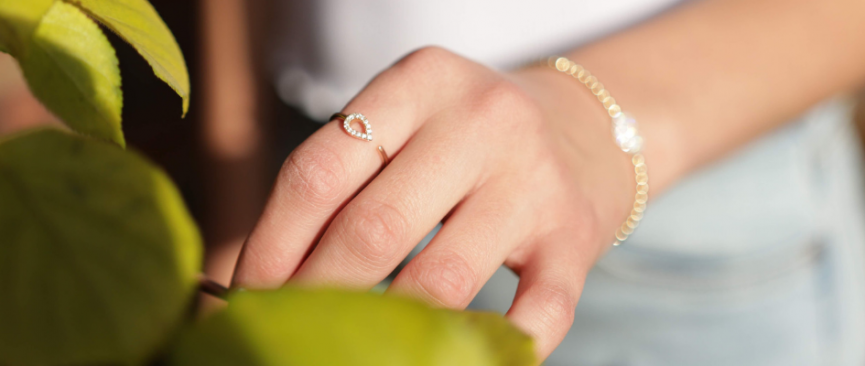 Tips for buying jewelry from Etsy Canada
Of course, those nine places we mentioned are far from the only stores and websites that sell jewelry. I personally like things that are locally made or even one-of-a-kind, and that's when I turn to smaller makers. I tend to buy a lot of my jewelry (and just about all my other accessories, honestly) at craft sales and farmer's markets, as well as places like Etsy Canada. I really love knowing that I'm supporting somebody's livelihood and passion projects, and you can find some incredible pieces that that aren't available anywhere else.
You can probably find me searching Etsy at least once a week, just to see what new items are out there. Whenever I shop on their site (whether I'm looking for jewelry or something else entirely), I'll sign into my account and favourite anything I love. That way, I can keep an eye on certain products and comparison-shop. Plus, Etsy will send a notification to let me know if any of my favourites go on sale!
They have an entire jewelry and accessories department, where you'll find necklaces, rings, earrings, bracelets and body jewelry, including some newly made pieces and vintage finds that have been refurbished. Prices are all over the map, but you can still filter this department like any other section on Etsy. You can sort your search results by colour or metal type, price and whether or not specific sellers offer free delivery to Canada. It will also let you choose whether you want to view jewelry that's handmade or vintage, as well as things on sale.
As with all Etsy items, though, sales and stock don't last forever. If you do see something you love, you should probably act fast! Add it to your cart, check out and don't look back. I've missed out on a few finds because I was too slow to pull the trigger. And now, I pretty much run for my cart whenever I see limited stock!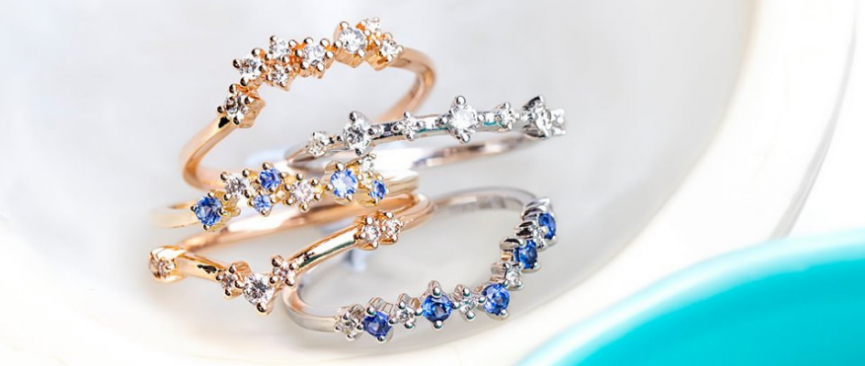 How to measure your ring size at home
If you're shopping in-person at a jewelry store, figuring out your ring size is pretty simple. They have all the equipment and sample sizes you'll need to know exactly what will fit. But what about if you're shopping from home? Luckily, there are a few different ways you can check – and there's no math required.
One of the most common ways to measure your ring size requires a few materials you probably already have at home. You'll need a slip of paper or piece of string (or even dental floss), a fine-tip marker or pen and a ruler that measures in millimetres. Wrap whatever material you choose around the base of the finger you want to measure. If you're looking to buy rings that sit higher up on your fingers, measure where you'd like to place them instead. Then, use the pen or marker to note where the string, paper or floss meets and use the ruler to measure the distance between where it begins and this point. Then, compare the result to a ring size chart.
In general, most jewelry stores and brands will have ring size charts available online. You should always compare your measurements to the specific chart that matches the brand, etc. you want to buy, because there can be some variance – even though most ring sizes are supposedly universal.
You can also buy ring sizers, like this Ring Sizing Gauge from Etsy seller Silver Moose Arts. Each one is only $3 and will ship for FREE across Canada! Full instructions are available in one of the product images, but these things are pretty much foolproof. It will measure sizes and half-sizes, too!
Sign up for our newsletter
Never miss a deal from Bargainmoose with our daily newsletter