Oh my goodness! Here is a completely adorable (and affordable) do it yourself idea to give to your family and friends this Christmas. Start saving those baby food jars, because you are going to be addicted to making these fun Baby Food Jar Snow Globes! I have yet to see a cuter way to upcycle all those old baby food jars laying around. Just a note, the glass jars will work much better than the plastic ones. I am actually not sure if the plastic ones will work at all. This tutorial is pretty simple, and there is lots of room for customizing your very own baby food jar snow globes. You will need to make a trip to your local Michael's Arts & Crafts or other craft store for sure. So keep your eyes peeled for fab Michael's coupons in our Bargainmoose forum.
So let's get started! I am so excited to make my very own Baby Food Jar Snow Globes. I love cute little things like this. If you love these, then you would probably enjoy the DIY Fairy Gardens idea I wrote about some time ago.
Here's what you're going to need to get started:
emptied and clean baby food jars
mini fake trees and other mini fake items you want to place inside
Goo Gone
Glycerin (found in the Walmart pharmacy)
Glass & Bead Glue OR Epoxy
Glitter (chunky coloured glitter is best)
Gold or Silver Spray Paint
Distilled Water
Your first step is going to be removing the labels and cleaning your baby food jars by using the Goo Gone. You will want to wash them again and rinse them well after using the Goo Gone. Then take the lid of the baby food jars and spray paint them whatever colour you want. I find gold or silver works the best, but you could go with Christmas colours like red or green as well.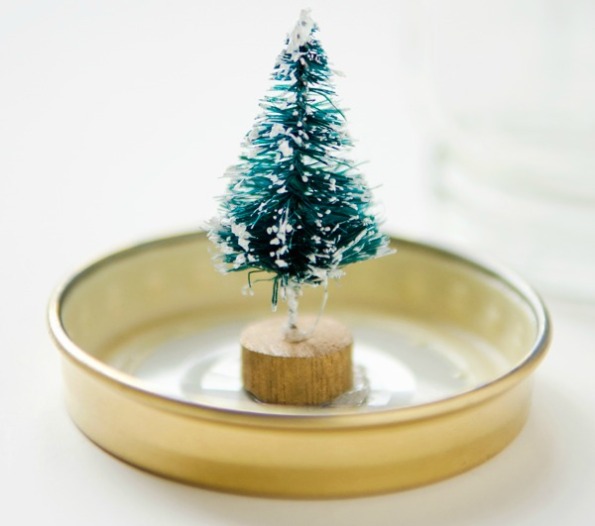 Then you are going to add a little bit of glue to the inside of the baby food jar lid as well as the bottom of your fake tree and other items you are placing inside your little snow globe. Let this dry for a good minute or two so the glue is a little firmer, and then stick your tree to the baby food jar lid. Let this step dry for a good 24 hours before proceeding any further with the project.
Then you can take your glass portions of the baby food jars and add about 1 teaspoon of your chosen glitter into each jar. Once you have added the glitter, you can fill the jar with distilled water. Get the water as full as possible, but leave enough room so you can add a little bit of Glycerin. Then add 5 drops of Glycerin and screw the lid on (with the glued tree) really right. Then you have your very own super adorable (and super affordable) miniature snow globe that you made yourself!
I would get a little bit creative with this one personally. Michael's Arts and Crafts has so many different items you can glue to the lid. You will see all sorts of goodies when you locate the fake trees! There are little houses, horses, farm animals, people and so much more. This project has me giddy with excitement! Can you guys please show us the end result on our Facebook page? It would be super fun for me to see them all.
Moosers, what are you going to add to your Baby Food Jar Snow Globes!?
A big thank you to Craftaholics Anonymous for this beautiful idea.