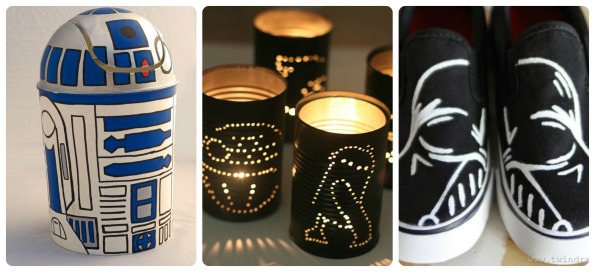 So, Star Wars is coming out in just 7 days - who's going out to see it?! I bet tickets will be sold out in the blink of an eye. This movie has caused a lot of hype. There are Star Wars clothes, Star Wars toys, and now do it yourself Star Wars crafts! If you know of someone addicted to the Star Wars series, then perhaps you will want to make them a little Star Wars craft as a Christmas gift - or perhaps you are a Star Wars fan yourself and will want to spend some quality time with the kids while making these crafts. There are tons of things you can make from an R2D2 trashcan to Darth Vader shoes.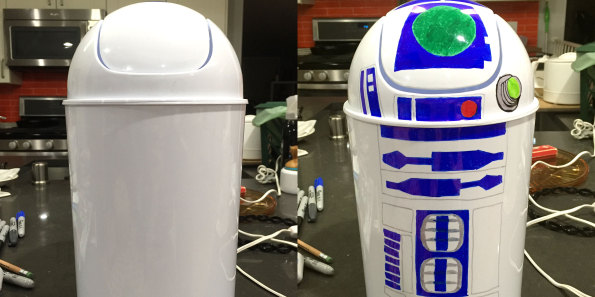 Star Wars R2D2 Trash Can 
Head on over to Walmart or your local Dollar Store and snag yourself a $5 trash can with a flip top like pictured. White is definitely the way to go if you are going to attempt the R2D2 transformation. You will also need Sharpies or paint in the required colours. Load up a couple reference pictures from the good old Google and have at 'er. It shouldn't take you any longer than 45 minutes, and the end result is fab.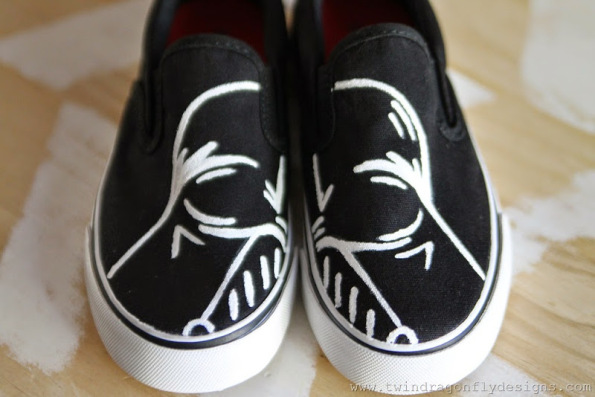 Darth Vader Shoes
This project is super simple. If you have a pair of black Vans or other black slip on shoes laying around, pull them out and grab some white fabric paint and a pencil. Then sketch the outline of Darth Vader's face like pictured above. Once you're happy with the sketch, you can take white fabric paint and trace over it. Voila, you have yourself a pair of Darth Vader sneakers.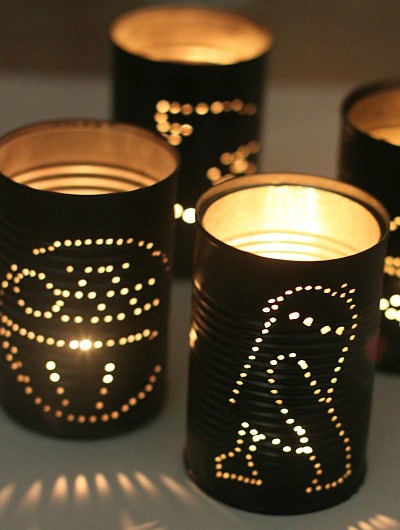 Star Wars Tin Can Lanterns
You're going to want to start saving and washing cans now. You can turn them into these fab Star Wars Tin Can Lanterns. Then, fill each can with wet sand and put it in the freezer for 24 hours or more. While you wait, you can plan your design. Print off some images of your favourite Star Wars characters and trace out a simple drawing. Then you can attach the design to each tin can with elastic bands at either end.
Then take a hammer and nails and punch holes following the outlines of your design. You might want to use different types of nails to get different sized holes. Then you can paint the cans with spray paint. Black will work best. Voila!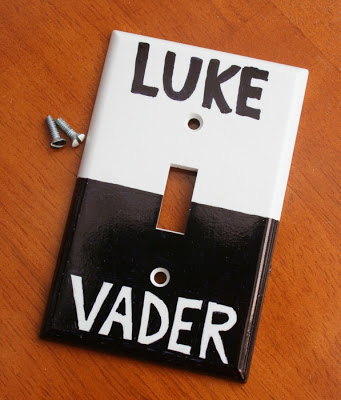 Star Wars Light Switch
All you're going to need for this one is a light switch plate and black & white paint. Paint the lower half of the light switch black and then paint the name "Luke" at the top.  Once the black paint has dried, you can paint the name "Vader" on the bottom. Funny right, dark side? Haha.r2d2
Moosers, do you know of any Star Wars DIY crafts?!