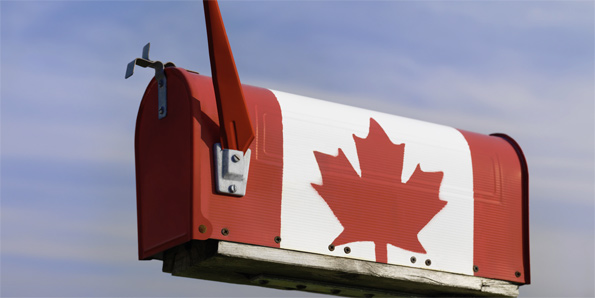 Amazon.ca is the largest online retailer in Canada. But as many Moosers are already aware, they also have a huge third-party marketplace as well as selling and shipping items themselves. Sometimes items sold by these marketplace sellers are fantastic bargains, but it can be hard to know what country they are coming from. I wanted to write a quick article with some tips for you, in buying from the Amazon marketplace and how to figure this out.
Lately on Amazon.ca, I've seen a HUGE increase in the number of Asia-based sellers on there, with items shipping from Hong Kong, China and other places in that region. Sometimes it's incredibly hard to tell where your items are coming from as the seller doesn't explicitly state this. They only state something like, "ships within 2 days" but that doesn't actually tell you how long it will take to get to you. Even though they ship within 2 days, it could still take a month to get to you – so it's very useful to know the country of origin, especially if you are ordering gifts for a set time – e.g. Christmas.
I always research the seller's country of origin to see the shipping times. When I got the inspiration for this article, I had actually started a live chat on Amazon to try and find out a little bit more about this whole issue. I was initially looking at the deal on this Despicable Me 2 Evil ONE EYED Purple Minion 10" Plush Toy Bad Minion which was priced at $4.21 with free shipping – a super-low price! Now, let's take a look at the listing of sellers here: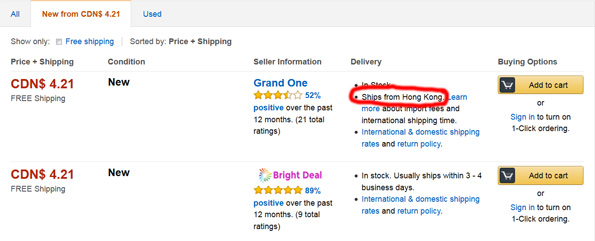 Because the seller "bright deal" did NOT state an Asian country of origin – I was wondering if it was actually shipping from Canada. I asked the Amazon customer service rep and they stated that if the listing did not state another country on that page, then the item is shipped from Canada. This is really good information to know! Here's a quick screenshot of the chat:

In conclusion, here's a quick synopsis of what I've found and what you need to do:
On an Amazon listing with multiple sellers, click "X new and used from $X" link under the price
You'll see a list of sellers and some of them will state, "Ships from country."
If it doesn't state a "ships from" location, this means the seller has the stock in Canada.
This is useful to know as then you can tell how fast a parcel will get to you, and if you want to buy from them specifically as they are a Canadian seller.
It may also help in your purchase decision – if there are a number of sellers with items around the same price point – you may want to choose the Canadian seller, if there are only a couple of cents difference in price.
I hope this information is useful to you guys! Thanks Moosers!
(Expires: never)