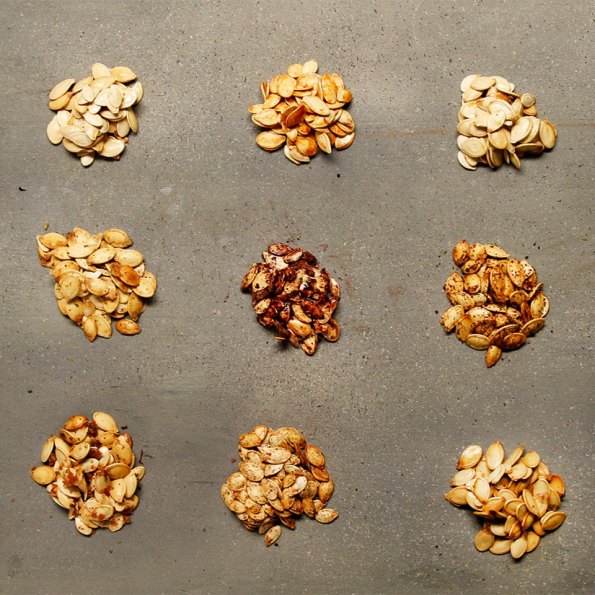 Halloween means pumpkins, and kids love pumpkins. But what do you do with all the pumpkin seeds? Why, roast them and eat them of course! So many people just roast them and add some salt, but why not mix it up a bit this year and try out our 9 ways to enjoy pumpkin seeds. If you cook often you probably have most of the required spices laying around. If not, who says you need to try all 9 ways?! Pumpkin seeds are healthy for you, and once you season them to your liking they end up being quite a delicious treat. I love the Pumpkin Pie Flavour as well as the Barbeque Flavour, but I could pass on having chocolate and pumpkin seeds combined at all. So pick your poison and enjoy.
Here are the recipes for 9 different ways to enjoy your pumpkin seeds during this Halloween season:
Pumpkin Pie Flavour
2 tsp cinnamon
2 tsp allspice
1 tbsp sugar
2 tsp ginger
Barbeque Flavour
1 tbsp salt
2 tsp brown sugar
1 tsp chili powder
1 tsp garlic powder
1 tsp onion powder
1/2 tsp paprika
1/4 tsp cayenne
Orange Ginger Flavour
1 tbsp orange zest
2 tsp sugar
2 tsp ginger
Wasabi Flavour
1 tbsp wasabi paste
2 tsp coriander
2 tbsp melted butter
1 tbsp salt
Ranch Flavour
1 tbsp ranch dressing mix
1 tsp salt
Honey Sriracha
1 tbsp sriracha
1 tsp apple cider vinegar
1 tbsp honey
1 tbsp salt
Maple Bourbon Flavour
2 glugs maple syrup
1 glug bourbon
1 tbsp salt
Cocoa Flavour
1 tbsp unsweetened cocoa powder
2 tsp sugar
1/2 tsp cayenne
Honey Roasted Flavour
2 tbsp honey
1 tbsp salt
1 tbsp melted butter
You are going to first coat your pumpkin seeds in a few tbsp of vegetable oil so that they can hold onto the spice mixture. Then shake your pumpkin seeds around in each mixture until they are well covered, and bake your pumpkin seeds at about 350 degrees Fahrenheit until they are pretty dry and crunch. Spread them out on a cookie sheet for this process. I usually rinse mine off before I add the vegetable oil to them, so that they come out nice and clean, which makes them easy to season and work with. It usually takes me between 30-45 minutes to bake them, and I start checking on them at about 25 minutes in. So pop them in the oven and flip on your favourite episode of your TV show while you wait.
Moosers, have you tried seasoning your pumpkin seeds before?