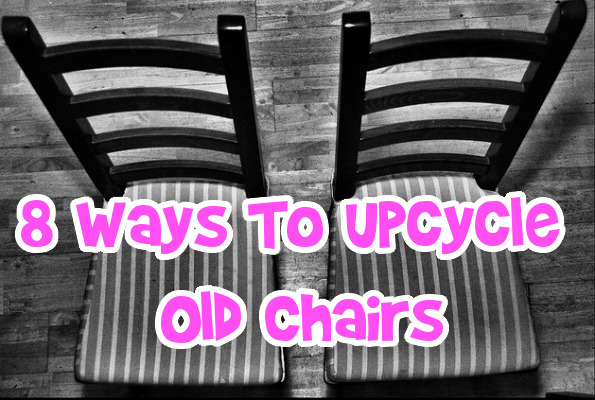 I have been eyeing my dining room set lately and am not thrilled at its current condition. My once modern looking set is looking like it could use a facelift. I am not sure if I am quite ready to part with this table set yet, but I know it is time for a new set soon. Whether you are ready to change up your dining room or happened to score some neat chairs at a garage sale, these upcycle projects are cool ways to change those chairs into something pretty for your home. You could also check out your local thrift shop or the dent and scratch section of your local  IKEA to find  dented or scratched chairs that are perfect to create these projects with.  Check out some of the amazing upcycling projects I found below.
Coat Rack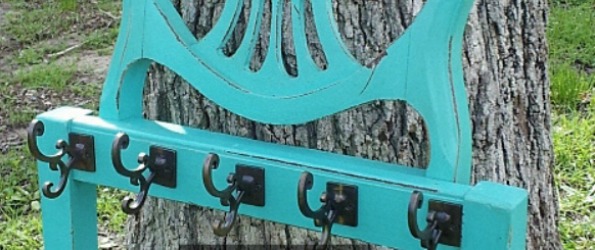 With back to school not far around the corner, you might find your entryway needs a few more hooks to hold all of your coats and bags. Check out this inspirational upcycled chair into a coat rack from Facelift Furniture. This same concept would also work well in a closet or bedroom to hold scarves, purses or jewelry.
Shoe Holder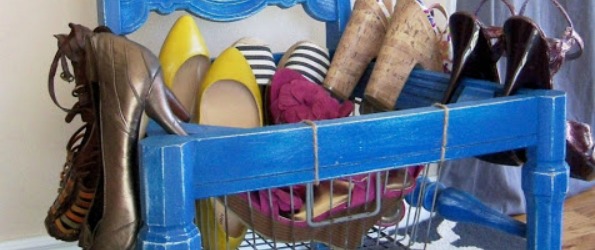 Speaking of accessories, over at My Sister's Suitcase they have taken accessory storage to the next level. They took an old chair and upcycled it to include a place for shoes. I love the extra basket they added to the middle and even better the draped long necklaces and other accessories from the top of the chair. This one is in a funky blue colour, but you can paint it any colour to match your bedroom. Genius!
Outside Bench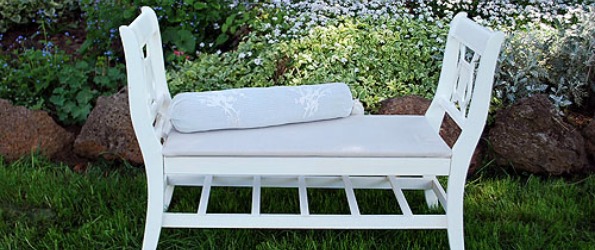 I love the way the arms curve on this bench over at An Oregon Cottage. This upcycled project made from two old chairs looks similar to a pricey sofa bed. This bench would look lovely near your garden, on your patio or on your front porch.
Swing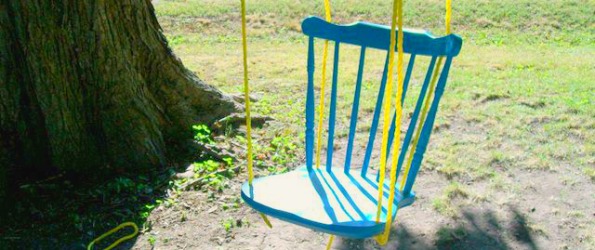 I saw several inspirational pictures for turning an old chair into a shabby chic swing. Over at This DIY Life, they had the best tutorial I could find. While the idea is simple and easy to do, make sure to follow their advice for hanging your chair so you will be able to easily remove it for winter. The kids will have a ball with their own swing.
Side Table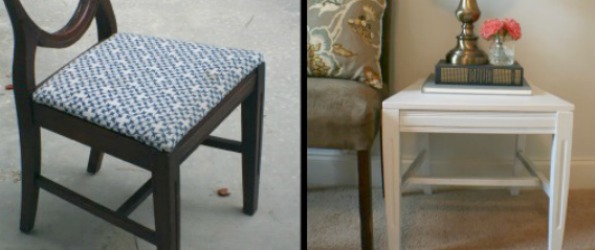 I like this beautiful side table from The Happier Homemaker. This project will give your furniture an expensive look without spending a ton of cash. Look carefully for a chair that is broken on the top only, as only the bottom needs to be sturdy.
Elevated Dog Bowls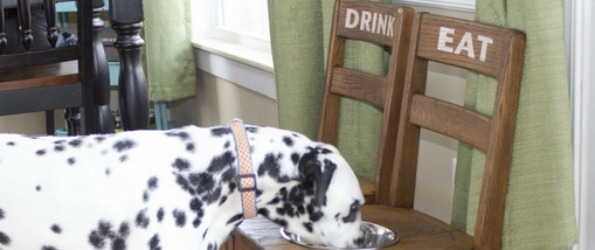 If you have a larger dog, you know how much of a mess they can make with their food on the floor. Check out these adorable Elevated Dog Bowls upcycled from old chairs from The DIY Village. If you raise their food bowls to a level that is a little easier, it reduces the amount of food that is all over the floor. It also can be handy if you have a kid or pet who likes to eat the dog's food. These chairs can help keep that kibble out of reach.
Earring Holder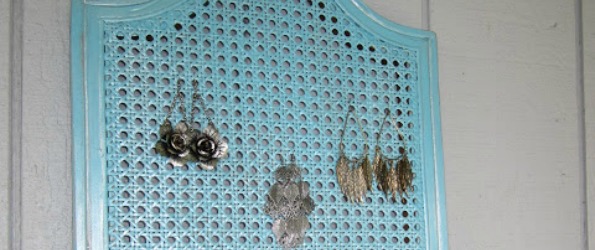 If you happen to score a chair that has a cane back, you can make this awesome earring holder from Holly Do. My grandmother had a rocking chair that had this same type of back. I love how this looks with a coat of paint and your lovely earring collection displayed. By adding a base with some extra wood, this would also easily sit on a table. You could use it to display small items if anyone happens to sell handmade items at festivals and craft bazaars.
Bathroom Shelf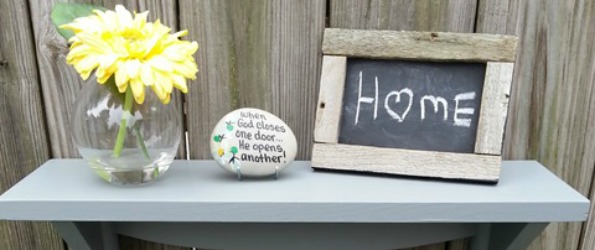 Over at My Repurposed Life, they took an old ladder back chair and turned it into a sleek shelf. Use the top to display pretty items or extra toilet paper. The back of the chair becomes a place to hold your hand towels. I could use this in my bathroom to make our hand towels easier to spot. I like the grey colour for a modern touch.
Bargainmoosers, how would you upcycle an old chair?
(Image Credit: Craig Sunter)