If you are anything like me, you have a ton of old art and photo frames in the storage area in your basement. You don't just want to toss something that sat in a special place in your home for years, until you decided the new Umbra frame you bought better showcased your trip to Hawaii. Or maybe, also like me, your mother didn't want to throw out these special frames, so she gave them to you, making it now your responsibility not to throw it out. I call that Hoarders: Pass it On edition. But, seriously, here are some great ideas for creative ways to use those frames and not have to pitch them.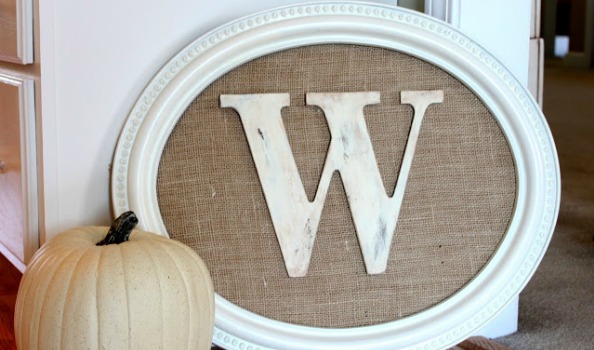 Love Of Family and Home took an old frame that was her grandmothers, removed the artwork, added burlap and a self-painted letter for a beautiful monogram wall hanging. This was very cheap and easy!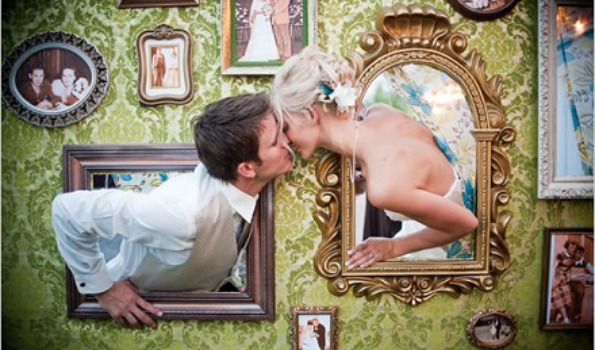 This could be one of the most awesome ideas I've ever seen. Wedding Paper Divas gave us this idea for a wedding frame wall, with photos of your family, plus two inconspicuous trap doors within the frame for the happy couple to pop out of. I love the vintage look of this one, but you could do it according to whatever style you fancy.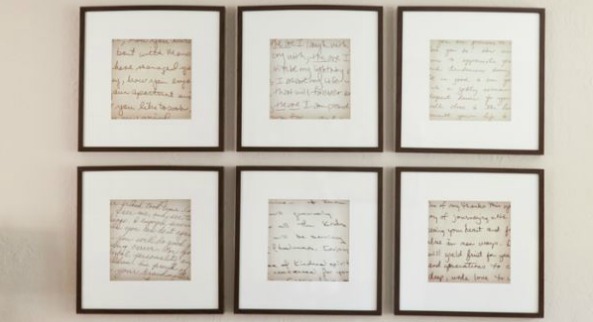 Homedit has a ton of great ideas for old picture frames, but I love this one where they framed old letters. You could frame letters from family members, from your loved ones, even your children. Whatever letter is sentimental to you, which you'd rather not keep in a box would be great for this idea. You could even take a copy of a page from a deceased family member's journal. This idea costs literally nothing, but means so much.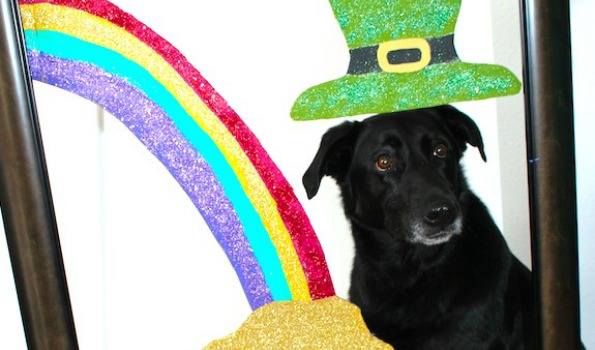 HandMakeMyDay had this fabulous idea to make a rainbow out of cardboard and glitter and glue it on to the glass of an old frame. They added the hat and it instantly became the perfect backdrop for a St. Patrick's Day photo session. You could also do other themes like an Easter bunny for Easter or elves for Christmas. Use your imagination! Again, another cheap idea, although this one looks like it took a bit of time.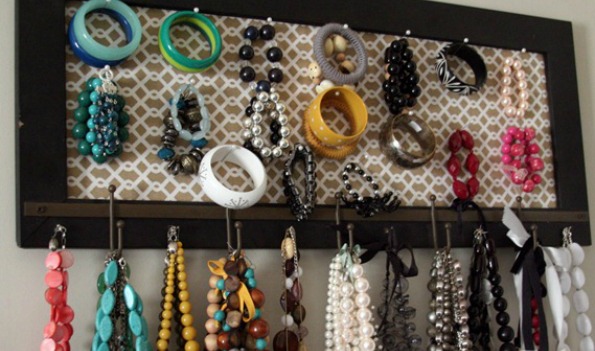 Melissa at 320 Sycamore used tea towels and old frames (this one had hooks, bonus!) to make amazing jewellery holders. This is one idea I'm passing on to my crafty hubby to make for me. How awesome would it be to see all of your jewellery right in front of you, instead of having to dig through a cluttered storage case? Love it!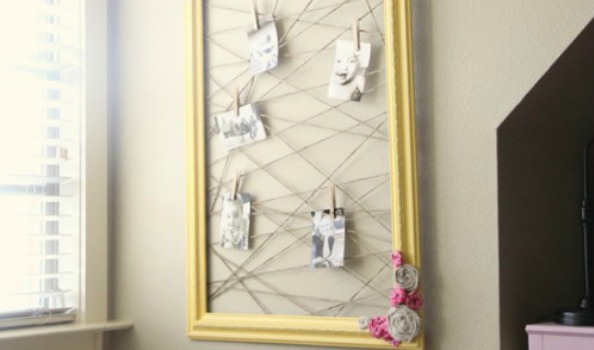 I always adore anything Shanty 2 Chic blogs about and this frame is no exception! They painted the frame, added fabric rosettes and used a staple gun to apply the jute in a haphazard manner. Then simple clips like laundry pins do the job to hang your photos and you can change them out whenever you want.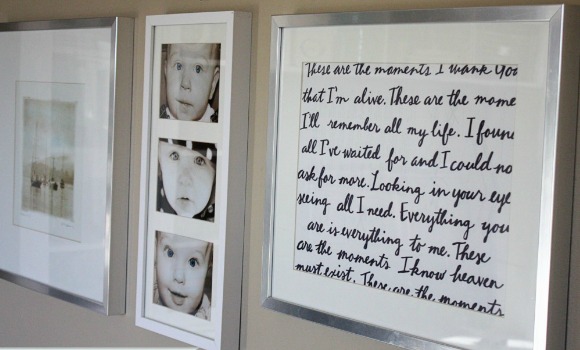 Meadow Lake Road was very crafty and sentimental when she put together this frame with thoughts from her heart, using of all things, a sharpie. Imagine your family waking up each day to see how you feel written out in plain words, just in case they need a reminder. Beautiful thought!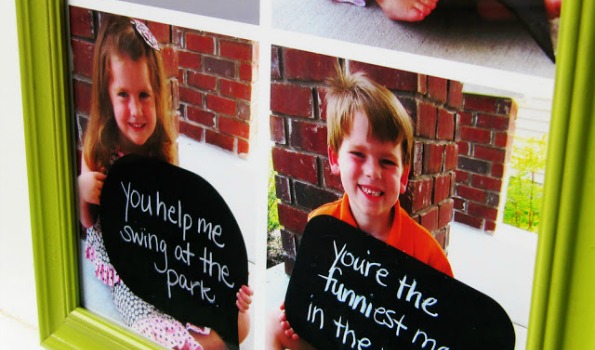 I love this Father's Day idea from Positively Splendid. She took photos of her kids with chalkboard quote signs that said what they loved about their dad. She put the collage of pictures into a frame and this was his cheap and from the heart Father's Day gift. I have had this pinned since last year because I really want to do this!
Spam me with your old photo frame ideas and let me know if you create any of these masterpieces. I'm on my way downstairs to find those old frames of my mom's. Happy crafting!
(Image credit: maury.mccown)