I always get a little intimidated when it comes to pulling out my sewing machine for a DIY project. I know the basics and can wield a needle and thread, but when it comes to making things from scratch out of fabric, I feel like I am all thumbs.
Do not let that sewing machine stop you from changing up your clothes! You can refashion some of those extra clothes in the back of your closet, or ramp up the style on a clearance rack find without spending hours at the sewing machine. Check out these amazing hacks, most of which only require a few stitches with a needle if any sewing at all. I think some of these may end up in my outfit rotation for next week.
Quick Skirt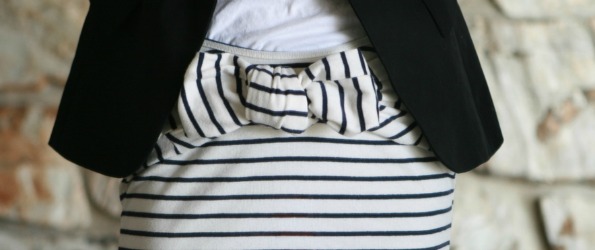 Bargainmoosers, I have to say I was a bit skeptical of this idea from Our Life Is Beautiful. The pictures looked too easy. There was no way my shirt will look ok as a skirt. I ran up to my closet, grabbed a few long sleeve shirts and started tying. You do need a shirt with a wider neckline and this will not work with every shirt. After my third shirt try (the first two just were not stretchy enough), I found a plain green long sleeve shirt that had a little more weight to the fabric. I was shocked at how well it looked as a skirt. Try this hack with your closet. You may be pleasantly surprised too.
Lace T-Shirt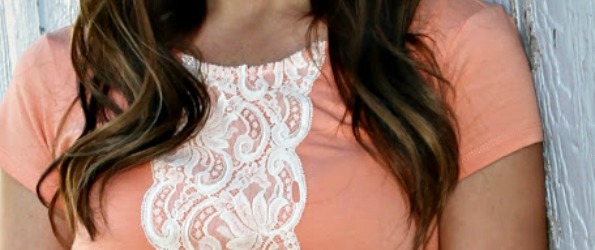 Here is a quick and easy fix for a plain t-shirt that needs a little lift. Check out this easy lace refashion from Sweet Charli. Buy a small piece of lace and lay it over the top in the pattern of your choice. With a few quick hand stitches from the back and across the top and bottom, your shirt will almost instantly look more expensive. Make sure to match the thread colour carefully either to the shirt or the lace so they virtually disappear!
Silk Scarf Shirt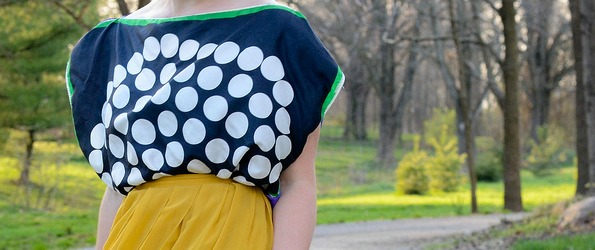 I love the look of a breezy shirt for spring that looks great styled casually or dressy. Take a minute and head over to Stars for Streetlights to ogle the beautiful shirt she made out of two silk scarves. I am loving the patterns and colours she picked, and the stitching is minimal. For a completely different look, Talk 2 The Trees did a similar hack that is equally awesome and has some additional notes in her tutorial.
Open Back Sweater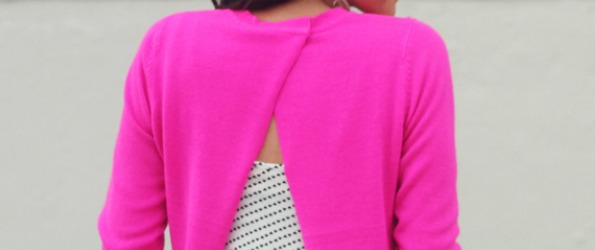 Here is a great hack for that boxy cardigan you have been hesitant to throw out. Over at InHonor Of Design, she created an open back sweater that is cute and functional. This is a great way to lighten up your look a little for spring. I could also see a cute cardigan such as this thrown over a sweet spring dress. Give this hack a try, this one requires no sewing.
Lattice and Stud T-Shirt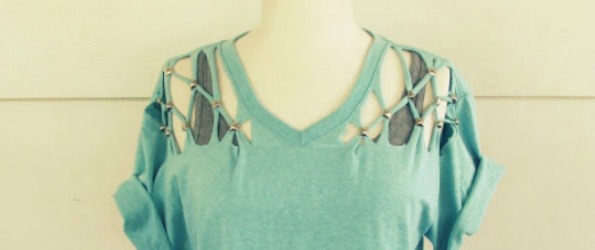 Over at Wobisobi, they took a simple t-shirt and refashioned it for summer with a few studs and cuts. This is a no-sew refashion that will look so cute next to the pool this summer. I might try this with one of my old t-shirts for over my swimsuit. The studs take this project from cut-up shirt to chic.
Lace Insert Shirt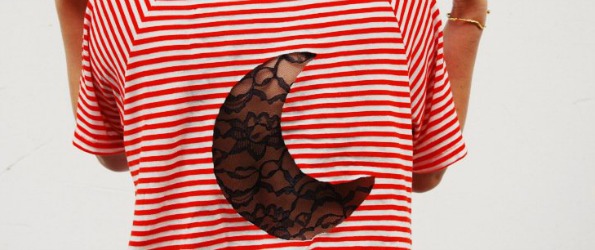 Like the lace look and want more? Check out this cool moon and lace refashion on the back of the shirt from Mr. Kate. You will need an iron and some Stitch Witchery, which is a fabric glue in a tape form that will attach your lace to the shirt with heat. Alternatively, since the lace is attached on the inside  of the shirt you could use Aleene's OK To Wash-It or another type of fabric glue. Both of these items are found at most sewing stores. If you do know how to sew, your piece will be more durable if you use a few simple stitches instead of the glue.
Cutout Button Down Shirt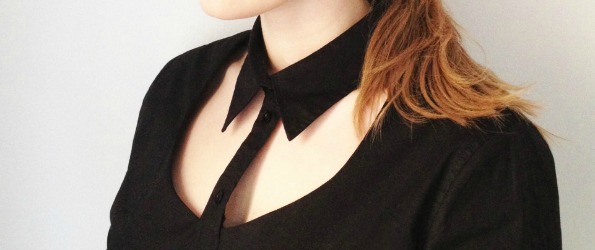 I love this slick refashion over at Plan B by Anna Evers. I have one or two button down shirts that would look fantastic with this hack! Best of all you can either sew the hem around the cutout part for a more durable piece or use fabric glue on the inside if you cannot sew. For a look that is a little less edgy, you could add a piece of lace on this piece in the cutout also!
Bleach T-shirt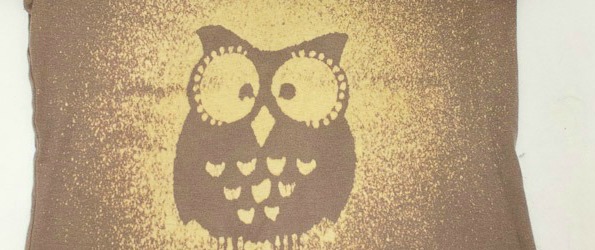 Here is another cute design that can make a plain t-shirt go from boring to interesting. Check out this cute little owl from Practically Functional. While this technique looks simple, you will want to follow the directions carefully on this blog for the best results. Bleach can be powerful stuff!
Bargainmoosers, how have you refashioned your clothes?
(Image Credit: little*star)