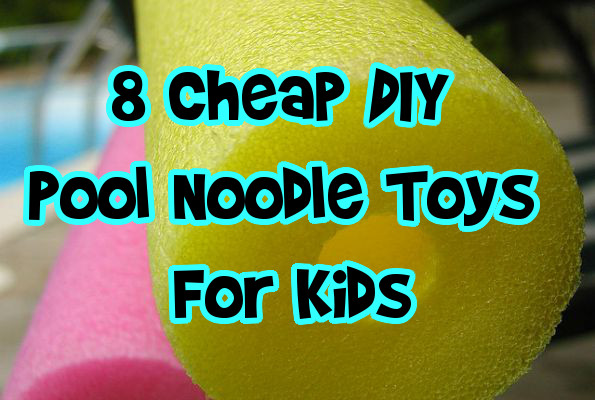 Pool noodles are inexpensive pieces of foam that you can find at many major retailers in the summer time, including at the Dollar Store or Canadian Tire. They usually retail for $1 to $3 a piece depending on where and when you purchase them. Towards the end of the summer when summer gear goes on clearance, I have seen them sell for as low as fifty cents a noodle. That makes pool noodles a fantastic item to work with to create inexpensive and fun DIY projects.
Last month I wrote a fun roundup of 8 Cheap Pool Noodle Hacks Adults Will Love. I had so much fun writing that post, I thought I should share another roundup. This time I have included fun toys you can make for kids. You will find some seriously fun and thrifty projects in the list below to add a few new toys to your backyard fun.
Pool Noodle Lightsabers
Here is an awesome idea for party favours, or for backyard playtime. Check out these pool noodle light sabers from Kids Activities Blog. These directions teach you how to make both a single and a double-edged light saber out of a pool noodle, duct tape, and electrical tape. They have managed to make these even more epic by adding a small flashlight to make the light saber actually glow. This is an awesome project.
Pool Noodle Race Track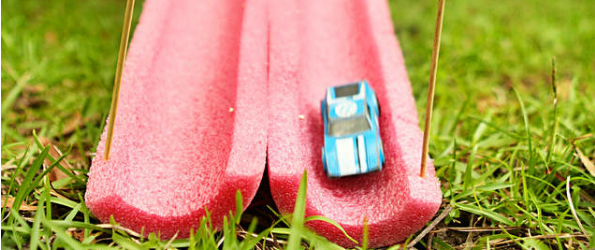 Over at Ramblings From Utopia, they made a fun racetrack out of a pool noodle, some toothpicks and a couple of matchbox cars. This project is super inexpensive. Most kids have a few mini cars already around the house to add to this racetrack. If you do not have cars, marbles or small bouncy balls would also work in a pinch. I love the little flags this blogger created to make the racetrack more authentic.
Pool Noodle Pirate Raft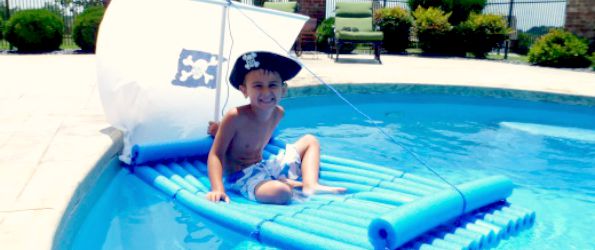 This is an epic project to pull out at this point in the summer to create an awesome memory. It is time to declare one of your summer days Pirate Day. What kid would not love to have a pirate raft? Check out the full directions over at HubPages. What sets this boat apart from any old boat is that full pirate sail which ups the cool factor by a billion. If your kids are old enough, they can help you build this awesome raft.
Pool Noodle Racquet Ball Game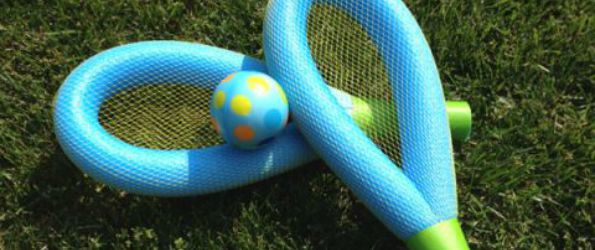 Here is a fun little game you can throw together with items you already have in your house. Check out these fun racquets over at Ziggity Zoom that they made out of pool noodles. I will be saving my avocado netting bags for the next few weeks to make this fun game.
Pool Noodle Rocket Flingers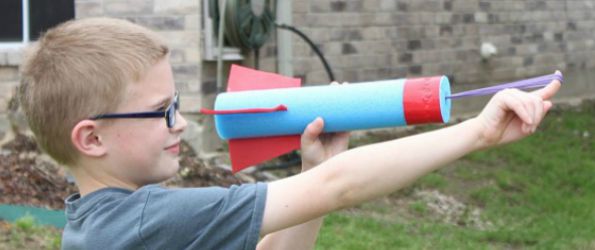 If your child is anything like my nephew, most of the Nerf darts are long ago lost in the bushes or under the couch. Skip the pricey Nerf darts this time and make a full set of pool noodle rocket flingers. Frugal Fun 4 Boys gives you the full instructions. With this project, you can make several toys out of one pool noodle making the price per rocket quite inexpensive!
Pool Noodle Pencil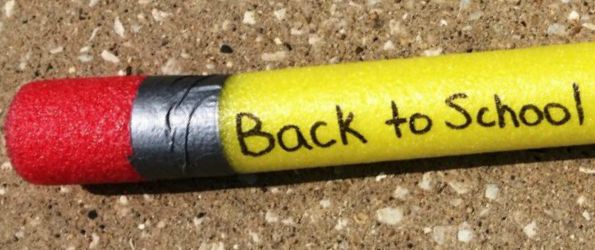 I started to pass by this project until I noticed this very cool oversized pencil can actually write! You need to check out this hilarious giant pencil over at Lalymom. This is an awesome way to encourage your kids to pull all the chalk out again. I always buy too much chalk at the beginning of the summer so this is a fun way to use it up.
Pool Noodle Horse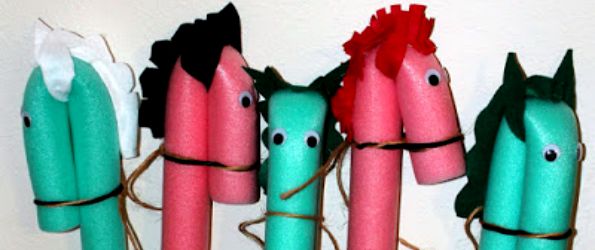 This cute little pony made out of a pool noodle is adorable. Make one of these up for your kiddo, or whip up awesome presents for the kids for your next BBQ. Check out the full tutorial on Mrs. King's Music Class, you will love the super simple instructions.
Pool Noodle Ninja Stars and Glowing Flowers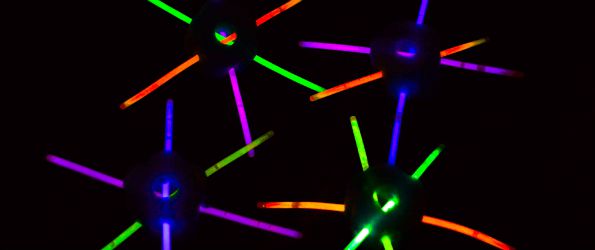 This little toy is perfect when you need to keep your kiddo entertained later at night. Check out the directions to make glowing ninja stars and glowing flowers over at A Little Pinch Of Perfect. Your kids will love twirling around as they watch their Ninja Stars and Flowers dance and glow. These are the perfect entertainment while you are waiting for a movie in the park to start, or just for twirling at home. This fun toy will also float in the water if you bring them to the pool or lake.
Bargainmoosers, what have you made for kids out of pool noodles?
(Image Credit: andrew)