My silverware drawer is a mess lately. I did have a full set of silverware once, but somewhere along the way I lost a few pieces. I think my husband took a few pieces to work and they never made it back. Maybe one or two pieces of silverware got lost in my last move or slid between the fridge and the counter. I recently picked up a new set to replace this mess. It will be lovely not to have to scavenge in my drawer every time more than three spoons are in the dishpan.
My mismatched set of silverware can be pulled out of the drawer, I am ready to get it out of my kitchen. I hate the idea of wasting good metal silverware, so I thought I would check out ways to upcycle it. Check out some of my favourite projects I found below.
Garden Markers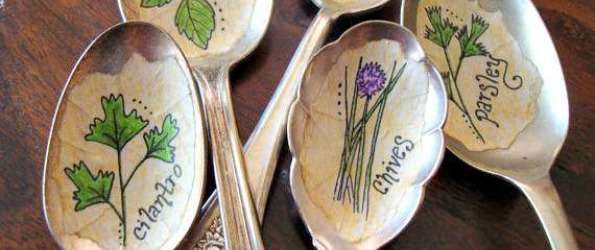 Remember where your favourite vegetables are in your garden with these cute garden markers from Homespun Sprout. Even better, there is an included free printable at the bottom to make this project even easier. I find garden markers are particularly helpful for me in my herb garden so I can tell which herb is which. These markers will be much more durable than the cheapie plastic ones. If you do not want to splurge on varnish, you can seal the images with clear nail polish.
Drawer Pulls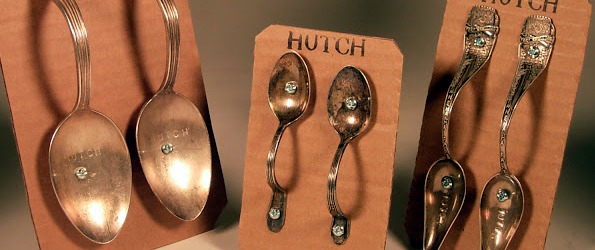 Make your cabinets more interesting by creating handles out of your old flatware. Check out all the images on Hutch Studio.  This is a great project to consider if you are upcycling a new piece of furniture. These handles would also look so cute on kitchen cabinets.
Napkin Rings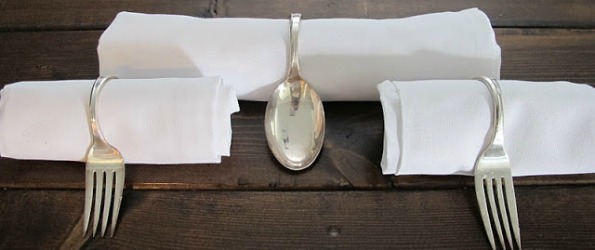 Make your next backyard BBQ have a touch of shabby chic with these cool silverware napkin rings. Check out the full instructions over on Dream Book Design. I think what I like best about this project is these napkin rings would look equally cute for a fancy dinner party or your next summer party on your deck.
Starburst Mirror Wall Décor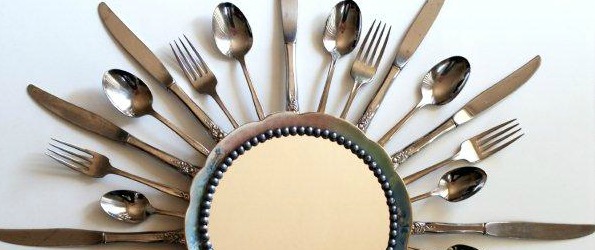 This is a cute project over at Flamingo Toes. Use your silverware, a plate and a mirror to create a new décor piece for your dining room or kitchen. Mirrors help to open up a space, so they are a great choice for home décor. You would never know this project is made with hot glue on a cardboard base.
Paint Dipped Silverware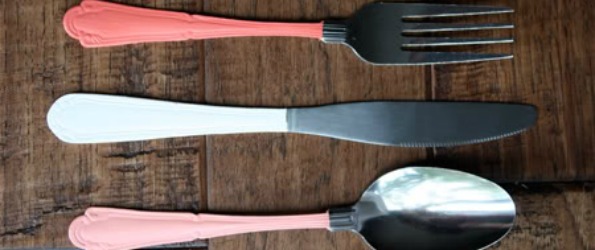 Take all your mismatched silverware and turn it into a set that looks like it belongs together. A little bit of paint goes a long way over at A Simple Kind of Life. This would be a cute way to spice things up for a party, where you need extra silverware. I might use this idea to turn my old silverware into a designated outside patio set for summer.
Plant Hanger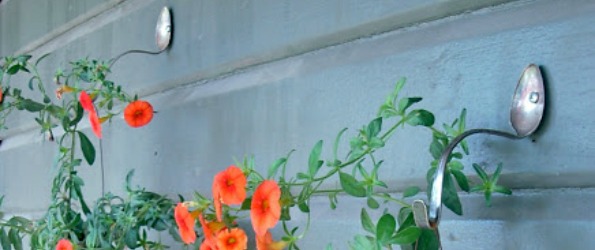 Reshape old silverware into hooks for small plants. See the full hack over on hutch studio. I think the key to this hack is using small or light planters. The blogger used small mason jars in a covered porch to avoid drainage issues during rainstorms. You could also use a light plastic planter from the dollar store. Just add a wire to hang from the planter from the spoon hook. This is an easy way to add flowers inside or outside your home.
Bottle Holder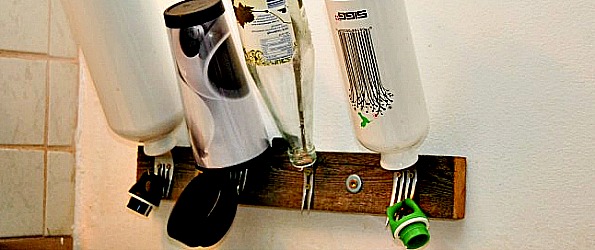 Here is a great place to dry or store bottles. Over on Weupcycle.com they created a bottle holder made out of a plank of wood and old silverware. Use this idea to make a great place to stash clean water bottles, coffee mugs or any other type tall and skinny container.
Bargainmoosers, what projects have you made out of old silverware?