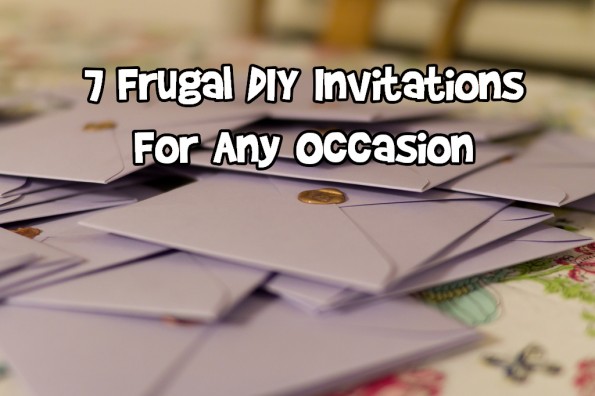 With party season in full spring, people are throwing showers, BBQs, weddings or just plain old parties and they need invitations. In this world of social media, you could just send a Facebook invitation or use Evite or some other service, but I know a lot of people who won't respond to something so impersonal, my husband being one of them. The best and most traditional way to invite someone to your get-together is with a paper invitation right in the mail. These don't have to cost a lot and they don't have to take a lot of time either. Enjoy: seven frugal DIY invitations.

If you are a crafter or just happen to have spare scrap fabric lying around, printing your invites on scrap fabric is innovative and not to mention, pretty.

There are tons of free printables online in almost every theme. If you aren't very creative and you want someone else to do the work for you, printables are definitely the easiest way to go and they only cost as much as the paper and ink. This Harry Potter themed invitation from Creekside Learning is a perfect example.

Gone are the days of spending hours pouring over a very thick book of invitations, finding the perfect one and paying through the nose for it. So many brides make their own invitations, and An Exercise in Frugality created her own invitations for her less than $5000 wedding. I think they look pretty good!

If you don't mind paying a little bit of money, places like Vistaprint will print pre-designed, yet custom invitations for you at a very low cost.

Whether it is for a save the date, your wedding invitation, your new home or your baby's first birthday, you could get a professional photographer or take a photo yourself, print them out at any photofinishing place as low as $0.08 each, then write your details on the back. That way your guests get a genuine photo to keep, but also the details for your party. Photo credit: Avangard Photography

This simple, yet unique invitation would take no time to make, yet makes such a big statement. Your cost would be minimal too.

Now for the envelopes. I saw this amazing idea for paper bag envelopes and it tripped me out! Envelopes are majorly expensive and instead you can pick up brown paper bags very cheap and just tape them shut. They look a little rustic and you can dress them up however you like!
Bargainmoosers, do you have any ideas for frugal and fun invitations?
Banner photo credit: Oskar Ferm