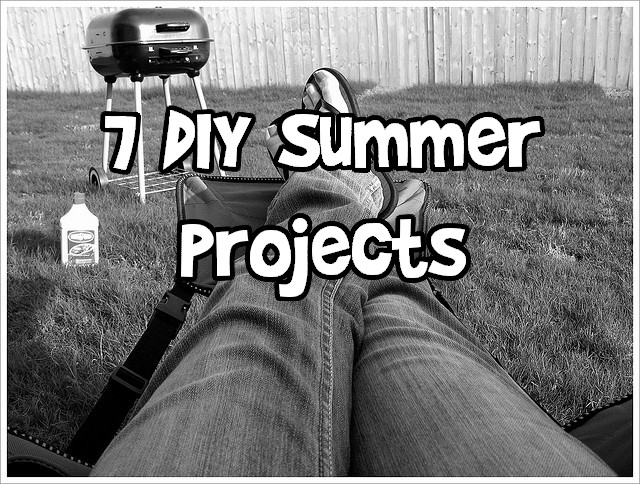 With summer coming, you might be feeling the itch to do a project. You might have free time you don't normally have, want to be outside, but doing something or you just want to say you completed something this summer. Here are seven DIY summer projects you might want to sink your teeth into this season.

Getting sick of your same old shorts? Shake them up a bit using the instructions at Top Inspired. You can tie die, add lace,  prints and more to funkify your shorts. I love this!

Nothing like a cold, refreshing drink on your porch on a hot day - until you find a bug in it. This fun project will keep you busy and keep your drink protected from those beverage stealing insects that plague you. That's What Che Said has the very simple instructions for you.

Speaking of alcohol and drinking, why not decorate your alcohol bottles for a fun and whimsical decoration for a party or just for everyday? Her Campus has 10 things to do with leftover liquor bottles, although I wouldn't say they'd have to be leftover.

I've definitely put this on hubby's to-do list! How awesome to not have to even get up out of your seat to get your beer or other bottled drinks? Build a cooler right into your patio table! Domesticated Engineer has everything you need for this DIY.

I actually know someone who made this indoor/outdoor cat tunnel. Letting your cats outside can be very dangerous for them, but they do deserve some fresh air. If you are so inclined, you could build this very cool cat enclosure so your cat can get outside but stay out of danger's way. Cuckoo 4 Design can provide you with the specs.

Now that I've given you all the difficult projects, how about an easy one? Take some glow sticks and put them inside water-filled water bottles. Now you have cool lighting or you could do outdoor night bowling!

I love this DIY picnic caddy with frosted mason jars. This will look so pretty on any patio table, people will think you bought it in some expensive speciality store. Get the instructions at Clean and Scentsible.
Bargainmoosers, what DIY projects are you going to complete this summer? Let us know!
Banner photo credit: xobellefemme