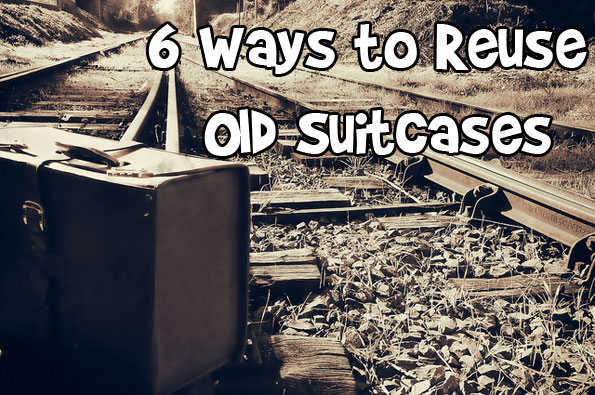 How many frequent flyer miles have you racked up? Whether your suitcase is all beat up from frequent travels or you have just started travelling, below are a couple of ideas for injecting new life into a suitcase, whether old or new! You could also try heading over to your local thrift store in the hopes of scoring and old-fashioned suitcase that could work even better with these DIY projects.
1. Suitcase Table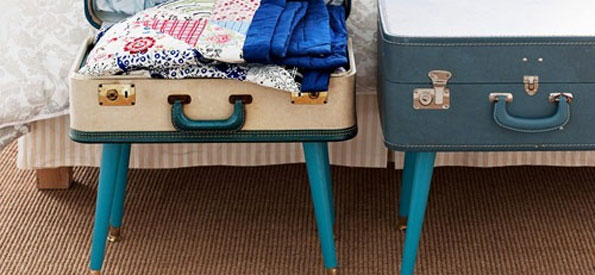 Nothing complicated with this idea from Good Housekeeping! Simply screw on 4 legs onto a suitcase to turn it into a table that you can also use as storage. This one would be perfect for placing at the foot of the bed that you can then use to hold extra pillows, blankets and maybe even your laundry in lieu of a hamper.
2. Suitcase Pet Bed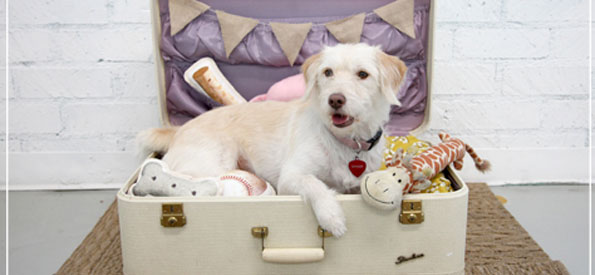 Got pets? Then you know they're going to want and love a space that they can call fully call their own and this is exactly where Love That Pet's suitcase pet bed come in. Unless you have a large enough suitcase you're willing to allocate enough space for in your home, this idea would mostly only be suitable for owners of cats or small to medium-sized dogs.
3. Craft Suitcase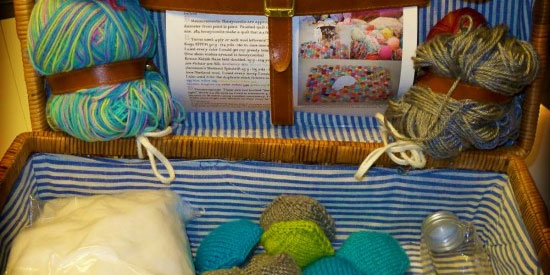 Although Offbeat Home & Life created a craft station from a picnic basket, you could just as easily use a suitcase instead. I have two cats but having recently gotten into crocheting, it's rather hard to have all my yarn and hooks out in the open as the little troublemakers seem to instinctively know when I have my supplies out. So, I would totally use this neat DIY project to store my crochet supplies but it could also be used to store any other crafty essentials.
4. Suitcase Chair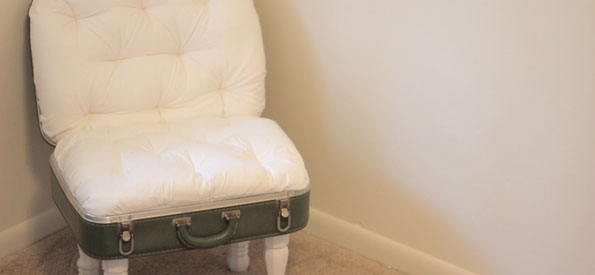 Entertaining guests can be fun but not when there is a lack of seating. Follow See Kate Sew's instruction and create your very own DIY suitcase chair. Depending on how puffy you make the cushions, you could then potentially close the suitcase and keep it stashed away for whenever you need extra seating. Either that or you could also use it as a table, perhaps even for eating in front of the TV!
5. Picnic Table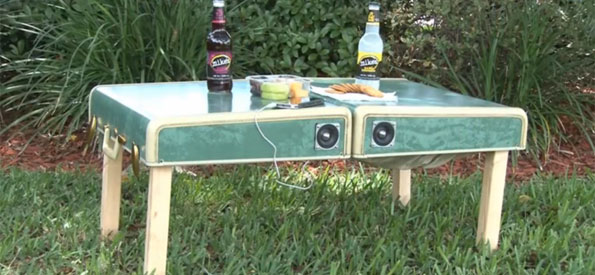 Complete with speakers, you could also repurpose an old suitcase into a picnic table! Add table legs, cut out holes for speakers, fill with your favourite goodies and bring it with you to the park for a romantic date. Check out Kipay's YouTube tutorial for more detailed instructions but this one is a great one to make for the summer. Heck, you could even improvise a little indoors picnic during the winter as well! ;)
6. Pet Food Bowls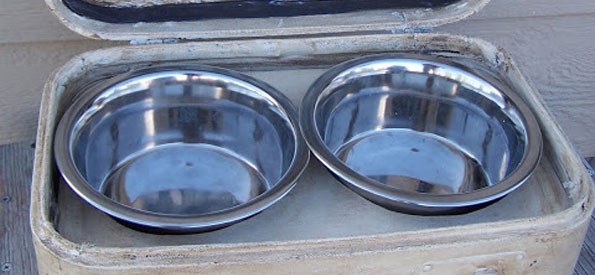 I couldn't resist adding another pet-friendly idea because this one is just too ingenious. Turn any small suitcase into a dish carrier for dogs or cats with Beyond The Picket Fence's guide. Not too long ago, one of my cats got into the habit of spilling her water bowl each and every time and to curb the problem, I bought a special platter to keep the bowls in place. Although the problem has since be solved, the platter looks somewhat tacky. The suitcase trick would definitely serve to prevent any spilling all the while adding a unique touch to any decor!
Photo Credit: Francesco Scaramella