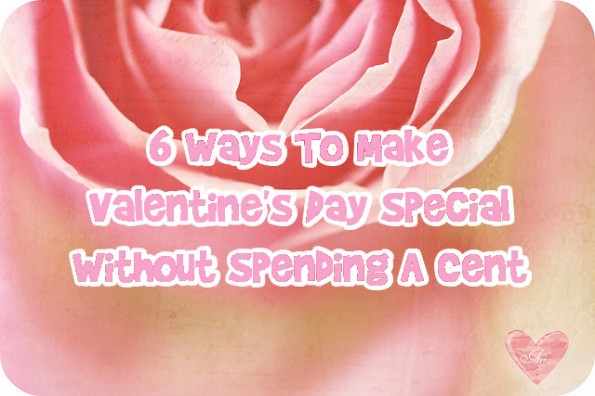 If you are feeling like you can't make Valentine's Day special for the loves of your life because you are broke, think again. Here are six special ways you can make tomorrow a grand ol' day without taking out your wallet.

Draw your lover a bath. Make it nice and hot, add some salts, bubble bath, rose petals or whatever you have on hand to make it that much more special. Put their towel in the dryer so it is nice and warm when they get out of the bath too. This simple gesture of giving the person time to themselves, without them having to make the effort, is very sweet. Photo Credit: Dennis Wong

Getting a massage is one of the number one things on my list of nice to gets! Give your partner a massage they won't soon forget, and make that in a good way. If you think you don't know how, try Wikihow to learn before you go in there. Don't write notes on your hands though, they might transfer to your partner's back.

Any partner would love a declaration of your love for them in written format. In the age of all things electronic, a nice written note is perfect for your spouse or your children. Pop it into their lunch or pocket for a surprise through the day. If you want to fancy it up a bit, check out the free printables at Classy Clutter.

Stage a Valentine's treasure hunt. For your lover this could involve something kinky at the end, for your kids, it could involve candy or doing something they love. Either way, the effort you put forth and the fun of it will make it all worth it - not the prize at the end. The Dating Divas have some kick-butt ideas and this one takes the cake!

Dress up warm and head outside to look at the stars. This idea might not take much effort, but it is extremely romantic. One of my favourite things to do with my spouse is talk and you could stare up at the stars, hold hands and talk. Love it! If you really want to know what you are talking about, check out the Google Sky Map first. Photo Credit: epSos.de

Set up a dance party in your living room - be it slow and romantic, fast and upbeat or a sexy striptease - dancing will lighten your mood and make for a great date. Since no one is watching you can do whatever you want. I found a best songs to have sex to playlist, although you will just be dancing, this might help you get into the mood, if that's where you want to go. Photo Credit: Emma Line
Banner Photo Credit: **Aina**
Bargainmoosers, how do you make Valentine's Day special without giving in the commercial aspects of it?