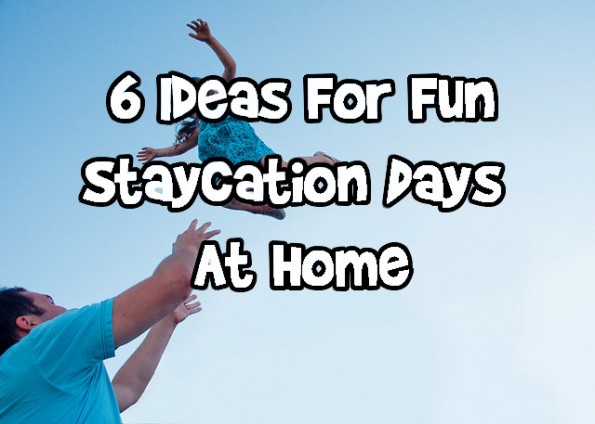 While other people might be planning trips away to faraway locales or their cottages this summer, you just might not have that in the budget. A staycation might be just as fun as going away, but you'll keep your money in your pocket instead. But, you might wonder what else do on a staycation rather than sit and watch tv or do housework. My suggestion is to turn off all electronics, put the laundry basket down and partake in these seven fun activities for a exciting day of staying home!

Have a board game tournament. Get out all of your board games and play every single one! I have about 50 board games, so that would pretty much take up the whole day and lead to lots of fun. This is best for rainy days or when it is just too hot to go outside. Photo Credit: Tristan Martin

Spend the day making a fort, then stay in your fort all day. It could be inside or outside, but the basic premise is that you took the time to build it and that you'll stay in your fort doing fun stuff all day. Have a picnic, do some drawing, play some games. Have a fort day! Buzzfeed has five steps to building an epic blanket fort if you need some inspiration.

Bring the spa to you. Get yourself some luxurious products (or make some yourself), close the curtains, put on some wilderness music and relax. Do treatments on each other like facials, mini massages and mani/pedis. Girls Guide To has some great ideas on how to have a spa day at home. You don't just have to do this with the girls. I fully intend on doing it with my boys and husband and I know they'll love it!

Spend the day making all those recipes you wanted to try, but haven't had time. Even if you make too much food, freeze it, give it away, or just pig out (hey, you're on vacation). I'd love to spend a day cooking with the family, as it is one of my favourite pastimes and I want to teach my boys how to cook. Photo credit: Nicole Abalde

Have a family masterpiece day where all you do is create art. Put up a sheet or extra large piece of paper in your backyard and let your whole family paint it how they'd like. Or find objects you want to paint. You could also check Pinterest for some great ideas on art projects. Inner Child Fun has some good ideas on splatter painting and How Wee Learn has some amazing ideas for art projects.

How about hosting a family sports day? You could schedule the ball hockey tournament at 10, the ultimate frisbee challenge at noon and the ping pong competition at 2. Of course, take a break with some sports-themed snacks too. I got this fantastic idea from Parents.com.
Bargainmoosers, how will you spend your staycation?
Banner photo credit: Jesse Millan