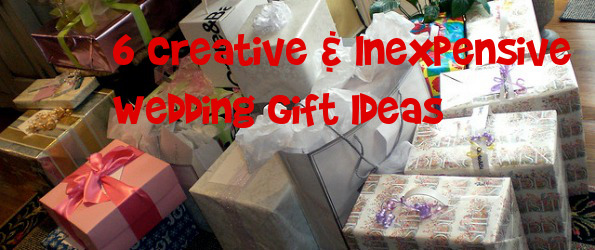 I am attending a family wedding in a month where the bride and groom want for nothing. They already own their home, have everything they need in it and are going on a very nice honeymoon. The bride is also an interior designer so I'm sure she is very picky about what gets put up in her home. What do you get for the people who have everything and if they don't, it could be because they don't like it? I decided to research this and present these ideas to you as well. Not all of us can afford expensive wedding gifts, gifts of hundreds of dollars in cash, especially when we are already on a fixed budget.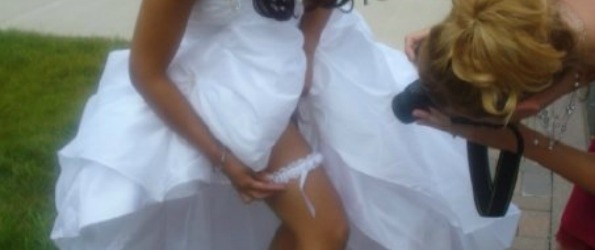 The first thing you could do in lieu of a gift is to offer your services. If you have a particular skill, pimp that skill to the bride and groom, and it doesn't have to be on the wedding day. The above photo is me taking a picture of my friend's garter on her wedding day, of which I was a bridesmaid. My friend is also a talented photographer and actually did photos at my wedding reception as a gift to me when I got married. I've also been asked to write various things for friends at weddings. If you are a chef, knitter, baker, masseuse or able to perform any sort of service either before, during or after the wedding, offer up your time instead of a pricey gift.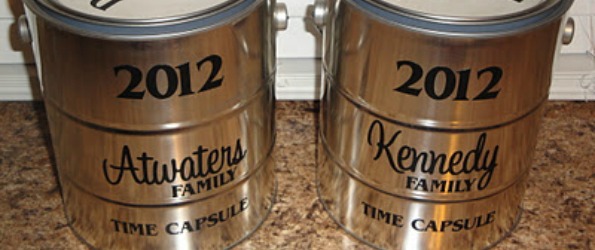 I love the idea of a time capsule as a gift. This is an inexpensive way to preserve the memories from the year the bride and groom were married. You could put anything into the capsule like a magazine, DVD, event ticket, etc. If you really had the time and the contacts, you could message each guest to bring one thing to put in the capsule, so it is truly special. I love the style of these ones from Ten23 Designs, made from paint cans!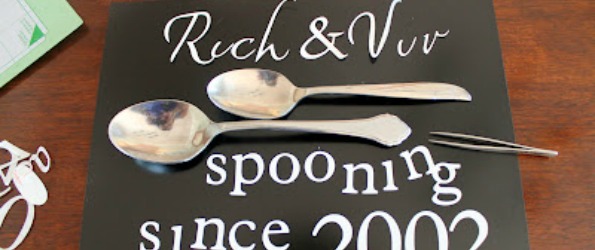 You could make some art for the new couple. Even if you aren't particularly crafty, there are a ton of ideas on Pinterest that are easy to do and a special keepsake, like this unique spooning idea from The VSpot Blog.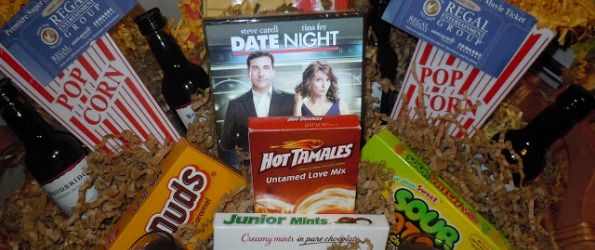 This creative idea could be full of anything of your choosing. I love the idea of helping the newlyweds keep that newlywed feeling just a little longer. You could put together just one date night basket like the one above that is a movie night in from I Do Declare. You could do a larger gift basket with lots of date ideas and/or envelopes with gift cards for monthly dates. What would be totally fun is to do a gift basket a month, that you could drop off to the new couple, and would save you forking out the money in one big chunk.
Anything monogrammed is always going to be unique to the couple. Even better, monogram something yourself, like this burlap canvas made by Burlap and Babies.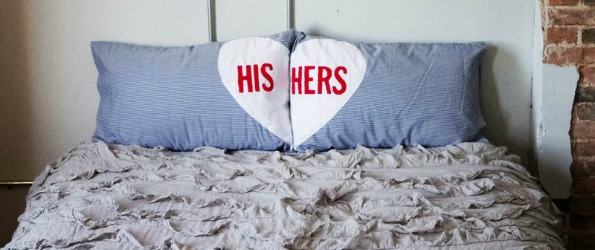 These his and her pillowcases are uber cute! They are also totally easy to make and who can't use more pillowcases? Thanks to A Beautiful Mess.
Bargainmoosers, what other ideas do you have for inexpensive wedding gifts? Let me know in the comments below!