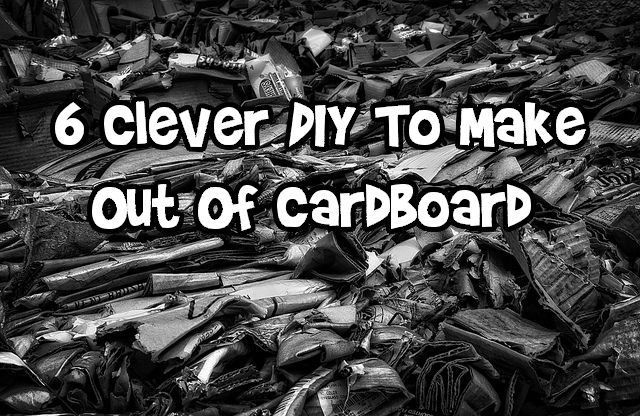 Now that the holidays are winding down you may find yourself with a little extra cardboard lying around the house. Why let all of it head into the recycling bin? Create some amazing DIY projects with cardboard instead. Here are 6 clever things you can make out of cardboard.
1. Winter Wonderland Playset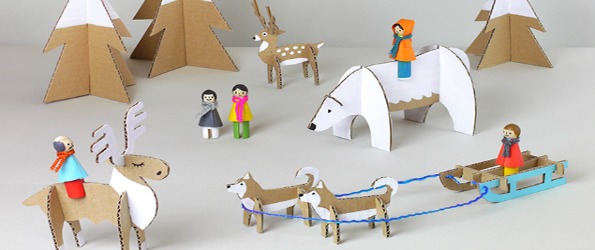 This little Winter Wonderland Playset from Mr. Printables is made from only cardboard, wood peg cloth pins, paint and a few scraps of fabric and string. Make dolls, a polar bear, a moose, huskies, trees and sled for only pennies. Print out the free printable to trace and then slide the cardboard pieces together to decorate. I really like how simple the details are on this set. It gives the pieces a modern look and I think I could easily recreate them without lots of additional effort. This is an adorable playset!
2. Yarn Wrapped Monogram Letter Wall Decoration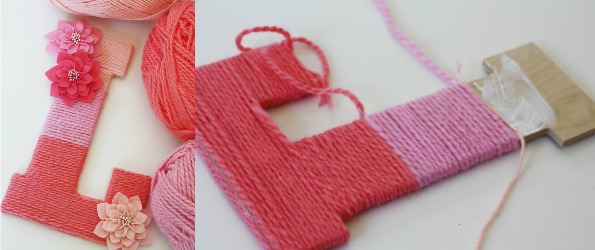 This thrifty little yarn wrapped monogram letter from Catch My Party is a great way to give a little pop of color to your wall. The directions seem easy enough and help you to create an ombre monogram letter. Trace a large letter on to a piece of cardboard. Wrap yarn symmetrically around the cardboard letter while you affix glue to the back to hold the yarn. Since the yarn will be on the back you could probably even use a strong tape and no one would know. I would also suggest trying twine for a rustic but homey look. Embellish with fake flowers, rhinestones or anything else that inspires you and matches your home décor.
This project looks much more expensive than it really is depending on the embellishments and colour pallet you choose. I could see a simple word looking nice hanging on the wall in this style such as "Joy" or "Love." You could also do a child's name and decorate it to match the theme of the room.
3. Homemade Skeeball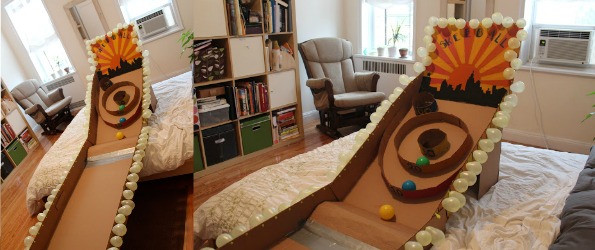 Grab an extra-long box and consider making this full size Skeeball from My Beau Baby. This game looks simple enough to put together using tape, cardboard and a few balls. You can add blown up water balloons to look like midway lights along the edges for effect.  The blogger notes to make sure you spend extra time on making the bump large enough so the balls will bounce correctly into the various point containers. This particular skeeball was created for a kid's party. I can see this game also being a great addition any evening of fun. Now can someone construct a ball return out of cardboard?
4. Cardboard and Fabric Bed Headboard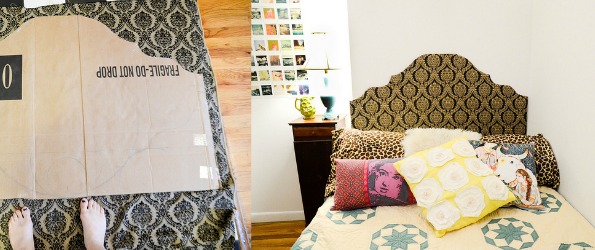 Shhh! No one will know that this bed headboard from the blog Stars For Street Lights is made of cardboard. Check out this quick tutorial as they create an inexpensive headboard using cardboard, 2 yards of fabric, 2 yards of quilt batting, staples and tape.  While perhaps plywood would be more durable, cardboard can be used if you have it handy. I can see this headboard mounted straight on the wall rather than attached to the bed. Best of all if you get sick of your bedroom's look and it is a cheap fix to change things up.
5. Cute Storage Boxes Covered in Fabric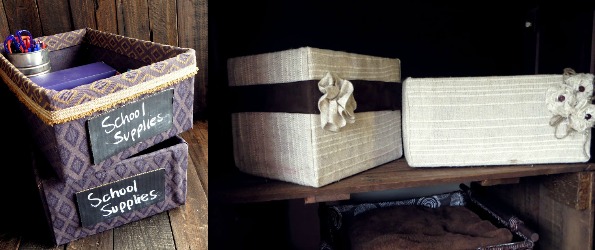 I know I hope to organize my junk be more organized in my home in the New Year. That usually means spending a pretty penny at the store buying cute bins and totes to help keep my house looking smart. Those of us who can cut and glue can cover old cardboard boxes with fabric using this tutorial fromNamely Original. I really like the cute fabrics used in the tutorial. The great news is you could possibly save even more on the fabric by looking at old t-shirts and other clothes to repurpose. Those boxes could be cute with some jean trim and the linings could be old t-shirts. I would also check my local thrift store for clothes, blankets or sheets with fun patterns that can be snipped apart and utilized. This is a great project to do some upcycling. These boxes are easy to create in many sizes.
6. Shirt Folding Board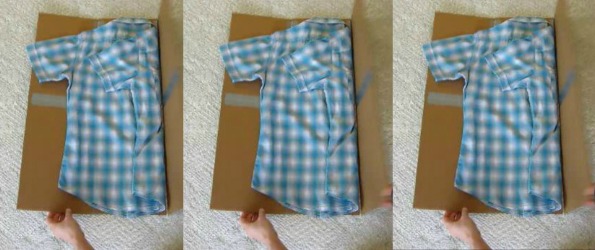 I like my shirts lined up in a nice neat in a row, but I can never seem to get the same kind of stack they get in the retail stores. Maybe it is because when I cannot fit the last shirt in correctly, I still manage to fit it in the drawer. Use some cardboard and create your own shirt folding board per Instructables. Your shirts will have a nice clean wrinkle free fold every time and slide smoothly into the drawer. I see this coming in handy if you have many dress shirts that you want to be neat. On the other hand, you can just pretend you are Sheldon from the Big Bang Theory with your t-shirts.
So what are you waiting for? Dig that cardboard out of the recycling bin and get your duct tape. Mama needs a new shirt folding board.
Photo credit: Arbyreed