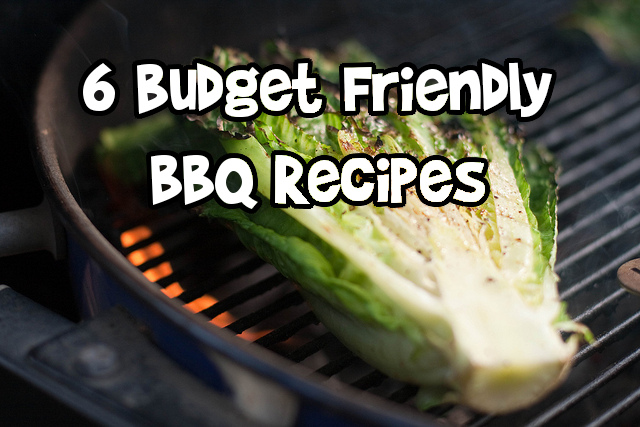 BBQ season is here! You might be the type to have BBQs all year long, but most of us stay huddled under the blanket with hot stews and soups in the winter months. In the summer, the smell of the grill is unmistakeable. I have a friend on Facebook who regularly makes extravagant meals on his expensive grill and posts photos of them while I drool and wish I could be there eating it too. Cooking on the barbie can get expensive as people tend to overdo the meat. When I go to my Mom's for dinner, there are usually about six different types of meats from the BBQ and I eat them all and wonder how I'll ever invite her over for dinner because I can only afford one type of meat a day! But, there are meals you can prepare on the BBQ without going over budget, even when friends show up.

You might be thinking, "hot dogs, how blasé", but did you notice this one has avocado and nacho chips on it? This is no ordinary hot dog! If it is good enough for Bobby Flay, it is good enough for me, that's for sure! Check out the Food Network for top hot dogs you can grill up so they aren't just ordinary fare, and hot dogs are notoriously cheap!

Reducing the meat you use is another way to save money on a BBQ. Try making kabobs and load those skewers up with vegetables, and make sure you use whatever is in-season, as this will also save you money. Onions are good to add too as those are very cheap and flavourful. Try these bbq meatball kebabs from 5 dollar dinners!

Having no meat at all is also an affordable way to do it. These pineapple kabobs with honey yogurt sauce look seriously divine and would make a wonderful appetizer or dessert. In Sock Monkey Slippers has the recipe.

If meat is what you need, you could try a cheaper cut. Drumsticks are so much cheaper than breasts and are so good sauced up on the BBQ. These are perfect for kids too, as they like to hold something by the hand and munch out. I'd really love to sink my teeth into those grilled chicken legs from Add a Pinch. Mmmm...

Another way to reduce the meat is to add things like buns and other toppings. Fill yourself and your guests up with a small burger patty, but have delicious toppings like big crusty buns and an egg on top, which will add decadence and belly-filling protein, while being very inexpensive. I love this recipe from Baker By Nature for this sriracha and cheddar juicy lucy burger.

Potatoes are so inexpensive, they are a staple in most people's homes. Have you ever tried them on the BBQ? So delicious! Try the cheesy BBQ potato recipe from Kara's Favourite Recipes.
Bargainmoosers, what's your favourite budget-friendly recipe for the grill? Let me know in the comments below!
Photo credit: Mike